What You Need To Know About Growing A Tea Garden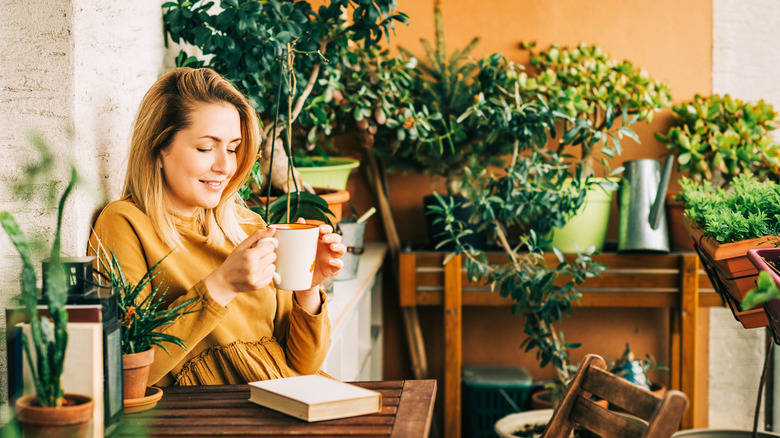 Anna Nahabed/Shutterstock
When the sky is sparkling blue and the sun is out and shining bright, you know it's the perfect day to grab your gardening tools and head outdoors. Gardening is one of the best ways to break your screen time habit and get the sunshine and fresh air your body deserves. Per Healthline, our bodies are much like plants because they both need vitamin D to perform their essential functions, and sunlight is full of vitamin D. 
Just starting out as a green thumb? Growing larger crops like vegetables and fruits could be a formidable task for gardening beginners, so planting a garden that requires less maintenance is a good plan of action. Say hello to the tea garden. According to Better Homes & Gardens, herbs like lemon balm and lavender, both of which are commonly found in a tea garden, are extremely easy to grow and just perfect for beginners. 
These are the plants you should grow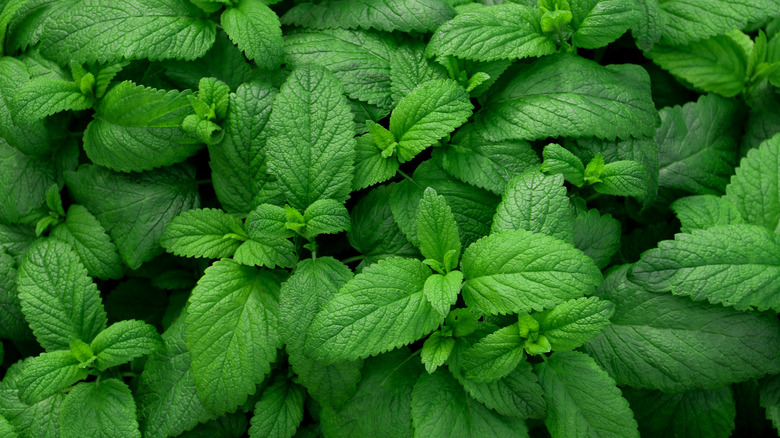 Olesya Myzzz/Shutterstock
A tea garden, according to The New York Times, is a dedicated garden for growing essential plants like herbs and flowers that you can then use to make your very own brew. It's the perfect hobby to take on if you're looking to garden more and love drinking tea, but you'll first want to know what herbs and flowers to add to your collection. According to Fine Gardening, any good tea garden will include Roman chamomile, a flower that has a strong apple scent perfect for brewing in chamomile tea. Peppermint, lemon thyme, and lemon balm are among the other herbs they list as great additions to any tea garden.
As much as we love herbs, you might be glad to hear that your selection isn't limited to just them. The fun in growing a tea garden is that you can plant whatever you like to flavor your tea with, and the sky's the limit when it comes to the plants you can choose to add character to your next cup. You're more than welcome to throw in some aromatic, colorful flowers to liven up the look of your tea garden as well as your brew (via Tea Time Magazine.) Some of the tastier flowers you might include in your garden are hibiscus blossoms, honeysuckle flowers without the poisonous berries, roses, and violets. Remember that tea could be the secret to health benefits, so try blending your favorite herbs and flowers to create a tea mixture that you love.
How to build your tea garden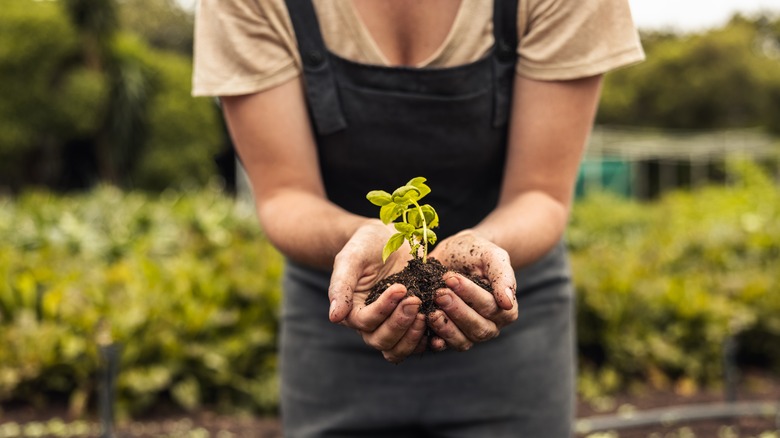 Jacob Lund/Shutterstock
After you decide what you'll plant in your tea garden, it's time to start the set-up process. According to Gardening Know How, tea gardens require plenty of direct sunlight — at least six hours of it a day — so you should keep that in mind when you select your garden's location. Pick somewhere that isn't shaded by trees or your house during the sunlight hours of the day so that your plants will thrive.
Your garden doesn't have to be limited to outdoors, either. You can also start a small garden beside your window if indoor gardening is more your thing, you don't have the outdoor space, or the weather outside is too cold. Per HGTV, you can start your very own herbal tea garden indoors if you select plants that are capable of surviving in your home. Luckily, many herbs are capable of just that, like chamomile and lavender. Just keep in mind that even if your tea garden is indoors, it should still receive at least six hours of sunlight every day.