Why Former Attorney General William Barr Is Accusing Donald Trump Of Extortion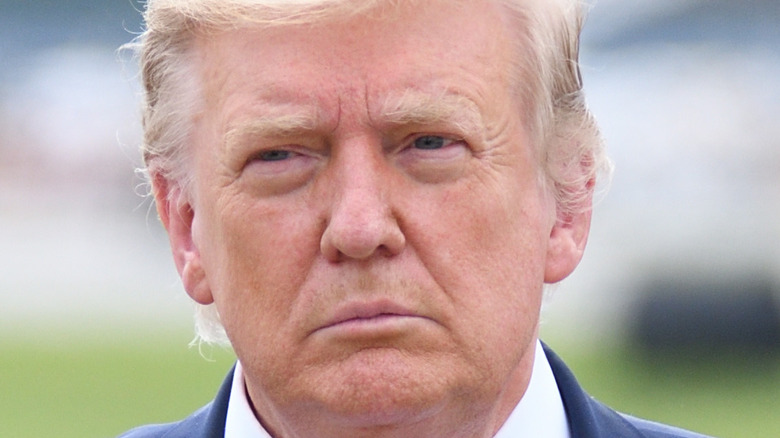 Evan El-Amin/Shutterstock
As Donald Trump's attorney general, William Barr was once a trusted ally. The former president called him "a straight shooter" and "a man with incredible integrity" back in 2020 (per USA Today). But everything changed after the 2020 election, when Barr publicly disagreed with Trump's unsubstantiated claim that fraud had cost him a second term in the White House. Knowing the president would be furious, Barr resigned rather than wait to be fired. During the congressional January 6 hearings, the former attorney general not only repeated his findings, but also doubled down by saying Trump became "detached from reality," adding, "Before the election, it was possible to talk sense to the president . . . After the election, he didn't seem to be listening" (via Newsweek).
Barr, who was also attorney general under George H.W. Bush, recently gave an interview to Common Sense. During it, he proved he is still one of his former employer's harshest critics. He thought Trump could have been a great president, but says the businessman-turned-politician failed to live up to his potential. "He continued to be self-indulgent and petty and turned off key constituencies that ultimately made the difference in the election," Barr said. 
Although Barr isn't sure whether the FBI raid on Mar-a-Lago was justified — he wants to know more about the documents that were taken — he's "irritated" by the consequences it may have. "[I]t actually strengthens Trump and strengthens Biden and hurts the Republican Party going into the midterms," he told Common Sense.
William Barr says Donald Trump is polarizing Republicans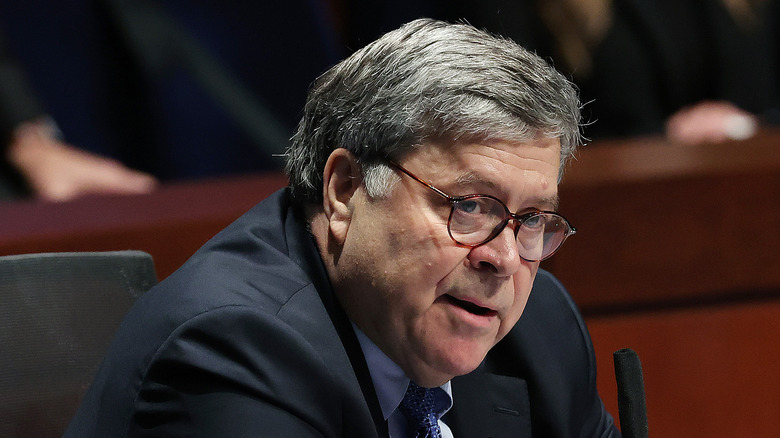 Chip Somodevilla/Getty Images
Former attorney general William Barr admits he didn't realize how extreme Donald Trump's reaction would be to losing the 2020 election. "I did not expect him to take it as far as he did with these very whacky legal theories that no one gave any credence to," he tells former New York Times editor Bari Weiss in his Common Sense interview. Barr resigned on December 23, 2020, and just days later watched the riot at the Capitol, feeling "disgusted and mortified and . . . very angry." While Barr doesn't feel that Donald Trump's refusal on January 6 to say he had lost constitutes a legal incitement, "I did feel that he was morally responsible for it." He voiced, "I thought the president's behavior was shameful."
Barr accuses Trump of dividing the Republican Party at a time when it needs to be unified. "The tactic that Trump is using to exert this control over the Republican Party is extortion," he discerned Common Sense. "What other great leader has done this? Telling the party, 'if it's not me, I'm going to ruin your election chances by telling my base to sit home. And I'll sabotage whoever you nominate other than me.' It shows what he's all about. He's all about himself."
This attitude, Barr added, could cost Trump the 2024 Republican nomination in favor of someone like Florida governor Ron DeSantis. "He may be a candidate who could extract the Republican Party from Trump's grip because of that."