The Most Amazing Father Daughter Dances That Will Warm Your Heart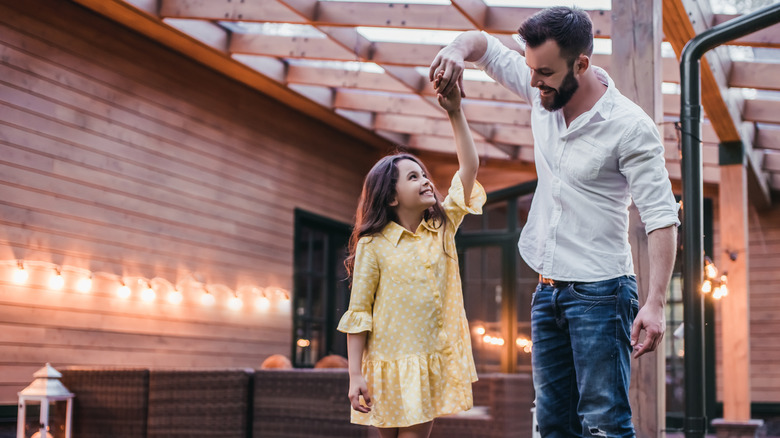 Shutterstock
There's something about a father and daughter dancing that pulls emotion out of people. The daughter can be a toddler, or it can be on her wedding day: her age doesn't matter, so long as she's dancing with her dad, it's a heart-warming thing to witness. But there are some fathers and daughters who truly take the cake when it comes to choreographing a memorable dance, and created a touching moment for all to see. Whether they're hamming it up at home alone or are gliding down the dance floor in front of a crowd, these next videos show just how sweet a father and daughter pair can be when they're together. 
Epic father daughter wedding day dance
There's nothing more wonderful than seeing a bride dance with her father on her wedding day. It brings out an emotion that reduce many guests to tears — just seeing a girl in a white dress, leaning on her dad's shoulders is such a sweet sentiment. But sometimes, the bride doesn't want to dance to something that will ruin her eye makeup. 
In this video, the bride and her father dance to the classic "Butterfly Kisses" by Bob Carlisle... for about 5 seconds! The music immediately skips and MC Hammer's "Can't Touch This" starts playing, the bride and her father do the MC Hammer Dance, and the audience goes wild! The bride and her father choreographed dance moves to a handful of songs, and they totally nailed it. It's so heartwarming to know that they must have had to practice this for weeks together to get this dance down so perfectly.
Marine father dances with his daughter
A quinceañera is a popular celebration in the Latin American community that occurs when a girl turns fifteen, and is usually honored by having a gathering friends and family together to eat, drink and dance. In this video, Jasmine looks like an absolute princess in a stunning blue-sequined gown, and is on the dance floor with her father, a Marine. The Temptations' "My Girl" is playing, and it's truly a sight to see a beautiful girl dancing with her father, dressed up in his finest uniform. 
But just like the last bride and groom, this father and daughter decided that they'd shake things up and choreograph a surprise dance for their guests, and, after watching the video, you can see just how unforgettable this dance is! There's even a pint-sized surprise guest towards the end, who is just too adorable to miss. But the video ends back on a sweet note with the girl and her father, who walk off hand-in-hand.
Quadriplegic father dances with his daughter
Who says you need to be on your two feet to dance? This bride's father is wheelchair-bound, but that was no reason not to share this special dance on her wedding day. The bride and her father take center stage to Lee Ann Womack's "I Hope You Dance", and you can just tell how happy the pair are to be out on the dance floor with each other. There's a ton of twirling and a few choreographed moves, and it's just so beautiful to witness the two enjoying such a special moment together.
Adorable father daughter dance-off
Sometimes, there's no need for an occasion to dance other than just for the sake of wanting to. This sassy toddler choreographed a dance where she just had to have her dad involved. Dancing off to Ariana Grande's "Problem", this little girl and her father start off dancing together — she looks sassy and fierce (and her dad doesn't look too shabby, either!). But about half-way through the song, the little girl takes the floor and dances solo, mixing breakdancing and hip-hop with some more classical dance moves. If this was a dance battle and I was the judge, she would take first place and leave her dad in the dust!
Father and daughter dance to the classic Foxtrot
Much like a waltz, the foxtrot is a beautiful dance that makes dancers looks as if they are gliding across the dance floor, flowing every which way. I love when a bride and her father choose to do a traditional slow dance, but there's something to be said when they choose to do something a bit more unique — and, in this case, timeless. 
The bride and her father in this video take the floor to Frank Sinatra's "The Way You Look Tonight", and it seriously transports you to another era. They both move across the floor so effortlessly, and the audience clearly approves by the cheers and applause you hear on video. The pair finish off with a big twirl that makes her wedding gown look absolutely breathtaking — all of their hard work perfecting this dance most certainly paid off!
Comedian Mike Hanley dances with his daughter
Comedian Mike Hanley has made a living doing stand-up, but it's this particular video that has landed him on The Today Show, and has been featured on sites like Huffington Post. For his daughter's Bat Mitzvah, the pair decided to plan something fun for the audience. Dancing to The Temptations' "My Girl", you see the pre-teen and her father slow dancing around a crowd of people all smiling, enjoying the easy-going but adorable dance moves. 
But then the two push away, the song "It Takes Two" by Rob Base and DJ EZ Rock comes over the speakers, and the the pair have a hilarious choreographed dance routine all lined up, which ends aptly with 50 Cent's "In Da Club", where Hanley points to his daughter whenever the lyrics talk about partying like it's your birthday. They do end up going back to slow dancing for a minute toward the very end. I think we can safely say that their dance was the best Bat Mitzvah dance we've ever seen!
Bride with two fathers has a dance-off
What is a bride to do on her wedding day when she is supposed to have a father daughter dance... but she has two fathers? This bride starts out slow-dancing with her dad to "My Wish" by the Rascal Flatts, and it's a lovely moment to witness. But then, a few minutes into the dance, another man — her other father — walks onto the dance floor and breaks up the pair. He starts dancing all by himself to "Shout" by the Isley Brothers, and the bride and her father look confused. 
But then they both join in and do a choreographed routine that's both silly and sweet. There's even an appearance by the groom, where both fathers jokingly scold him while MC Hammer's "Can't Touch This" is playing, motioning towards their daughter. In the end, both dads got to have some time alone dancing with their daughter, but the most memorable parts are undoubtedly when they're all together, dancing as one happy family.
Father and daughter dance together for a contest
There's nothing sweeter than seeing a little girl dance with her dad, and this next video is no different. The father and his daughter submitted a video of themselves dancing for the Justin Timberlake "Can't Stop The Feeling" SiriusXM Contest, where the winner could win prizes like complimentary round-trip airfare to Los Angeles, CA, or New York, NY, hotel accommodations, and tickets to the premiere of the movie Trolls. 
This dad went all out for his daughter, creating a routine for the two of them to videotape for the contest. In matching pink outfits, they are nothing short of adorable, and you can just see how happy the little girl is to be dancing with her dad.
Father and daughter do a surprise wedding dance medley
I know what you're thinking — another bride and her father doing a choreographed routine? But it's worth it, believe me. This bride and her father start out slow dancing to a cover of The Temptations' "My Girl", but it quickly turns into something much, much different. They cover all of the best classics, like KC & The Sunshine Band's "Boogie Shoes" and the Jackson 5's "I Want You Back" — but then start dancing to more modern hits, showing that dad can get down to whatever's playing on the stereo. 
When the dance is over, they both take a bow... but then surprise their guests with yet another choreographed routine to Beyoncé's "Single Ladies"! It's an epic encore that guests will be talking about for years to come.
Bride dancing with her father surprises him with a secret message
As a father, giving your daughter away on her wedding day must be an emotional rollercoaster. Of course it's a happy occasion, but it must be hard not to think about when your daughter was just a little girl. This daughter took things to the next level by surprising her dad with a special message during their first dance. 
The pair start slow dancing to Bruce Springsteen's "When You Need Me", which is enough to make me start tearing up as it is. But not even a minute into the song, her father gets the surprise of his life when he hears his daughter's three-year-old self play over the speakers, something that his daughter put together as a little something special for her dad on her wedding day. Her dad cries onto her shoulders, and the pair both hug and smile. I can't imagine that there was a dry eye in the house after that!
Dad dances with his wheelchair-bound daughter
McKenzie Carey suffers from a life-threatening mitochondrial disease — but that didn't stop her father from entering a pageant with his daughter. Because Carey is wheelchair-bound, her father choreographed a dance for him and his daughter to "The Climb" by Miley Cyrus, where he spins her around and picks her up to dance with her. You can feel the emotion emanating from this video, and you can see just how fiercely this father loves his daughter. 
The applause for this pair is thunderous at the end of the video, and I can't imagine how incredible it must have been to witness this duo dancing live. If you're looking for an inspiring father daughter dance that will warm your heart, look no further!
Bride dances with all the father-figures in her life
This video is bittersweet: the bride, Andrea, sadly lost her father before her wedding day due to pancreatic cancer. Her brother decided that she would still have a dance with the important men in her life on her wedding day, though, and arranged that he, Andrea's other brother, her grandfather, and her new father-in-law all dance with the newly-wedded bride. 
It's emotional to watch, but so worthwhile. It's also incredibly touching and sweet to see all of these important men in her life band together and give her a dance that she will remember for the rest of her life.