How Parents Should Assess COVID-19 Risks As Students Head Back To School In 2022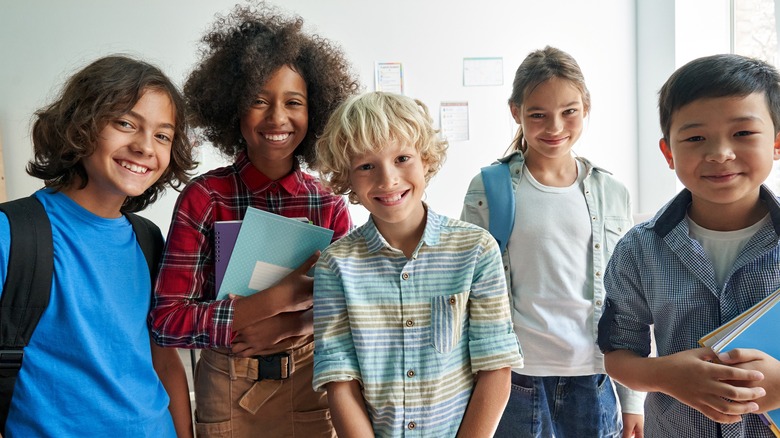 Ground Picture/Shutterstock
It seems incredible to recall what the fall of 2020 looked like for millions of schoolchildren. The COVID-19 pandemic was still in full force, and with vaccines still months away from approval, many schools either went fully remote or used a hybrid system that allowed kids to be in the classroom part-time. Masks and social distancing were the order of the day, and classes were discouraged from mingling, to reduce the chance of the virus spreading between rooms. Sports teams missed seasons, and drama productions were postponed. Proms, parties, and graduation ceremonies were canceled altogether. Kids' mental health suffered, too, with COVID triggering eating disorders, depression, and other emotional issues (via American Psychological Association).
By comparison, the 2022 to 2023 school year is looking like the "new normal" we hoped for back then. Although the number of new cases is still a concern — per Johns Hopkins, the U.S. has had nearly 3 million in the last 28 days — effective treatments and preventatives have reduced the risk of severe illness. With vaccines now available to children of all ages, schools have reopened and masking is optional in most, per Chalkbeat. Some states, such as Florida, forbid mask mandates outright (via AARP). Random testing of students has largely gone by the wayside, as well.
But just because restrictions have loosened doesn't mean COVID has gone away; kids can still catch the virus at school and spread it to people at home. How can you keep your child safe at school?
Some students may still need to wear masks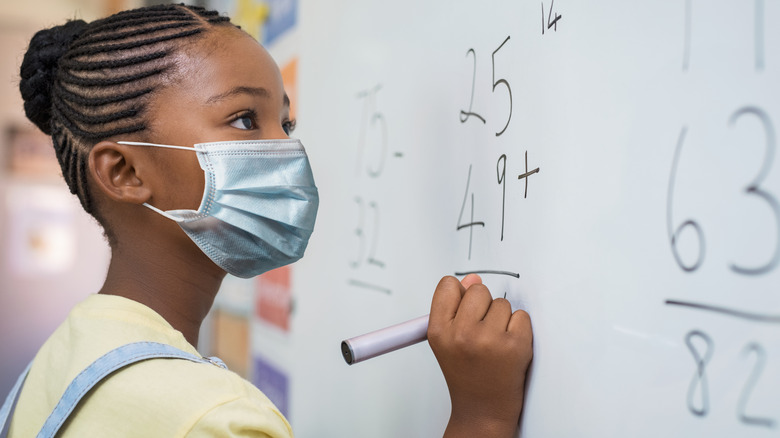 Rido/Shutterstock
Should you have your child wear a mask if it's not required at their school? It depends. Although the Centers for Disease Control and Prevention recommends indoor mask wearing for students living in high-risk areas, CNN medical analyst Dr. Leana Wen says it may not be necessary for children who have had the COVID-19 vaccine. The inoculation is currently available for all children over the age of 6 months. "It all comes down to how much the family wants to avoid COVID-19," she says. Dr. Wen feels comfortable sending her own kids to school without a mask, because everyone in their house has been vaccinated.
However, in homes where members are immunocompromised or at risk for serious complications of COVID, it may be wise for children to wear masks in school to avoid transmitting the virus to those family members. Dr. Wen adds, "Families could also decide to mask before visiting vulnerable loved ones. For example, if a grandparent who is immunocompromised is coming to stay for a week, the kids can mask in school the week before and during that visit."
Johns Hopkins Bloomberg School of Public Health also recommends keeping an eye on the transmission rates in your area. If cases are spiking, indoor mask wearing may be a smart move to keep your kids healthy, especially if they're not vaccinated. If you do opt to have your child wear a mask, make sure it's both comfortable and well-fitting.
Practice good hygiene to reduce COVID risk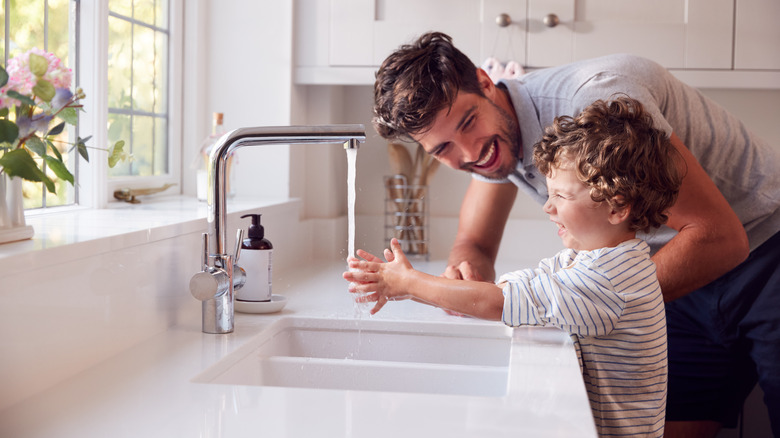 Monkey Business Images/Shutterstock
Beyond vaccination and masking, there are other ways you can help lower the COVID risk when your children are at school. Top on the list is frequent hand washing, which is a good policy to prevent not just COVID-19, but also colds, flu, and other infectious illnesses (via Centers for Disease Control and Prevention). Teach your children to wash with soap and water before and after eating, using the bathroom, or whenever their hands are soiled. Hand sanitizer containing at least 60% alcohol is a good option when a sink isn't available, but as the CDC explains, hand washing actually removes germs and other toxins from the skin surface. 
The same precautions we all learned at the beginning of the pandemic still apply this school year: Remind your kids to cough or sneeze into their elbow, not their hand. Wash hands after nose-blowing. Avoid sharing food, toys, makeup, and other personal items with friends. 
Your children's school will have its own policies about illness, but as a rule, it's best to keep your child home if they have symptoms of COVID-19 such as fever, persistent cough, sore throat, fatigue, body aches, diarrhea, or loss of taste and smell. If your child develops any of those symptoms, have them tested either at home or by a doctor. (If you use a home test, be sure to throw the test away after seeing the results; the testing solution may contain a harmful chemical.) 
Here's to a healthy school year!