Fans Are Going Wild For Meghan Markle's New Nickname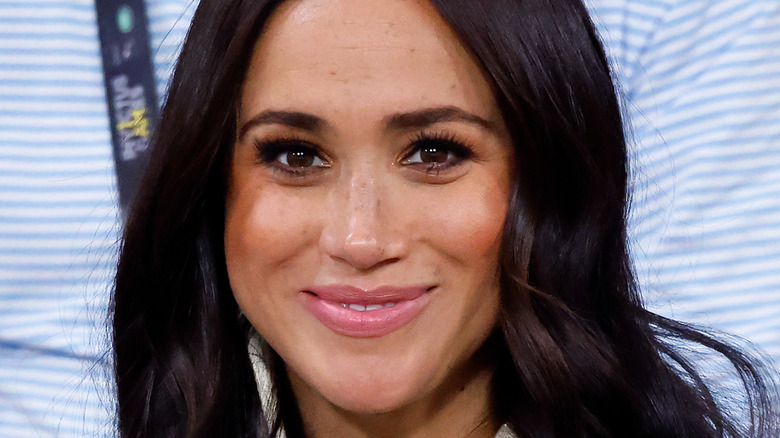 Max Mumby/indigo/Getty Images
On Jan. 8, 2020, Prince Harry, Duke of Sussex, and Meghan Markle, Duchess of Sussex, announced via Instagram that they had decided to step back from their royal duties and split their time between the UK and North America. They said they wanted to "carve out a progressive new role within [the royal] institution," in addition to giving their son, Archie, a private and stable childhood. 
Harry and Meghan expressed how they wanted him to grow "with an appreciation of the royal tradition into which he was born, while also providing [their] family with the space to focus on the next chapter," which they could achieve by relinquishing their roles as senior members of the firm as well as becoming financially independent.
Their "next chapter" officially began on March 31, 2020, via BBC News, and they have since inked multimillion-dollar deals with Spotify and Netflix to produce original content. While they still retain their Duke and Duchess of Sussex titles (per Grazia), Meghan recently found herself with a new nickname, courtesy of New York magazine's The Cut.
The Duchess of Sussex's new nickname upholds her California roots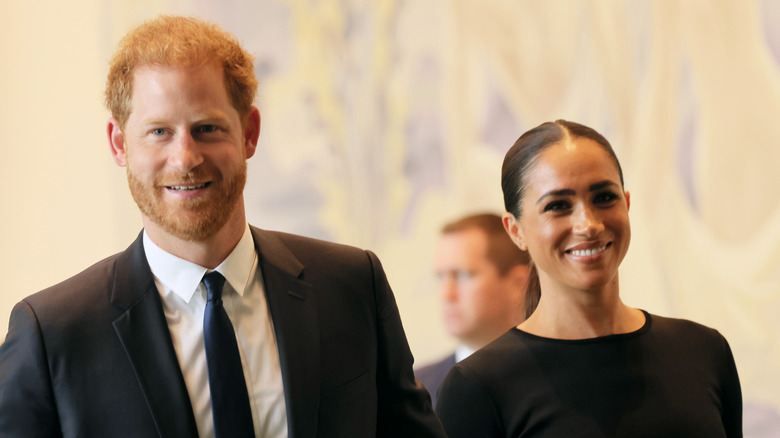 Michael M. Santiago/Getty Images
Once Prince Harry, Duke of Sussex, and Meghan Markle, Duchess of Sussex, exited their royal lives and moved away from the UK, they eventually settled in Montecito, California (via Metro), near Santa Barbara and not far from her native Los Angeles. It was there, in the backyard of their new $14.65 million home, that Harry and Meghan had their groundbreaking interview with Oprah Winfrey in March 2021.
In a recent profile to discuss Meghan's new podcast, "Archetypes," New York magazine's The Cut changed the Duchess of Sussex's royal moniker to "Meghan of Montecito," much to the joy of fans on social media. Previously, it had been reported that Meghan was being described by her neighbors as "Princess of Montecito," and not necessarily as a compliment (via Closer). Now, it seems Meghan is claiming this title with pride. "The shade lol," one tweeted. "Not her being the biggest troll to her trolls and co-signing Meghan of Montecito," another tweeted. "She's gonna have the last laugh each time."
Having now carved out a fulfilling life outside the scrutiny of the British tabloids, the duchess opened up further about dealing with the pressures of being a royal and what was expected of her — especially when it came to photographs of her children. "Why would I give the very people that are calling my children the N-word a photo of my child before I can share it with the people that love my child?" Meghan told The Cut. "You tell me how that makes sense and then I'll play that game."
Meghan Markle revealed something pretty significant during her interview with The Cut
Wpa Pool/Getty Images
Despite having a strained relationship with social media when she was a member of the royal family, Meghan Markle is contemplating a return to Instagram, as revealed during her interview with New York magazine's The Cut. Meghan and Prince Harry still have a joint Instagram handle, @sussexroyal, but they stopped posting in March 2020 as they began the process of stepping back from their positions as senior royals (via The Guardian).
A few months later, Meghan expressed that she had no plans to return to any form of social media. "For my own self-preservation, I have not been on social media for a very long time," she told Fortune in October 2020. "I made a personal choice not to have an account, so I don't know what's out there, and in many ways that's helpful for me."
Whether or not the Duchess of Sussex actually returns to Instagram under her own handle remains to be seen. But she's clearly keen on regaining some sense of normalcy in the online world — one that doesn't have any royal rules attached.