How Much Money Do Waitstaff Make?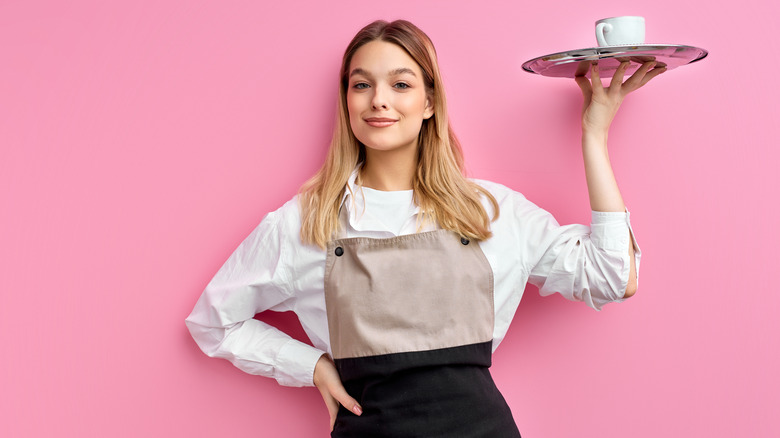 UfaBizPhoto/Shutterstock
Being a waiter or waitress can be a rewarding experience. Every day, there's a new face to meet and new things to learn. You'll most likely be working with an awesome team that has your back and makes going to work fun. Plus, you're surrounded by food and drinks. Who wouldn't enjoy that? And if you're lucky enough to work at a place like the restaurant Queen Elizabeth owns or some other fancy food joint, just imagine the kind of perks you'll have.
Like so many other industries, restaurants have unfortunately suffered since COVID-19 swept across the world. A summary of the 2022 State of the Restaurant Industry report provided by the National Restaurant Association indicates a downward trend starting when the pandemic began. There were approximately 15.4 million restaurant and food industry jobs in 2019. As the world felt the devastating impact of COVID-19, that number fell to 12.8 million in 2020. However, the industry has seen a rise in jobs since the start of 2021. The report even projects that the number of food-related jobs will climb all the way to 16.5 million by 2030.
With jobs on the rise, you might be looking to get your foot in the industry as waitstaff. But just how much can you expect to make on the job?
Waitstaff make an average of $26,000 a year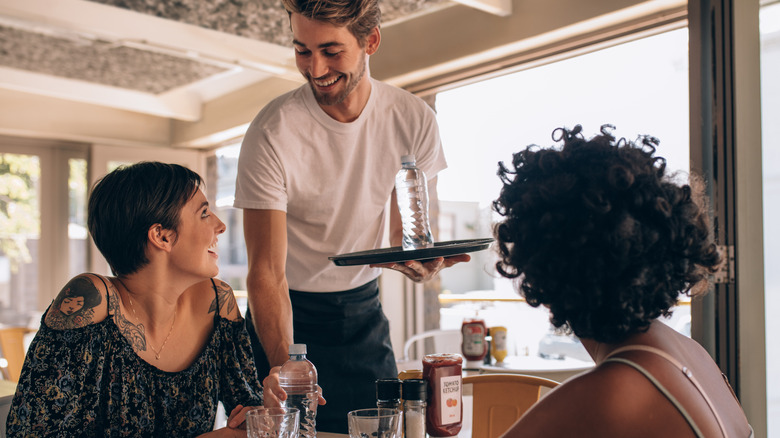 Jacob Lund/Shutterstock
Waitstaff make at least $2.39 an hour, per Payscale. Before you decide that waiting tables might not be for you after all, it's important to keep in mind that this wage isn't set in stone. Not even the most frugal of us could survive on less than three dollars an hour. Thankfully, the hefty tips waitstaff can pull in during a shift makes up for that deficit.
According to the U.S. Bureau of Labor Statistics, waitstaff's median hourly wage was $12.50 in 2021, and the median salary for waitstaff was $26,000 a year. These numbers factor in the tips that a waiter can make while on the job which ensures you'll earn at least the minimum wage requirement of your state. Another cool fact about being waitstaff is that you usually don't need a formal education to be hired and can jump right into the action (and make money).
Tips account for most of your income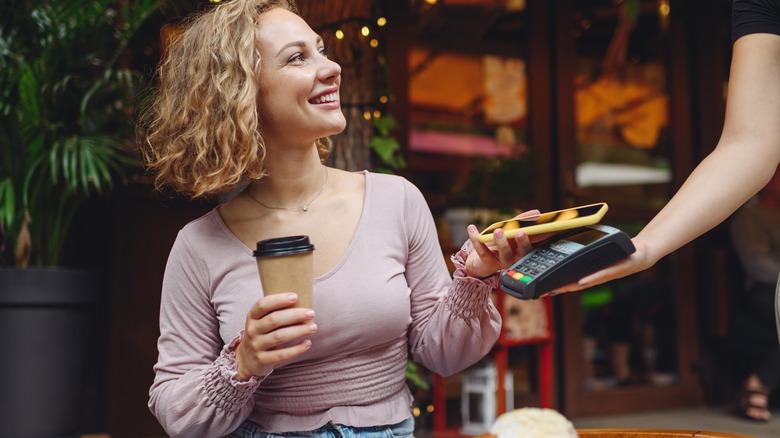 ViDI Studio/Shutterstock
As part of the waitstaff, you will be the smiling face of your restaurant. It's up to you to make sure that your customers are happy when they leave. To show their appreciation for your hard work, customers will usually tip you a good amount of money. Tips are your chance to pull in the big bucks.
According to Reader's Digest, the standard tip for dining in a restaurant should be 15-20% of the total check amount. It doesn't matter whether the restaurant is casual or upscale; the amount you're tipped shouldn't change. Waitstaff are often doing multiple jobs around the restaurant, not to mention waiting on multiple tables. You deserve to be compensated for ensuring your customers are taken care of and have a pleasant experience.
Waitstaff is ranked No. 20 on U.S. News & World Report's list of Best Social Service Jobs. The career scored particularly well in the categories of work and home-life boundaries, stress, and career growth. If the restaurant industry is where your heart lies, consider a waitstaff position. It's a fun and lucrative way to gain entry-level experience so you can eventually work your way up to managerial positions.