This Is The Most Beauty-Obsessed State In The US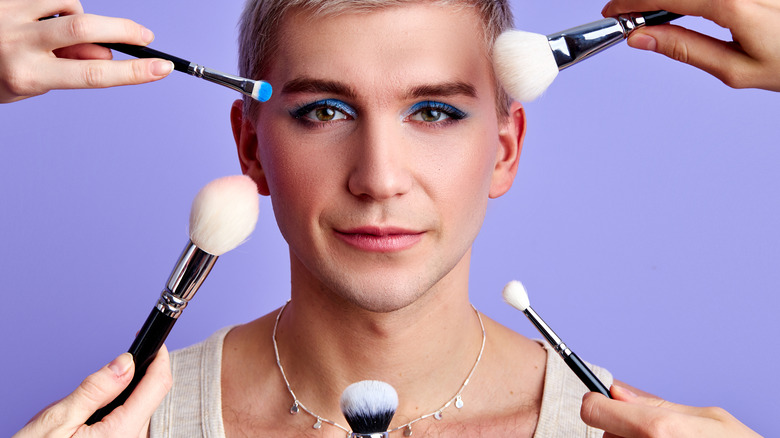 Roman Chazov/Shutterstock
It's easy to fall prey to the demands of the world of beauty standards and ever-changing makeup trends; it feels like we all do it from time to time. Still, how much you care about the beauty industry actually has a lot to do with — not only the media you're consuming — but also your environment. How beauty-focused your peers are is sure to have an effect on how you feel about your appearance, right? Well, by the same token, where you're located has a lot to do with the focus that the people around you are likely to put on beauty.
Studies show that about 44% of women prefer not to leave the comfort of their own homes without wearing a little makeup (via Science of People). This is staggering when you think about it, but it's easy to see how going out into the world and seeing others all dolled up would apply extra pressure. We live in a society that often makes us feel pushed to put a lot of effort into our appearance (via Medium). Still, a new study shows that how much effort we're expected to put into beauty varies from state to state, and certain areas of the country are far more beauty-obsessed than others.
New York: the beauty capital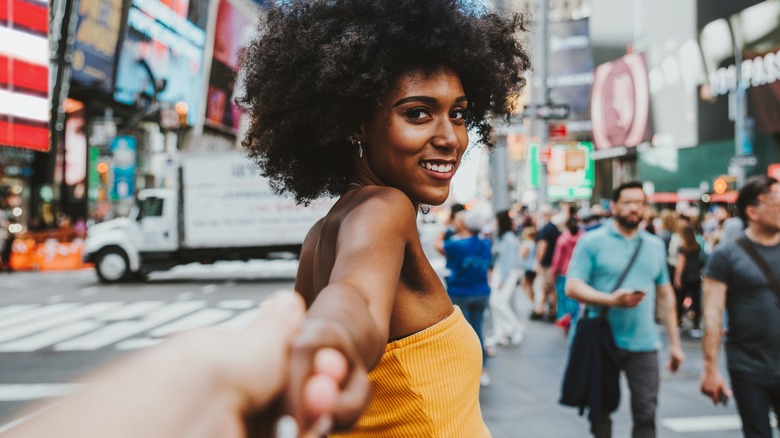 oneinchpunch/Shutterstock
According to a study performed by StyleCraze, New York is more beauty-obsessed than any other state in the U.S., which doesn't come as a huge surprise given its fashion capital status. Based on one year of Google searches, New York actually beat out other states by a pretty large margin in terms of how often its residents searched beauty-related terms. New Yorkers search the terms "makeup," "skincare," and hair care" more than folks in any other state.
It's not a big surprise that New York is ahead of the rest when it comes to its residents' focus on beauty. New York is home to NYC after all, which is widely known as one of the best cities for shopping and fashion. NYC claims the renowned, semiannual NYC Fashion Week, FIT, and of course, its fair share of celebs. As a result, fashion is a huge part of New York City's economy (via NYCEDC). Beauty goes hand-in-hand with fashion, so New Yorkers' affinity for both is really no surprise.
How other states rank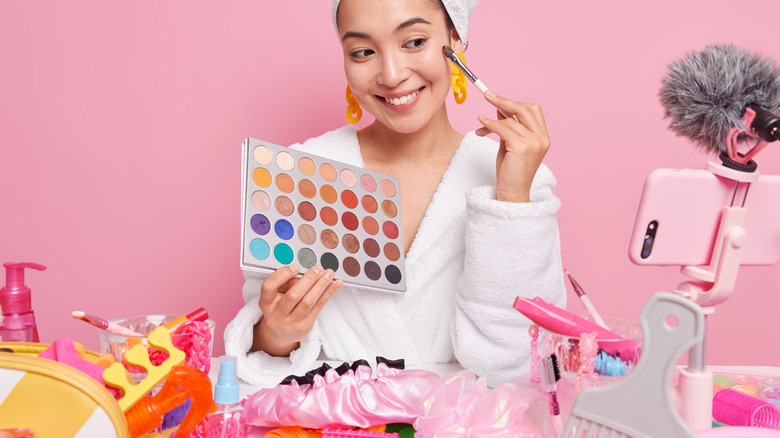 Cast Of Thousands/Shutterstock
If you're not a New Yorker, that doesn't mean that your state isn't beauty-obsessed in its own right. According to StyleCraze's study, California ranks No. 2 in terms of its beauty obsession. Its residents are fans of searching for the terms "spa" and "skincare," which is to be expected from the notoriously health-conscious and sustainable beauty-focused Golden State (via The Millennial Source).
The award for third place in the 'most beauty obsessed state' contest goes to Florida, and right behind the Sunshine State, interestingly, is Idaho. Of course, not everywhere in the U.S. is totally focused on looks. If you live in Alaska, Montana, or Vermont, you're in a state that doesn't put a ton of focus on cosmetics. Still, no matter what state you live in or what those around you are doing, it's important to remember that beauty really is in the eye of the beholder. So, next time you're running out of the house sans makeup, remember there's no shame in picking up groceries in your sweats and foundation-less skin; the best of us all do it!