Expert Reveals Why You Should Be Using Pumpkin On Your Skin - Exclusive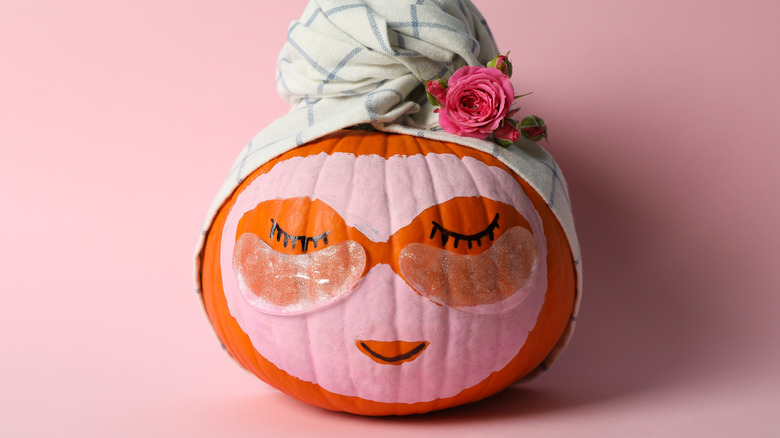 AtlasStudio/Shutterstock
We may receive a commission on purchases made from links.
As summer comes to a close, we begin to approach Halloween and pumpkin season. For Starbucks lovers in the United States, it means the return of pumpkin spice lattes. In recent years, plenty of brands have gotten in on the pumpkin spice trend, and there's apparently a scientific reason that people get so excited about the smell of pumpkin. Researchers have determined that the smell of pumpkin spice brings up feelings of nostalgia and comfort, per Kearney Consumer Institute.
"The smells that are in a pumpkin spice latte are in lots of other things that are associated with this time of year very strongly — with positive memories like family Thanksgiving, or rustling fall leaves and going back to school," said Sarah Cormiea, a Johns Hopkins PhD student with a focus on human olfactory perception, per USA Today.
But pumpkin isn't just a sensory trigger for happy memories; pumpkin is good for your skin. The List spoke with Dr. Trevor Cates, author of "Natural Beauty Reset," and found out why.
Pumpkin contains antioxidants that are good for your skin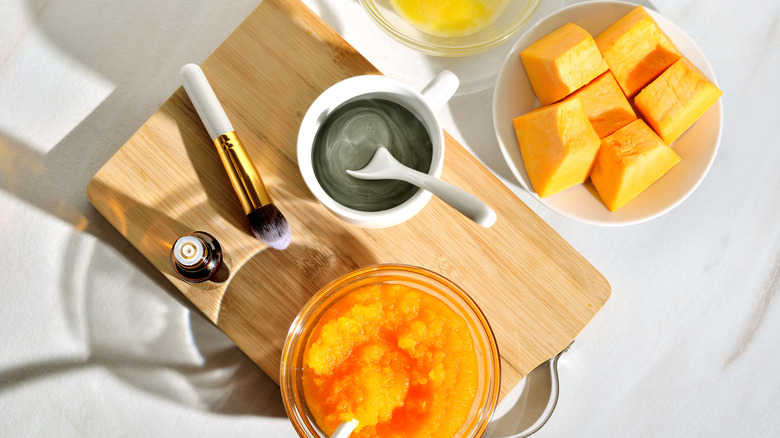 Ekaterina Senakosava/Shutterstock
Dr. Trevor Cates, author of "Natural Beauty Reset: The 7-Day Program to Harmonize Hormones and Restore Radiance," talked to The List about why pumpkin is good for the skin, telling us that its ingredients are skincare game-changers. "Pumpkin contains antioxidants (beta carotene) that may protect the skin from oxidative damage (from aging as well as toxin and sun exposures) as well as enzymes that naturally help brighten and exfoliate the skin," Dr. Cates explained. 
If you're not sure how to best incorporate pumpkin into your skincare routine, Dr. Cates has a recommendation from her book on a DIY pumpkin face mask that also includes the benefits of oats for your skin:
Ingredients: 2 tablespoon rolled oats, 1 teaspoon raw honey, 1 tablespoon cooked pumpkin (make your own or use canned), 1 teaspoon plain kefir or raw whole milk. 
Start by soaking the oats for five minutes, which boosts moisturizing and soothing benefits. Then combine all the ingredients and blend until smooth. Once you've made the mask, you'll need 1 tablespoon for each treatment; leave the rest in a covered container in the refrigerator where it should last up to three days. Make sure you have a clean, dry face, and then apply 1 tablespoon of the mask. Leave it on for five to 10 minutes, and then use warm water to rinse it off.