How Renée Zellweger Was Really Able To Transform Into Judy Garland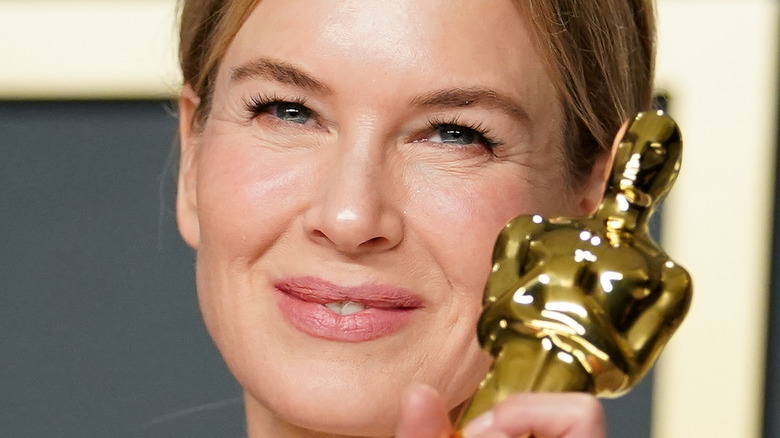 Rachel Luna/Getty Images
Known for playing the beloved and bumbling Bridget in "Bridget Jones's Diary" and the merry murderess Roxie Hart in the 2002 movie musical, "Chicago," Renée Zellweger has some serious acting chops. After her role in the 1996 hit film, "Jerry Maguire," (she had us at "hello") Zellweger achieved A-list status, starring in multiple projects a year and becoming Hollywood's favorite "it girl" (via Vanity Fair). But in 2010, three Oscar nods later, Zellweger stepped away from acting. "I was fatigued and wasn't taking the time I needed to recover between projects," she told British Vogue in a 2016 profile. "I found anonymity, so I could have exchanges with people on a human level and be seen and heard." According to the actress, reclaiming her life outside of fame enabled her to become a better storyteller, and she eventually returned to the big screen in 2016's "Bridget Jones's Baby," reviving one of her most popular characters.
In 2019, Renée Zellweger took on what was perhaps one of her most dramatic transformations yet: Judy Garland. She became the golden age actress in the critically-acclaimed biopic, "Judy," portraying the star during the final, turbulent years of her life and going on to win her second Oscar for the performance. In order to become the Hollywood icon, Zellweger endured both sleepless nights and hours in the makeup chair. As the "Chicago" star told Vanity Fair in a 2019 interview, "If I could have run away, I would have."
Renée Zellweger spent a year working with a vocal coach
Judy Garland dazzled movie-goers with her singing voice from the time she was very young, starring in 1939's "The Wizard of Oz" at just 16, per Refinery29. When cast to play the famous actress, Renée Zellweger was tasked with replicating Garland's distinctive musical talents, singing the star's most iconic songs live throughout the biopic. As reported by Vanity Fair, Zellweger trained with vocal coach Eric Vetro for a year leading up to filming. "I couldn't sing any of the sons initially," Zellweger explained. "I didn't have the strength to do it." Eventually, rather than attempting an exact replication of Garland's most popular numbers, Zellweger decided to "just go to what is recognizable about Judy's singing," using specific vocal features to develop a convincing portrayal (via NPR).
Part of perfecting the tragic, real-life story of Judy Garland also involved late nights of research, searching YouTube for interview content. According to Zellweger via The Wall Street Journal Magazine, "When you're trying to come to know a person whom you've never met, there are tiny little things that you're mining for." As the "Bridget Jones" actress told NPR, she latched on to one interview in particular: "A very, very young Barbara Walters sat down with [Judy] and with her children Lorna and Joey. And she seemed so vulnerable." However, Zellweger found "a different way to look at her — not as a victim, but as heroic in what she was able to navigate."
Renée Zellweger wore prosthetics to become Judy Garland
In the months Renée Zellweger spent training her voice and delving into intensive research, the "Judy" hair and makeup teams were perfecting the character's aesthetic. According to The Los Angeles Times, it "was a process of trial and error for hair and makeup designer Jeremy Woodhead," who faced the challenge of reshaping Zellweger's face into the Hollywood icon's. According to Woodhead himself, "[E]verybody will either be familiar with the iconography of Judy Garland or of Renée Zellweger, so you've got half the audience looking for one thing and half the audience looking for another." Ultimately, the team worked to find a "middle ground" between the two women, taking "Renée out of the face," and putting "Judy into it." 
Zellweger was given a prosthetic nose as well as brown contact lenses and fake teeth, a transformation process that took approximately two hours every day (via Vanity Fair). The "Jerry Maguire" star also wore a brown wig and "purposely smudged" black eyeliner, providing a layer of messy-reality and giving the appearance of larger eyes, per The Los Angeles Times.
Ultimately, Renée Zellweger approached the role with empathy. As she told The Guardian, "[Judy's] such a legend. But there's so much to the human being as well. You want her to come across as big as she was, but also show the woman."