The Documentary You Never Knew Tom Hanks Narrated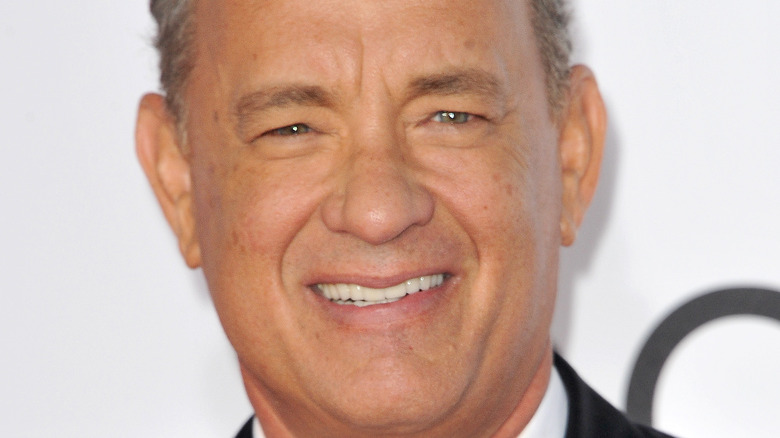 Tinseltown/Shutterstock
Whether he's braving a deserted island with just a volleyball for company, meeting Meg Ryan at the top of the Empire State Building, or running across the country sporting an untamed beard, Tom Hanks is one of the most recognizable performers of the past few decades. It may seem like the actor's always been a part of the Hollywood scene, but you may be surprised by the job Tom Hanks had before he was famous. Since his breakout role in the 1984 romantic comedy, "Splash," the actor hasn't slowed down, earning six Academy Award nominations (and two wins) since 1989 (via Britannica).
As noted by The New York Times, "There are some artists, and Tom Hanks is one, who go beyond mere popularity and instead come to embody some part of our shared American story." Over the course of his career, Hanks has been cast in several World War II films and miniseries, securing his status as Hollywood's "go-to" American hero, per Boston Herald. The actor's interest in the time period extends beyond his on-screen performances, however. As per Medium, "He has served as the national spokesperson for the World War II Memorial Campaign, while also being inducted as an honorary member of the United States Army Rangers Hall of Fame for his performance in 'Saving Private Ryan.'" Beyond his genre-bending talents, there may be facts about Tom Hanks you never knew. In 2016, Hanks teamed up with esteemed documentarian Ken Burns to bring another World War II story to the screen.
Tom Hanks narrates a high-stakes mission in 'Defying the Nazis: The Sharps' War'
Ken Burns, known for his deep dive historical documentaries on subjects like "The Dust Bowl" and "Jazz," collaborated with Artemis Joukowsky, grandson of Waitstill and Martha Sharp, to share the couple's story on screen in "Defying the Nazis: The Sharps' War." The Sharps, a husband and wife from Wellesley, Massachusetts, left the states for Czechoslovakia in 1939 with the mission of helping "Jews, dissidents and others flee persecution by the Nazis," according to The New York Times. Passionate Unitarians, they left their children behind "in the care of their parish" and risked their lives in a war zone, committed to helping those most at risk (via Ken Burns). Along with stage actress and humanitarian Marina Goldman, Tom Hanks reads the couple's letters, narrating their story in their own words.
As explained by The Hollywood Reporter, "The doc follows as one assignment led to another, eventually sending Waitstill and Martha to different places." Explained as one part "spy novel" and one part marriage story by Ken Burns, the film offers a private look into this often untold war narrative, following the couple as they orchestrate everything from a secret sea voyage for children to immigration paperwork. In 2006, the Sharps were honored by Yad Vashem as "Righteous Among Nations," an honor for "non-Jews who risked their lives to save Jews during the Holocaust." The Sharps were the second and third Americans to gain this distinction, per United States Holocaust Memorial Museum.
Tom Hanks wants everyone to read up on their history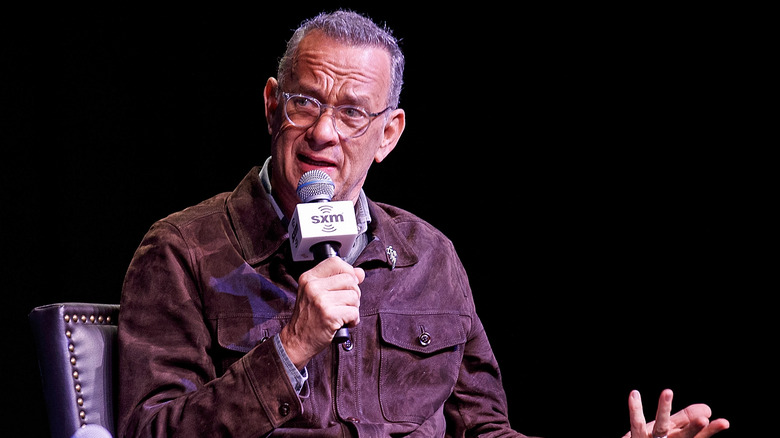 Justin Ford/Getty Images
Outside of bringing the Sharps' story to life on screen alongside Ken Burns, Tom Hanks has encouraged fans to "read history" in the midst of national political unrest. As reported by CNN, Hanks advised, "If you're concerned about what's going on today, read history and figure out what to do because it's all right there." In 2017, the "Forrest Gump" actor was presented with the "Records of Achievement Award" by the National Archives Foundation, recognizing him as "an individual whose work has fostered a broader national awareness of the history and identity of the United States through the use of original National Archives records" (via CNN).
Most recently, the "Apollo 13" star has teamed up with director Steven Spielberg to produce Apple TV's "Masters of the Air," a follow-up to 2001's "Band of Brothers" and 2010's "The Pacific." According to Business Insider, "Masters of the Air" is set to follow the Eighth Air Force and "their daylight strategic bombing campaigns against Hitler's Fortress Europe." As explained by archivist of the United States, David Ferriero, "No actor has covered the span of 20th-century American history as broadly as honoree Tom Hanks," and he shows no signs of slowing down (via CNN).