Lizzy Mathis Talks Dinner Party People And Throwing Amazing Parties - Exclusive Interview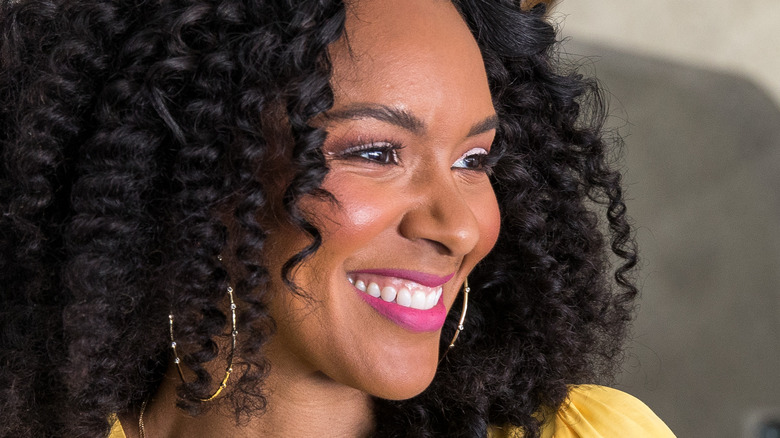 Tastemade
In recent years, cultural observers have lamented the death of the dinner party. Millennials, they claim, are showing no interest in breaking out their best china (if they even have any) and sending invitations weeks in advance to a carefully curated group of guests. "You may want the dinner party to come back, harkening back to another era. But it will never happen," socialite Louise Grunwald told The New York Times.
Lizzy Mathis begs to differ. The actress, chef, and mom loves a good dinner party — so much so that her new show on Tastemade, "Dinner Party People," is all about the many varied and fun ways people can throw great dinner parties. In each episode, Mathis follows the party host or hosts as they plan their parties, contributing her own cooking or decorating tips to further enhance the party's ambiance. But don't expect these get-togethers to be anything like the stuffy sit-down dinners your parents or grandparents hosted. Instead, "Dinner Party People" will feature a barbecue for a group of bikers, a vegan pizza and poetry-reading party, and an outdoor meditation retreat, among other memorable themes. "We wanted to showcase different people and different ways you could throw a dinner party," Mathis said. In an exclusive interview, she shared her passion for dinner parties and how you can throw a great party too.
Dinner Party People shows there's more than one way to throw a party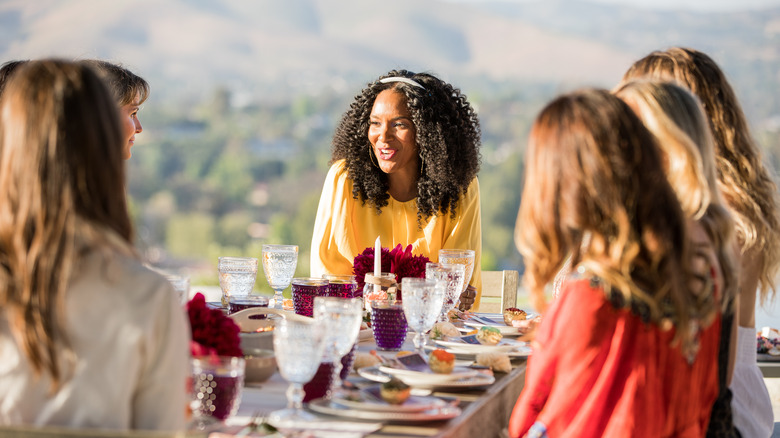 Tastemade
I am very interested in hearing about your new show, "Dinner Party People." Can you tell me something about that?
We are so excited about "Dinner Party People" on Tastemade. This show is so fun. Basically, I went into the homes of these fabulous, amazing people, and I helped them throw dinner parties, and I put a little spin on it. It ranges [across] all different types of people. We did Biker Bob, who had an amazing barbecue. We did Jamaican food. We have the gamut, and it was a lot of fun.
Could you tell me a bit about how you found the party hosts that are on the show?
All the party hosts are so different from each other, which is really great. The casting process was a lot of fun. We wanted to showcase different people and different ways you could throw a dinner party. What's so cool about that is that no matter who you are and how you're watching this series, you'll be able to relate to someone within the [various] episodes. That's really cool because we [ran] the gamut. We wanted to showcase so many different types of people, and we had fun showing all these different types of dinner parties that people can throw.
Lizzy Mathis' best party-planning tips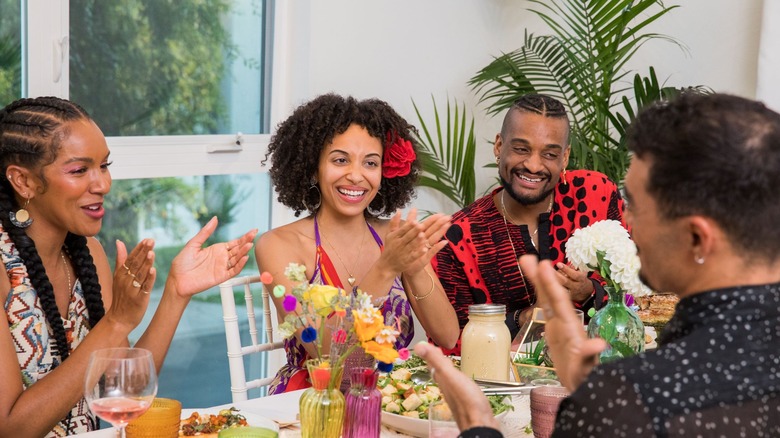 Tastemade
Could you share some of your favorite tips for planning a great dinner party?
That's a really good question. It changes depending on your theme, but that's part of it — you have to have a theme. You got to go in knowing exactly what [the] theme of your dinner party is going to be. The people have to be different types of people, and that always makes the conversation a lot easier. It makes the conversations a lot more interesting, and it allows your guests to be able to meet people outside of their comfort zones. The music is key. Mak[e] sure you have a great playlist that your friends and family or your whoever's coming to your dinner party can enjoy. It's always background music because you want the food to be the centerpiece and shine.
On the flip side of that, are there any mistakes that people should avoid when hosting dinner parties?
I would avoid being too stressed out. The whole point of a dinner party, especially after coming off of all of us being on lockdown and COVID and really being secluded in our homes and not being able to really socialize with the people we care about or meet new people, [is] all about taking it easy. Don't be stressed out about the process, and remember it's fun. Also, prep. Prepping is super important. Mak[e] sure you prep ahead of time. It'll take so much stress off the day of.
Lizzy Mathis' dream party and its surprising guest list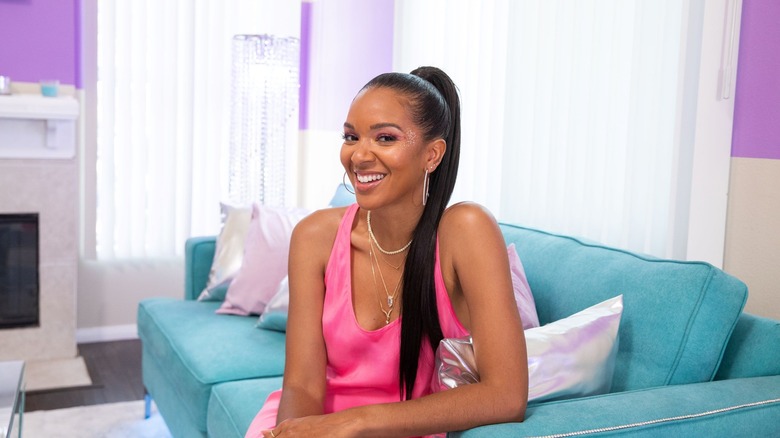 Tastemade
What was the most memorable dinner party you've ever attended, and why was it memorable for you?
I'll have to say, some of the most memorable dinner parties I had [were] on this show — yes, 1000%. I didn't go in knowing any of the hosts that we were having the dinner parties with. Everything was so new. I made and felt great connections with each of our guests, which was really nice, [such as] Biker Bob, who [had] all bikers on a ranch. [There were] acres and acres of land, and there were horses, and we barbecued. It was phenomenal. We did one that was a little bit more spiritual and healing, and that was really sweet. We were able to meditate and look out at the Earth and trees and the sunset. That was beautiful. I think [the parties on] this series actually have been my most memorable dinner parties.
Related to that, if you could throw your dream dinner party for you and invite anybody you wanted, who would you invite and how would you theme the party?
This is a great question. If I could throw my dream dinner party, I probably would have a dinner party on a boat because I love the water. I would want everyone to experience the water, and I would probably have a mixture of people. If it were up to me, I would definitely have Oprah. I would have Martha Stewart. I would have some of my family. I would have some thought leaders. I would have some chefs that I was really inspired by. I would love to mix it up and make it a really interesting night.
What do you think you'll serve them?
I would probably serve them a mixture of modern soul food. Soul food is something that feels like home to me, something I grew up on. As I've learned how to navigate my way through the kitchen and become a home chef myself, it's one of the things that I really like, to elevate the soul food experience. I would probably do a take on an elevated, clean version of down-home cooking.
Lizzy Mathis teases her upcoming collaboration with Jessica Alba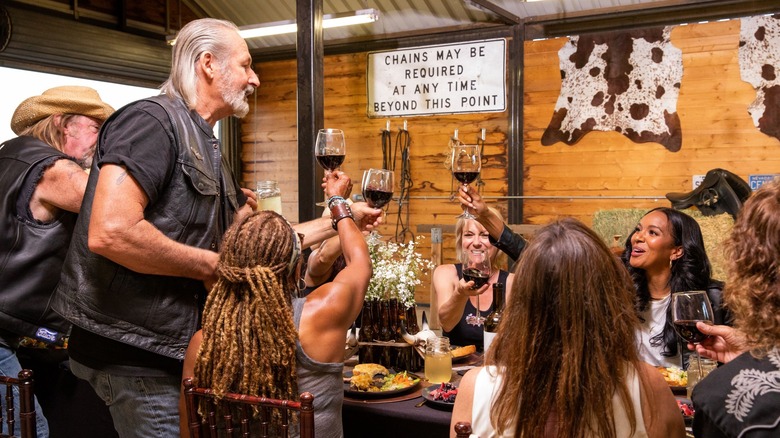 Tastemade
You also have a home improvement show in the works with Jessica Alba. Could you tell me a bit about that?
I'm really excited about that too. That is a home renovation show, and we are going into the homes of new parents. We are so excited because both of us are moms of three. We know exactly what life is like navigating through career and parenthood and all the different things that come along with that. We are tackling the homes of parents who we feel are going through a transition in life, and we know how difficult that can be sometimes. We're going to go in; we're going to make over some spaces, create really beautiful spaces, and keep it very sustainable and eco-friendly. It's going to be a really good time. We're actually in the process of casting our families now and getting started on that series. I'm very, very excited.
"Dinner Party People" debuts on August 31 at 7 p.m. exclusively on the Tastemade streaming network and on demand on the Tastemade app.
This interview has been edited for clarity.