Everything Adele Has Said About Her Struggles With Postpartum Depression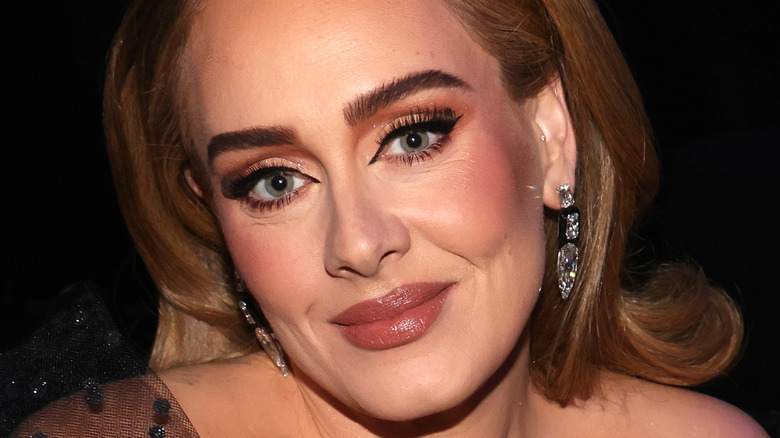 Jmenternational/Getty Images
Superstar singer Adele is well-known for wearing her heart on her sleeve — to the tune of numerous chart-topping songs and millions of dollars earned worldwide. Adele's incredible transformation also had fans cheering, especially when she refused to apologize for her weight loss, emphasizing that, above all else, the beloved Brit is frank to a fault.
"I feel bad that it's made anyone feel horrible about themselves, but it's not my job to validate anybody about their weight," she opined during a chat with Oprah Winfrey (via Parade). "I've got my own problems." 
As the "Hello" hit-maker acknowledged to Vogue, she understands why certain women might feel betrayed by her. However, as Adele clarified, "I'm still the same person." 
Never mind the fact that she underwent a significantly more impactful transformation — physically, mentally, and emotionally — upon becoming a mother. And, in characteristically honest fashion, Adele revealed that her postpartum journey wasn't always the most positive experience.
The superstar singer lost who she was after becoming a mother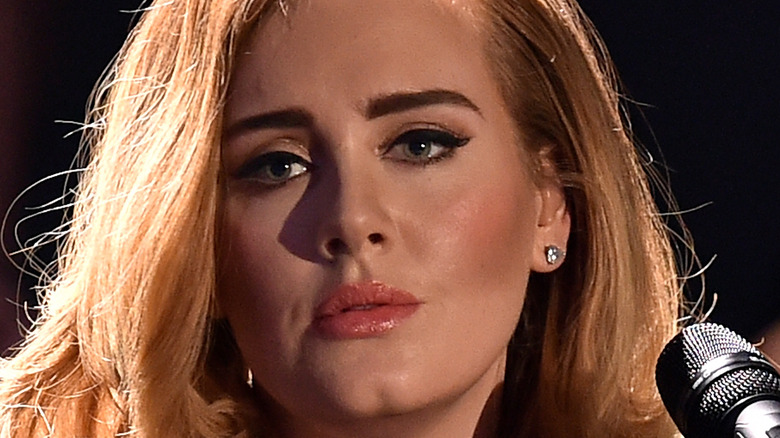 Sascha Steinbach/Getty Images
In her acceptance speech at the 2017 Grammy Awards (via YouTube) for Album of the Year, Adele admitted that she had "lost a lot of herself" after becoming a mother. The singer also acknowledged continuing to struggle with her new role in life, particularly with how it influences her celebrated career. "But tonight, winning this kind of feels full circle, and like a bit of me has come back to myself," she said.
During a subsequent discussion with author Candice Carty-William for The Face, the subject came up again, and Adele elaborated on just how tough it was for her. "There are definitely a few elements of myself that I don't think I'll ever get back," she divulged. "More than anything, it's the freedom of being able to do whatever you want, whenever you want. Going somewhere and not having to prioritize someone else."
Postpartum depression hit her hard, with the star left floundering when it came to figuring out what kind of mother she even wanted to be. "No one wants to be like their own parents, no matter how great parents they were or not," she said. Fortunately, as her son, Angelo, got older, Adele got into a groove with him and now can't imagine her life any other way.
Adele was initially concerned that she'd never get the hang of parenting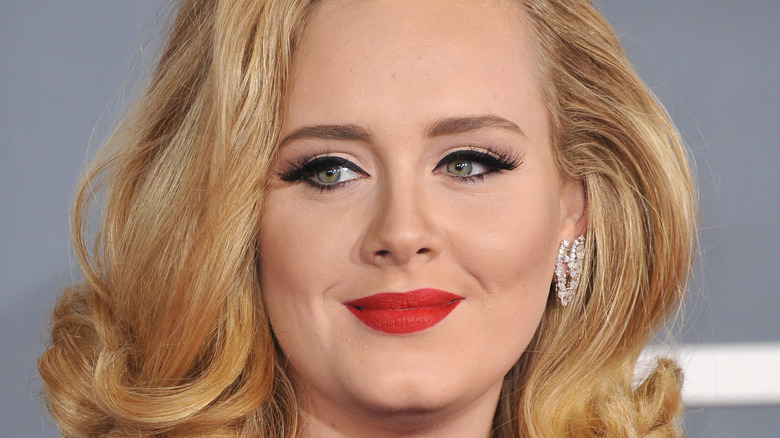 Featureflash Photo Agency/Shutterstock
Although, these days, Adele is super close with her kid, when he was first born, she felt "very inadequate" as a mother. The singer even revealed in an interview with Vanity Fair, "I felt like I'd made the worst decision of my life," especially given her immense privilege as a wealthy and hugely famous woman who had no real reason to complain. "I had really bad postpartum depression after I had my son, and it frightened me," Adele noted. "I didn't talk to anyone about it. I was very reluctant."
While the beloved Brit didn't take medication for her condition, she eventually found solace with other moms, gradually learning that opening up about how she was feeling was half the battle. "Four of my friends felt the same way I did, and everyone was too embarrassed to talk about it," she said. Adele decided to take one afternoon off every week for herself to indulge in some much-needed self-care without Angelo. 
Even though her friends worried it might make people question her parenting skills, she reasoned, "It makes you a better mom if you give yourself a better time." Adele subsequently shared a blog post, written by her close friend, about postpartum psychosis on Instagram. As she advised her millions of followers, "Mamas talk about how you're feeling because in some cases it could save yours or someone else's life."