Expert Shares The Best Ways Women Can Practice Self-Care In The Fall - Exclusive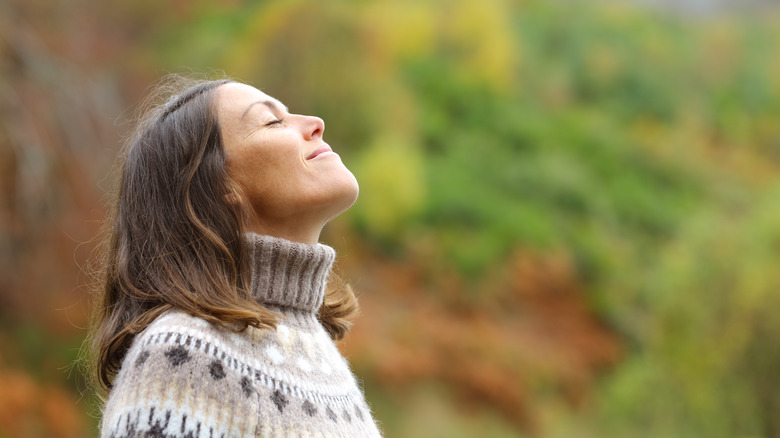 Antonio Guillem/Shutterstock
We may receive a commission on purchases made from links.
It's about that time to start swapping out our beachwear and margarita mixes to make room for mohair sweaters and pumpkin spice lattes, as we slowly but surely transition from summer to fall. Many of us may be preparing to pull out our SAD lamp to adjust to the seasonal changes, but there are a plethora of self-care tips we should have in our arsenal for a mood boost when the inevitable changes in our climate start to hit.
Luckily, there are those who research holistic methods as they relate to the practice of self-care who can help us make a seamless, intentional shift between seasons. While self-care can act as a marketing buzzword at-times, as NBC News reported, the scientific research behind the practice can have benefits to our overall physical and emotional health.
Granted, it's important to note what classifies as self-care and what doesn't, but as we gear up for fall, it's key to consider any changes we may need to make in our daily routines. 
Why skincare is so essential during the early days of fall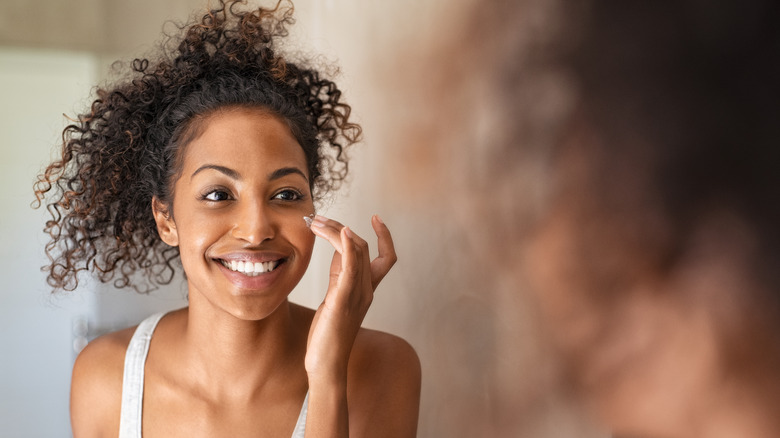 Rido/Shutterstock
If you don't have a concrete skincare routine, now is the time to start, and naturopathic doctor Dr. Trevor Cates agrees. Author of the upcoming book, "Natural Beauty Reset: The 7-Day Program to Harmonize Hormones and Restore Radiance" – which focuses on balancing overall health throughout the four seasons, including fall — Cates urges the importance of skincare right before a noticeable change in the weather.
"Self-care in the fall is essential to help keep our mood elevated and skin hydrated into cooler and darker days of fall and winter," Cates explained to The List in an exclusive interview. "It's best to start early in fall before you start to notice a drop in mood and your skin becomes too dry."
While some of us may already have a go-to a.m. and p.m. routine filled consisting of cleansers, moisturizers, and (hopefully) sunscreen, Cates advises that we may have to modify some products based on our environment's climate.
"For skincare, it's important to increase hydration for the skin since cooler temperatures brings drier air," Cates said. "Look for moisturizers for your face and body that include natural hydrating ingredients such as hyaluronate, niacinamide, and plant-based oils like pomegranate seed oil, cranberry seed oil, and apricot kernel oil."
Eat for the season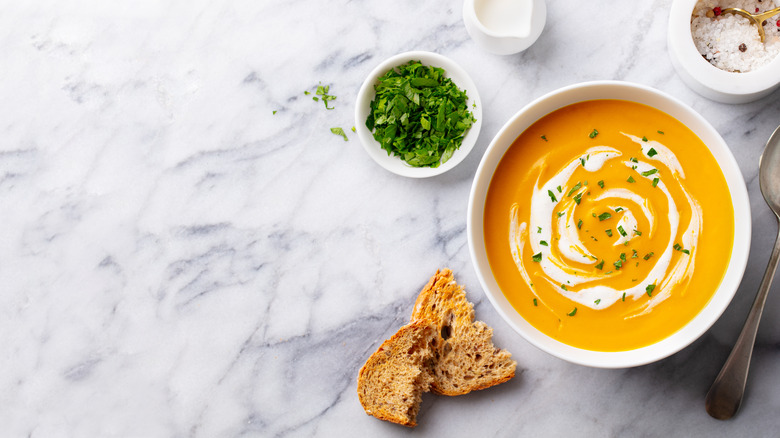 Anna_Pustynnikova/Shutterstock
As a holistic doctor, Dr. Trevor Cates believes in nurturing both our external and internal health as forms of self-care. In her book coming out this September, Cates approaches holistic health for women and examines how the self's needs change throughout the seasons. In tandem with nourishing our outside, Cates suggests that as we transition to fall, we should make lifestyle modifications accordingly and that includes what we eat.
"For self-care, I recommend food, movement, mindset and skincare modifications," Cates said.
Indulging in delicious, long-awaited cold-weather desserts that make our mouths water (pumpkin spice cupcakes, anyone?) is a given, but it's also the time of year when the air becomes crisp, and earthy vegetables — perfect for hearty meals — are ready to devour.
PopSugar also explored self-care tips for fall, and one is to feed our bodies the harvest of the season. Think root veggies like sweet potatoes and cauliflower, which make for a nutrient-rich mash. Brit + Co also suggests other fall favorites like cabbage, Brussels sprouts, and squashes. From the farm to your table, best believe your insides will be thanking you come fall.