The Royal Family Is Reportedly Reeling After Meghan Markle's Eye-Opening Interview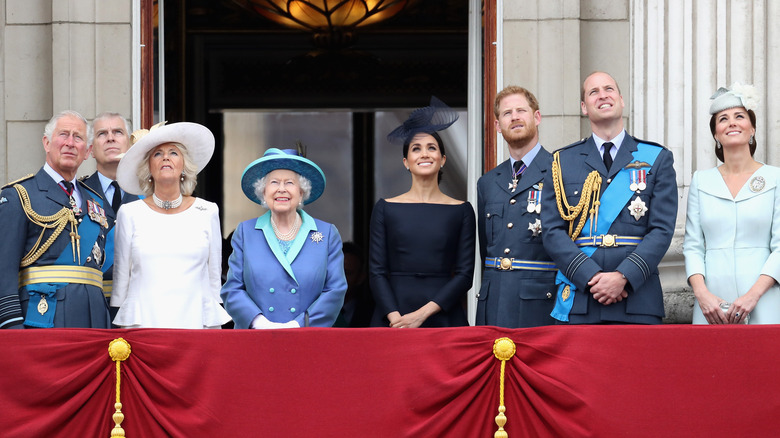 Chris Jackson/Getty Images
The last time that an American and a member of the British royal family fell in love was when King Edward VIII romanced Wallis Simpson; that of course ended with him abdicating the throne in 1936 and marrying her in 1937 – it was quite the royal scandal at the time. Fast forward to 2016, and Edward's great-grandnephew Prince Harry met American actress Meghan Markle, and by 2018, the two were married. While things with Prince Harry, Duke of Sussex, and Meghan Markle, Duchess of Sussex, aren't quite the dramatic constitutional crisis that the abdication of the throne by a reigning king was, there's still plenty of hubbub around the two, particularly since they stepped back from royal duties in 2020, per iNews.
And once stepping back, Harry and Meghan have been fairly forthcoming about the challenges that they faced while working and living as a part of "the Firm" — a.k.a. the British royal family. They opened up in a televised interview with Oprah, and Harry has a memoir coming out that could reveal some never before revealed family drama. For her part, Meghan has been forthright, and a new interview has dropped even more bombs on the royals. 
The royal family is confused as to why Meghan is speaking out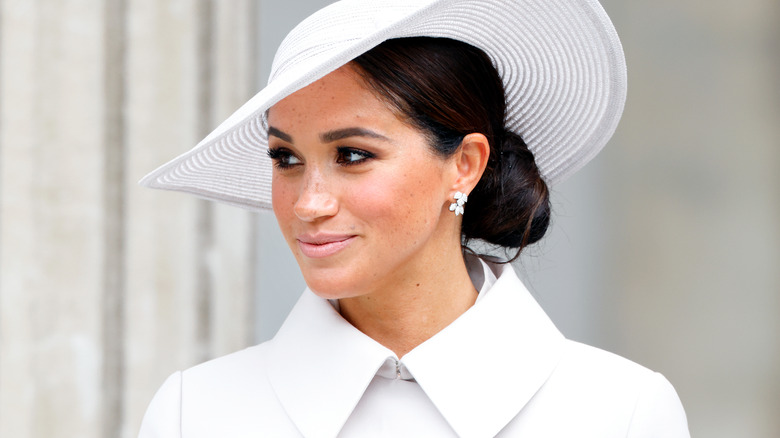 Max Mumby/indigo/Getty Images
Meghan Markle, Duchess of Sussex, noted in an interview with The Cut how she hopes that her husband doesn't lose his relationship with his father, Prince Charles, the way she has lost her relationship with her father, Thomas Markle, after the wedding, saying, "It doesn't have to be the same for them as it was for me, but that's his decision."
This along with other comments in the interview — perhaps where she said that some in the British media referred to her children with the n-word or that she got no training in how to behave as duchess — seem to have rubbed some in the royal family the wrong way. A source close to Charles told Entertainment Tonight that, "The Prince of Wales loves both his sons," but there seems to be a level of trust lost by Meghan's airing what could be seen as dirty laundry in public. "The royal family are distressed that after stepping back from the royal family — claiming a need for privacy — she continues to publicize family matters in public," the source said. 
Meghan Markle may have more to say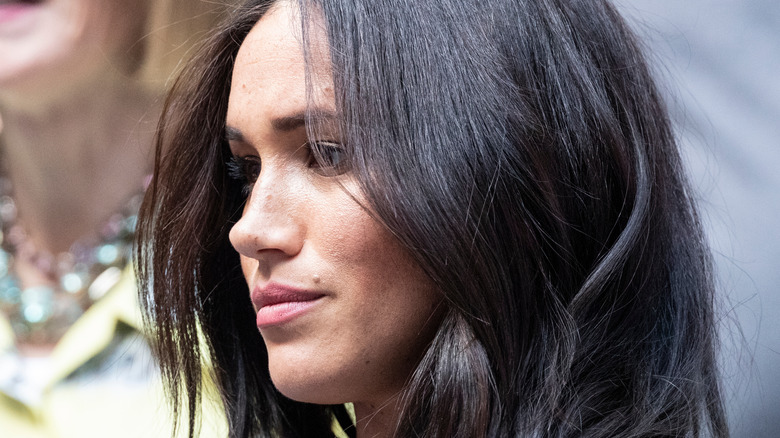 lev radin/Shutterstock
Meghan Markle doesn't seem to be apt to stay silent. She has started her own podcast called "Archetypes" on Spotify in which the goal is to "investigate, dissect, and subvert the labels that try to hold women back" — she's so far talked with Mariah Carey and Serena Williams. She told The Cut of the podcast, "I feel different. I feel clearer. It's like I'm finding — not finding my voice. I've had my voice for a long time, but being able to use it."
She did also note that there was no NDA or other document she signed to keep quiet about what she went through as a part of the working royal family. She has the option, as she put it to The Cut, to "talk about my whole experience and make a choice not to" — she hasn't shared what her whole experience is because she's "still healing." After opening up during her interview with The Cut, members of the royal family chimed in with a close source explaining that there is a "loss of trust" between Meghan and "the Firm," according to Entertainment Tonight.
You might assume that since Meghan admitted to "still healing," that there may someday be more information revealed about what it was like for Meghan to become a member of the British royal family.