Data Reveals America's Favorite Craft Store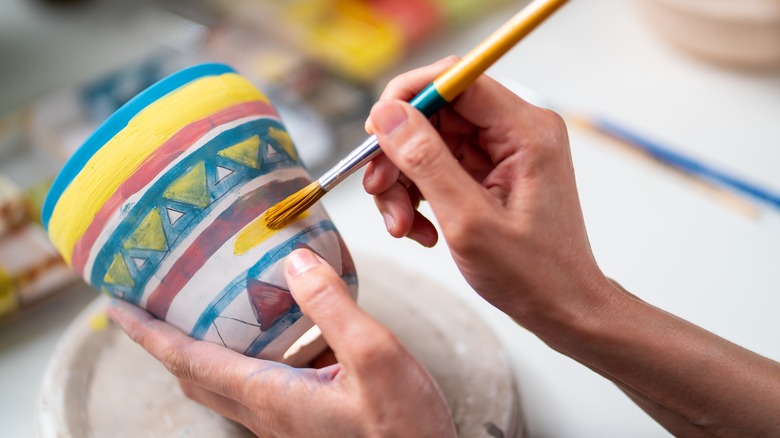 CandyRetriever/Shutterstock
In the throes of quarantine, crafting emerged victorious. People who had never picked up a crochet hook or sewing needle suddenly found themselves mesmerized by YouTube tutorials. There was nowhere else to go, and only so many Netflix series to watch, books to read, and sourdough starters to feed. It's not surprising that Etsy, one of the most popular online marketplaces of homemade goods, more than doubled its revenue in 2020 (via The Mercury News). Crafting no longer belonged to kids, artists, and the elderly: It was for everyone.
Despite increasing public outings as the pandemic continued, crafting experts believe that at-home hobbies will remain popular. Some predicted that traditional crafts, people "creating for their own wellbeing," or the increasingly popular hand embroidery would be trendy in 2022 (via Craft Focus). No matter what crafts people take up this fall, hobbyists will continue to flock to big-box stores that offer any and all necessary supplies. Crafters have voted Jo-Ann Fabrics, Michaels, and Hobby Lobby as the three best –- and most ubiquitous –- craft stores in the nation (via Ranker). However, over these past two years of pandemic-era crafting, only one boasts the most data-driven popularity.
Hobby Lobby has seen the most foot traffic in the past two years
Hobby Lobby operates over 900 stores nationwide, proving their impressive growth since opening a single 300-square-foot store in 1972 (via Hobby Lobby). Like every other brick and mortar business, they saw a sharp decline in foot traffic in April 2020 when no one was permitted to leave their homes. However, they potentially had an unusual advantage over their competitors: They refused to close. 
The company's founder reportedly stated that a message from God fueled their decision to keep stores open (via Business Insider). Although they were eventually forced to close by state laws, their foot traffic sharply increased upon their physical re-opening in July and even before that through online orders (via Colorado Politics). Perhaps most impressive is their holiday foot traffic, according to SafeGraph: Jo-Ann and Michaels may regularly see sales spike in December, but Hobby Lobby has seen more, boasting over 150k more visits than Michaels in December 2021.
Why is Hobby Lobby so popular? One reason might be how they treat their employees. Since 2009, Hobby Lobby has raised their wages over a dozen times, with its minimum full-time hourly wage set to $18.50 early this year (via WTOK). Hobby Lobby also stocks a huge variety of home decor items and sells fabric supplies in all of its stores — an advantage over Michaels (via U.S. News). They're certainly not without controversy, and their overtly Christian principles have led to numerous missteps among Christians and non-Christians alike. However, Hobby Lobby may just continue to be America's king of craft stories.