Emma Jane Lefebvre Reveals Three Things You Need To Start Watercolor Painting - Exclusive
We may receive a commission on purchases made from links.
Art has the power to do a lot of things. Making art is good for brain health; creative activities including painting have been shown to help people with dementia remember more, via Harvard Health Publishing. Art also has positive impacts on critical thinking, and it can help make someone more empathetic and resistant to stress, per Walden University.
For Canadian watercolor artist Emma Jane Lefebvre's 500th YouTube video, she shared with people the impact that art has had on her life and mental health; Lefebvre grew up loving art, but in 2016, she was struggling with anxiety and depression, and having, as she put it "a really, really rough time." But one day, she headed to a nearby craft store to get some brushes, paints, and paper, and she painted some flowers. From there, she started painting more and more and it became the thing she looked forward to doing after work; one thing led to another, and she now has her own YouTube channel with 350,000 followers and Patreon, and she's making a living from her art. Lefebvre teaches watercolor via YouTube and Patreon with a new video three times a week, and she excels at making watercolor accessible and fun, particularly for beginners. She has a book coming out in January 2023: "Watercolour Lessons: How to Paint and Unwind with Tutorials."
The List reached out to Lefebvre to talk about recommendations she had for those looking to get started in watercolors.
Better watercolor paper will make the biggest difference in your work
One thing Emma Jane Lefebvre wanted to emphasize about watercolor materials is to "always work with what's in your budget. To be creative doesn't mean you have the most expensive supplies." The number one thing that you'll buy as a watercolor artist that will make the "biggest difference in your work," as Lefebvre put it, is good quality paper.
If you're working on practice strokes and not a final painting, "working on cheaper paper is completely fine." For a final product, Lefebvre said "I find it best to work on cold pressed 100% cotton watercolor paper and being at least 300gsm 140lbs. Brands like Arches, Canson Heritage, [and] Saunders Waterford paper are all great choices. They are a bit more on the expensive side but are totally worth it." Lefebvre also noted that "finding a good quality paper sketchbook is also a great way to keep all of your paintings together. I love the Etchr cold pressed sketchbooks for that."
Watercolor paper is either rough, hot pressed, or cold pressed. Rough paper is, as you might guess, more textured. Hot pressed paper is very smooth with little texture to it and paint will dry very quickly on it but it's not ideal for a more layered painting, and cold pressed is sort of the goldilocks of the three (depending on the type of painting and effects you want). It has texture but not too much, per The Spruce Crafts.
Watercolor pan palettes can work well but do your research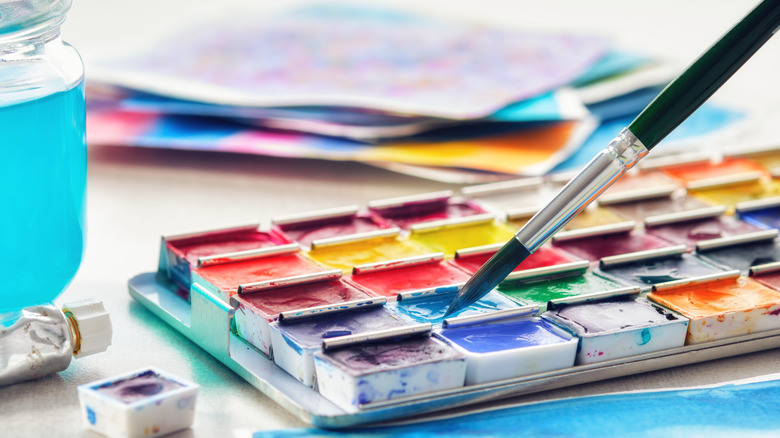 Chamille White/Shutterstock
Figured out the paper, now onto the paint. In elementary school, many of us probably became familiar with the rectangular palettes of watercolors in small ovals. Lefebvre doesn't have anything against pan palettes, saying "Over the years I've been able to test out some pan palettes and I see great value in them especially for beginners. It takes the stress out of figuring out which colors to buy and has what you need to get painting." But she notes that "not all pan paints are made equally. Some are not the greatest quality which you want to watch out for. Some recommendations of really great palettes I've tested are Paul Ruben's, Mungyo, MeiLiang." When in doubt, take the time to read through reviews before picking a palette.
There are more options out there, though. Along with pan sets, you can get watercolors in tubes. Emma Jane Lefebvre has both a warning and a recommendation for using watercolors from tubes: "Using them wet straight out of the tube, especially for beginners can cause us to use more paint than we actually need." What works better and to make them last longer is to "put them in a palette and let them dry overnight." Lefebvre started with Winsor & Newton Cotman tube watercolors, which she says "are great for beginners."
You can start with cheap brushes, but upgrade when you start getting better
Now for the brushes. There are loads of different brush types for different techniques; two common types are flat brushes, ideal for large swathes of a color, and round brushes made for delicate line work up to larger broad strokes, per Zen Art Supplies.
Emma Jane Lefebvre said "I literally started out with Dollar Store brushes. But once you get the hang of watercolor, you'll want to upgrade for sure." Here's why. "Better quality brushes will last longer and will give you a great point." Lefebvre has collaborated with Craftamo for a line of brushes; there are four brushes in the set: a ¾ inch oval wash and rounds in size 2, 6, and 12. Lefebvre has also been a long time user of Princeton snap brushes.
Lefebvre talked about the personal aspect of brushes: "Every artist seems to like different brushes for different reasons. I tend to like a stiffer snappier brush with a great point. I find they are the easiest to control and best for beginners." And for her, a size 12 and 6 round brush "are the most versatile."
What it all comes down to when starting out in watercolor for Lefebvre is this: "Let go of the idea of perfection. Creating the perfect painting does not exist. But with every attempt, you learn something new. Enjoy the process and don't be afraid to have fun."