These Are The Best Hidden Beaches In Mexico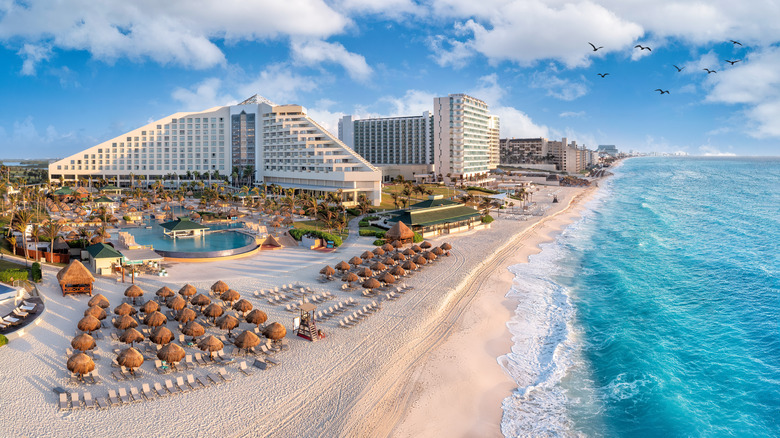 jdross75/Shutterstock
Dreaming of getting away to a place lined with white sand beaches and breezy palm trees? Then Mexico should be on your list of go-to vacation spots. Spanning an area of 761,610 square miles, Mexico has a lot to offer those raring for a vacation, including some gorgeous hidden beaches (via World Atlas). The beautiful country is surrounded by beaches thanks to its ideal location between three major bodies of water: the North Pacific Ocean, the Caribbean Sea, and the Gulf of Mexico. Maybe that's why it's one of the most popular celebrity vacation spots.
Per USA Today, the Pacific coast of Mexico stretches around 2,200 miles from Mazatlan to Acapulco, meaning you can bet there are many beaches you'll be able to visit. And that's just one coast. The Gulf of Mexico also offers beaches to travelers looking to unwind and relax.
If you're looking to dodge the crowds but still want to hit up those beautiful beaches, you'll need to stop by a beach a little less traveled by tourists and therefore perfect for private getaways.  
For the best hidden beaches, head to Jalisco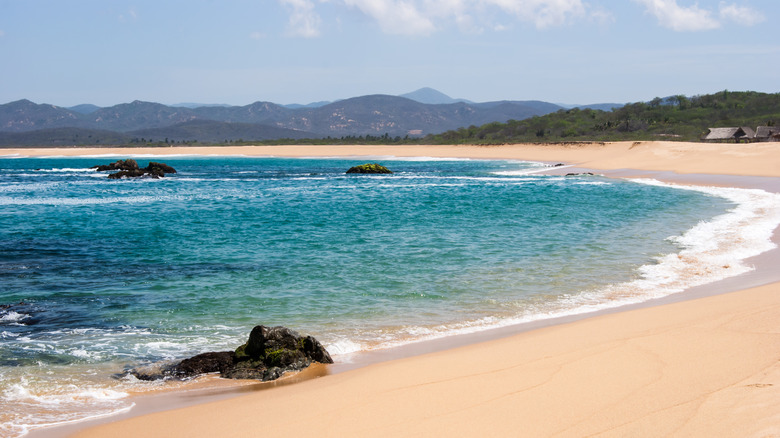 Oskar Fluehler/Shutterstock
On the western side of Mexico, you'll find a charming state called Jalisco, where you'll discover several hidden beaches just waiting to be explored. One of these beaches is Mayto Beach. This gem of a beach hosts some incredible events such as the Conexión Beach Festival and Ayotl Festival. For those who don't enjoy festivals, what better way to spend your vacation than doing a good deed? At Campamento Tortuguero Mayto (Mayto Turtle Camp), visitors and volunteers can assist rescued sea turtles and make a difference.
If you really want to get away from it all, hop on a boat and head out to Cocinas Isle. This is where you'll find Cocinas Beach, another Jalisco hidden gem. A traveler's review on TripAdvisor calls Cocinas Beach "a wild and amazing place." This lovely island is just perfect for a day of scuba diving, knocking books off your summer reading list, or for anyone who wants a taste of wilderness. 
Visit a Pueblo Magicos to continue your sweet escape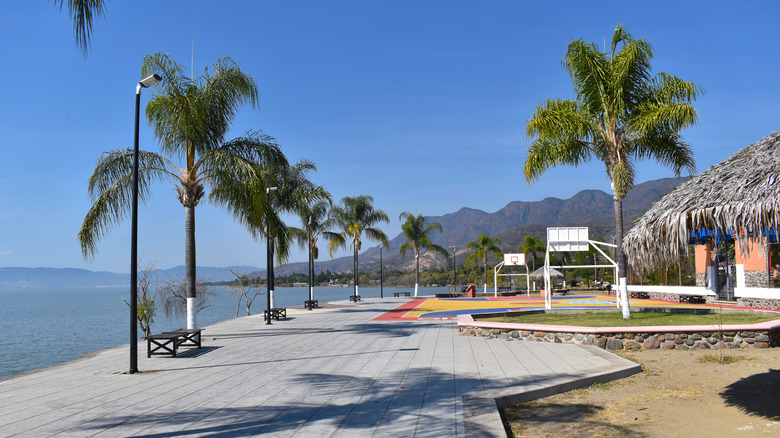 ehudson/Shutterstock
After spending a day at one of the hidden beaches, travelers can shake off the sand and visit other popular attractions in Jalisco, such as one of the Pueblos Mágicos (Magical Towns). According to Journey Mexico, each magical town is recognized by the Mexican government as being ripe with history and a palpable quality. 
Jalisco is home to nine Pueblos Mágicos, and each one has something special to take in (via Pueblos Mágicos). Stepping foot in any of these ethereal towns will instantly make visitors believe they've walked into an enchanted world displaced from time.
For a magical adventure that remains close to the water, Ajijic is the town you'll want to visit. Visitors to this area, which is filled with bohemian beach vibes, will enjoy sailing, waterskiing, or kayaking around beautiful Lake Chapala. You'll be surrounded by wildlife while the rolling mountains of Ajijic serve as your backdrop.