Barack Obama Just Became An Emmy Winner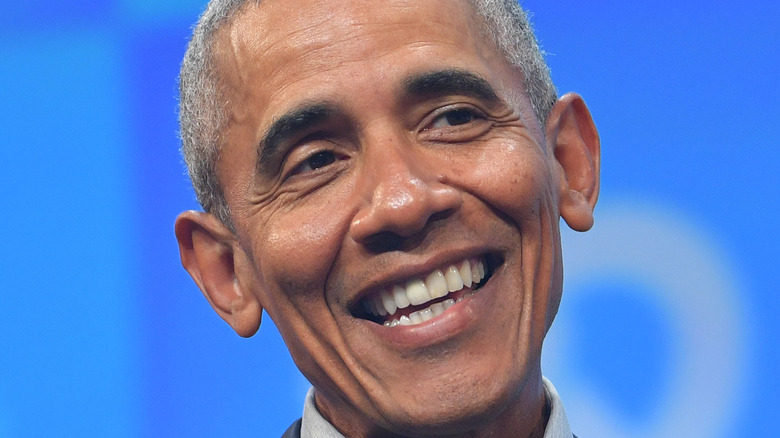 Hannes Magerstaedt/Getty Images
Barack Obama has been showered with accolades throughout his life. TIME Magazine named him their Person of the Year in 2008 after he was first elected president, and again in 2012 when he won the presidency for the second time (per CBS News). The Norwegian Nobel Committee awarded him the Nobel Peace Prize for 2009, and in a 2021 poll conducted by the Pew Research Center, Americans named him the best president of the last 40 years.
Obama is also the recipient of a pair of Grammy Awards, both in the category of best spoken word album. He received the first in 2006 for narrating his best-selling memoir "Dreams from My Father." The second he got in 2008 for his audiobook of "The Audacity of Hope," beating out recordings by two other presidents that year: Bill Clinton and Jimmy Carter (per Reuters).
And now Obama has yet another award to add to his memento shelf: an Emmy.
Barack Obama won an Emmy for narrating a docuseries
On September 3, former president Barack Obama scooped up the 2022 Emmy for Outstanding Narrator for his work on "A World of Wonder," Episode 1 of "Our Great National Parks." The five-part documentary series is part of the deal that Barack and Michelle Obama's production company, Higher Ground, inked with Netflix. Each episode shows footage of stunning locations and animals around the world, from Indonesia to Kenya to Australia.
"A fish that can walk. Surfing hippos that want to catch the waves. Species found nowhere else on Earth," the 44th president of the United States said in the trailer for the series. "This is a journey through the natural wonders of our shared birthright."
Only one other American president has ever received an Emmy: Dwight Eisenhower (per BBC). In 1956, "Ike" was given the honorary award after holding a televised news conference — a first for any U.S. president — the previous year.
Obama is now halfway to an EGOT, which consists of an Emmy, Grammy, Oscar, and Tony. Only a handful of Hollywood celebrities have ever achieved the quartet of awards, including Whoopi Goldberg and Rita Moreno.