These Are The Best Hidden Beaches In Greece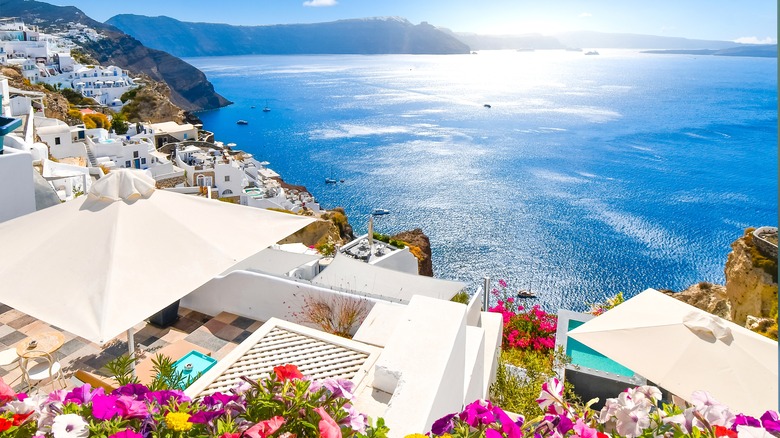 Kirk Fisher/Shutterstock
Every year, millions of people visit Greece. Of those who decide to travel there, many people visit to see the country's many historical attractions and artifacts. Others visit for their famous Mediterranean diet, but the beaches of Greece are as big a draw as anything else in this vast country.
From a historical perspective, Greece is one of the most significant countries in human history, but Greece has more to offer the world than statues of the gods. Greece is a country composed of a mainland attached to the southern tip of Europe and hundreds of small islands, scattered across the Mediterranean and Aegean (via Britannica).
According to Greeka, there are more than 500 beaches in Greece that are of top quality and beauty. As a country that boasts over 2000 islands (per Britannica), the number of total beaches may legitimately be innumerable. As DW noted, Santorini and Mykonos may get a majority of the press in this part of the world, but this country is full of vacation-worthy hidden gems.
Mainland hidden gems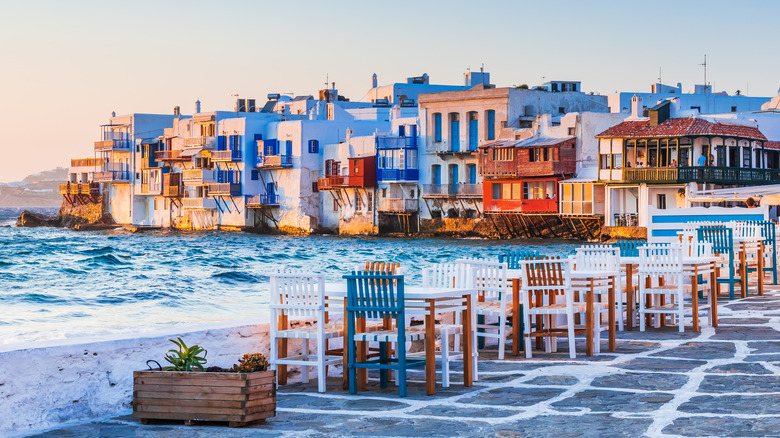 SCStock/Shutterstock
Given that there is a seemingly infinite amount of coastline in Greece, let's start with some hidden gems we found on the mainland. First up we have we have Agiokampos beach in Thessaly. This destination is perfect for those looking to pair a little bit of earthly green, with their ocean blue. As 1001 Beach notes, Agiokampos is an ideal stop for those looking to explore the ocean in other ways as there is an abundance of water sports equipment available right on the beach, and also for those looking to safely camp.
Next up is Chiliadou beach in Evia. Technically located on an island, this beach is connected to mainland Greece by a bridge and is a short two-and-a-half-hour ride from the country's capital, Athens. This beautiful beach is perfect for those looking to unwind with a great beach read for summer. However, consider yourself warned, this beach is nudist-friendly, according to Evia Fox House.
Lastly, we have Egkremnoi beach in Lefkada, another beach connected to the mainland by a bridge, and is considered the little sister of the famous (and more crowded) Porto Katsiki, but with all the blue beauty. Like most beaches in this part of the world, Greek Reporter describes Egkremnoi as a beach lover's dream.
Island hidden gems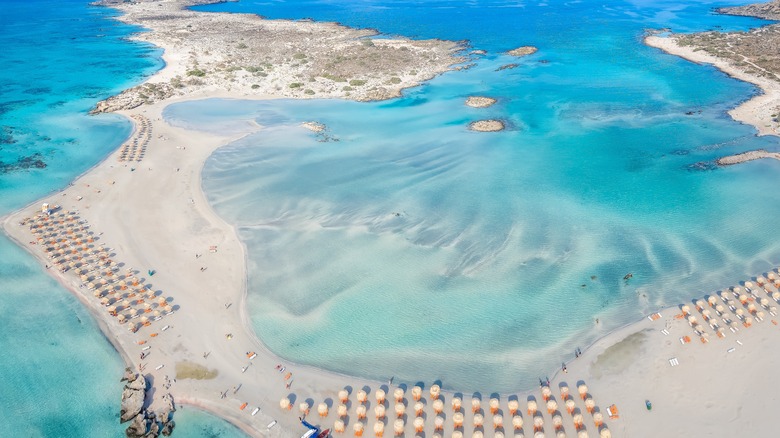 Balate Dorin/Shutterstock
The only thing that outnumbers the beaches found on the mainland of Greece, is the number of beaches found on the islands of Greece. Our first pick is Elafonisi on the isle of Crete. Technically Elafonisi is its own island located close to the southwest corner of Crete, but is it really an island if you can walk to it? According to Greece Travel Ideas, Elafonisi is connected to Crete via a sandbar, sometimes covered in only a few inches of water. This unique feature, along with its stunning beauty makes this beach a must-see.
Next is Seychelles beach in Ikaria. This may be the most secluded beach on the list because according to Island Ikaria, this private-cove-like beach is only accessible by a path that starts in town and then follows a dry river bed down to a clearing where the beach is — doesn't get more hidden than that.
Lastly is Voutoumi on the small island of Antipaxos. This gorgeous beach has it all. According to Lithari, Voutoumi beach is also close to excellent dining options and has ideal conditions for swimming.