Fashion Moments That Sparked Controversy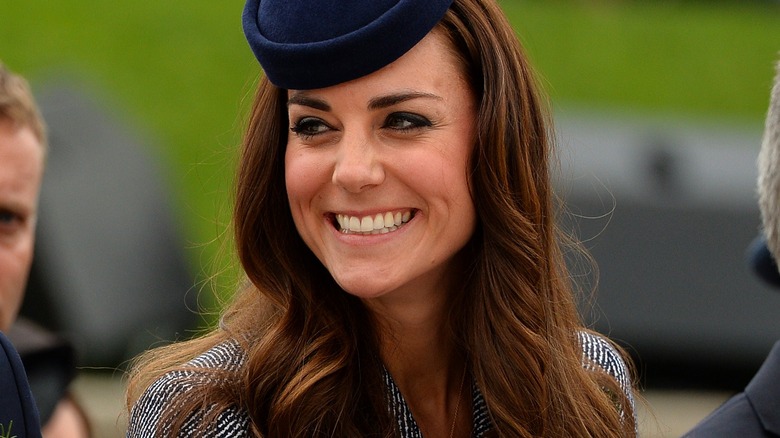 Getty Images
We've all witnessed controversial fashion moments in our own lives. From the woman who wore a white dress to a wedding where she wasn't the bride and that guy with a baseball cap at a funeral, to the person who isn't quite wearing enough clothing at a religious service. But when those mistakes are in the public eye and you are a celebrity or major brand, the outcry can be far worse than a few nasty stares and whispers. Here are some examples of headline-making fashion faux pas that sparked controversy, public outcry, and tens of thousands of tweets. Will anyone ever learn?
Ivanka Trump's short miniskirt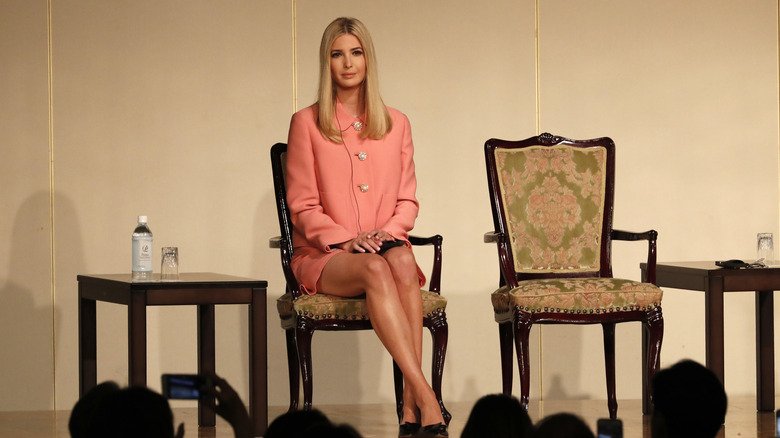 Getty Images
The court of public opinion is perhaps the highest judgment and there are few stages ripe with opportunity quite like an international one. While Ivanka Trump has been criticized for a seemingly endless list of reasons, her style usually isn't one of them. In November 2017, however, her fashion choices nearly created an international incident at the World Assembly for Women in Tokyo Japan. 
Speaking on the topics of female economic empowerment and sexual harassment in the workplace, she donned a bubblegum-pink crepe miniskirt with matching jacket from Miu Miu. Probably off the rack, but certainly not a steal, the outfit cost $1960 according to Yahoo Style.
Many users took to Twitter to express their disgust for the first daughter's hemline. One user even took the time to measure, writing, "Ivanka's skirt is about 6 inches short of classy..." Trump's politics were even questioned. Another user tweeted, "Ivanka, what on earth are you wearing?! How can you wear a pink skirt so SHORT? You're a conservative woman in a conservative country!!!" 
Kylie Jenner appears in a wheelchair on the cover of Interview magazine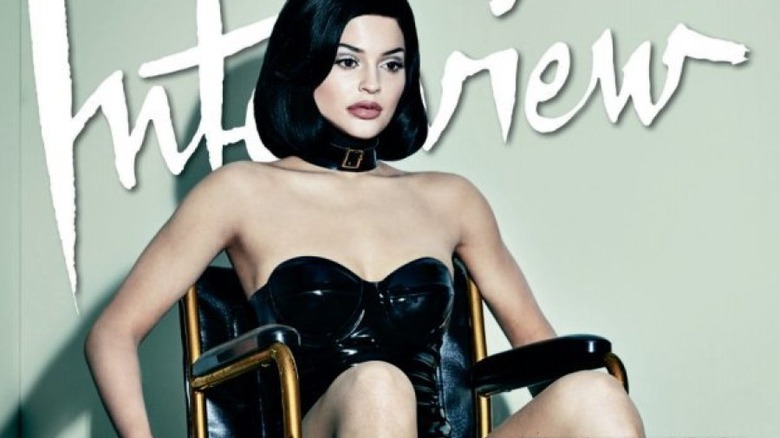 Interview magazine
Sitting on a gold wheelchair, Kylie Jenner appeared wearing a black patent leather bustier and not much more on the cover of Interview magazine. When the issue hit the newsstands in December 2015, disability advocates were outraged. Ian Ruder, senior editor of New Mobility, the member publication of United Spinal Association, told People, "It's disappointing to see people fall back on the tired and totally untrue idea that being in a wheelchair is limiting. I think most wheelchair users, myself included, would tell you that our wheelchairs are empowering and enable us to fully live our lives."
However, Interview gave a statement to People, defending the cover as art. "At Interview, we are proud of our tradition of working with great artists and empowering them to realize their distinct and often bold visions. The Kylie Jenner cover by Steven Klein, which references the British artist Allen Jones, is a part of this tradition, placing Kylie in a variety of positions of power and control and exploring her image as an object of vast media scrutiny."
While the publication didn't apologize, they said they didn't set out to be hurtful, "Our intention was to create a powerful set of pictures that get people thinking about image and creative expression, including the set with the wheelchair, but our intention was certainly not to offend anyone."
Karlie Kloss wears a Native American headdress at the Victoria's Secret fashion show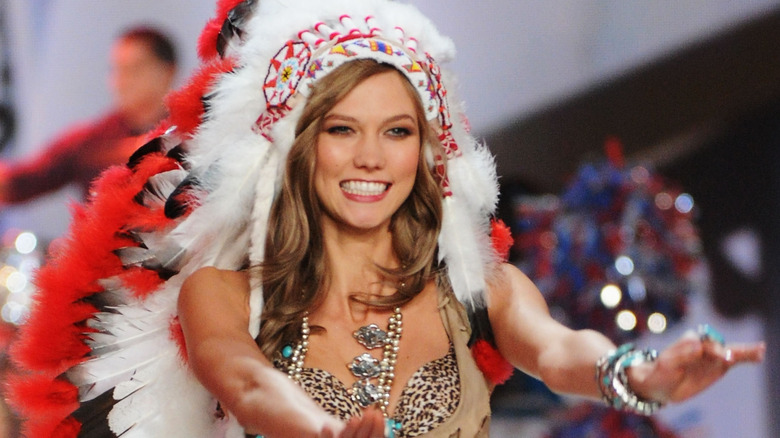 Getty Images
In December 2012, model Karlie Kloss hit the runway at the Victoria's Secret Fashion Show wearing a Native American headdress, leopard underwear, turquoise jewelry, and not much else. Adrienne Keene of Native Appropriations expressed her disgust for the brand's choice in a blog post, calling the choice one that warrants a "serious eyeroll."
She continued, "Not to mention the fake turquoise/Navajo/southwest jewelry with a plains headdress." Then, poking fun at the clear uninformed thinking that must have gone into the decision, wrote, "LOL, all indigenous pplz, they r teh samez," then continued, "Snark aside, there is a bigger issue here. Besides the daily harm of these ongoing microaggressions for Native folks, the sexualization of Native women continues to be an ignored and continuing epidemic."
Tammy Robert Meyers, a spokesperson for L Brands, which owns Victoria's Secret, gave a statement to the Huffington Post. "We are sorry that the Native American headdress replica used in our recent fashion show has upset individuals. We sincerely apologize, as we absolutely had no intention to offend anyone. Out of respect, we will not be including the outfit in any broadcast, marketing materials nor in any other way."
Kendall & Kylie Notorious BIG t-shirt is a notoriously bad choice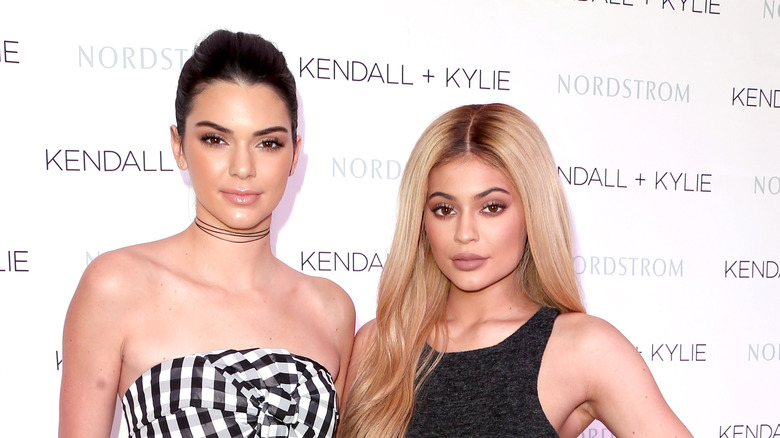 Getty Images
Kendall and Kylie Jenner might be big fans of the Notorious B.I.G. However, they showed their love in an interesting way when they used an unauthorized image of the slain rapper on the t-shirt for their Kendall & Kylie collection in June 2017.
Biggie's mother Voletta Wallac took to Instagram to express her outrage. "I am not sure who told @kyliejenner and @kendalljenner that they had the right to do this. The disrespect of these girls to not even reach out to me or anyone connected to the estate baffles me. I have no idea why they feel they can exploit the deaths of 2pac and my Son Christopher to sell a t-shirt. This is disrespectful, disgusting, and exploitation at its worst!!!"
Kendall and Kylie responded on Twitter, both posting the same message, which was, "These designs were not well thought out and we deeply apologize to anyone that has been upset and/or offended, especially to the families of the artists. We are huge fans of their music and it was not our intention to disrespect these cultural icons in anyway [sic]. The tee shirts have been pulled from retail and all images have been removed. We will use this as an opportunity to learn from these mistakes and again, we are very sorry."
Joy Villa's pro-Trump dress helps her career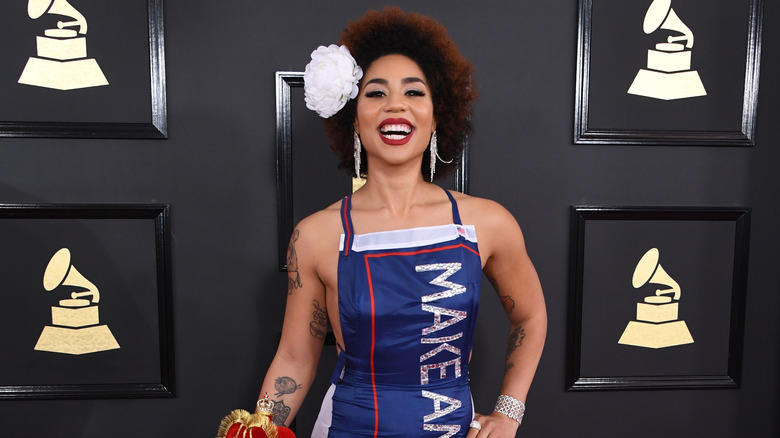 Getty Images
At the 2017 Grammy Awards, singer Joy Villa wore a pro-Trump dress that said "Make America Great Again." Not surprisingly, Villa wasn't bothered by negative reactions. She told her haters to back off in an Instagram post. "Go big, or go home," she said. "You can either stand for what you believe or fall for what you don't. Above all make a choice for tolerance and love. Agree to disagree. See the person over the politics, carry yourself with dignity, always. Life is made to be lived, so go boldly and give no effs! 
While according to Bustle this choice disturbed many, it actually helped boost Villa's album sales. Billboard reported that the day of the Grammys, 1300 copies of her 2014 album I Make the Static were sold. They also reported the album reached number six on Top Album Sales chart and number one on the Top Rock Albums, Alternative Albums, and Catalog Albums charts.
The Washington Post reported that the dress was designed by Filipino-born American designer, Andre Soriano. He defended himself to the publication, stating, "[Villa] is one of the people on this planet that really promotes love. We need to move this country forward, and we believe it's time to promote love. We only live once, and we need to promote love. We have one president now who is going to do the best thing for planet America."
Lady Gaga's meat dress angers animal rights activists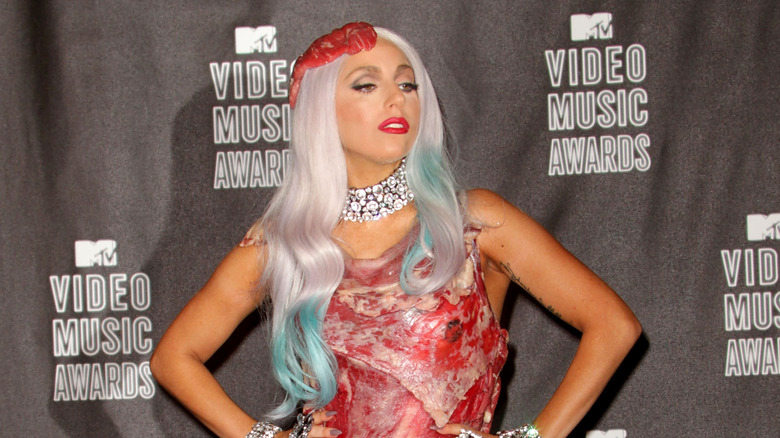 Getty Images
Lady Gaga is known for her controversial fashion choices and perhaps no fashion choice is more infamous than her meat dress from the 2010 MTV VMAs. But the dress wasn't just a wardrobe choice — it was intended as a protest against the U.S. government.
PETA expressed their disgust for the singer on their blog, saying, "Wearing a dress made out of cuts of dead cows is offensive enough to bring comment, but someone should whisper in her ear that there are more people who are upset by butchery than who are impressed by it — and that means a lot of young people will not be buying her records if she keeps this stuff up."
But Gaga's intention was a little different than many people assumed. In an interview with vegan talk show host Ellen DeGeneres, Gaga revealed her dress was meant to bring attention to the rights of LGBTQ soldiers in the military. "It's certainly no disrespect to anyone that's vegan or vegetarian. As you know, I'm the most judgment-free human being on the Earth. It has many interpretations, but for me this evening it's, 'If we don't stand up for what we believe in, if we don't fight for our rights, pretty soon we're going to have as much rights as the meat on our bones.'"
Sharon Stone wears a Gap turtleneck to the Oscars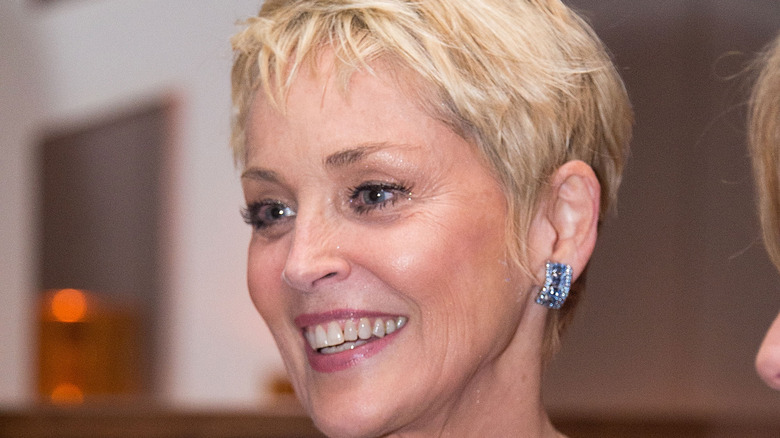 Getty Images
The '90s were a different time. Instagram didn't exist and celebrities didn't need to employ stylists for every photo op. But Oscar fashion was still very important, so when The New York Times leaked the details of Sharon Stone's outfit the day before the show in 1996, Stone was reportedly none too pleased.
So she decided to nix her original idea and mix it up by wearing an Armani jacket, Valentino skirt, and a Gap turtleneck that she reportedly already had in her closet. While you would expect to see someone wearing this at the supermarket, it was a very unexpected choice for the red carpet.
Two years later, she wore another Gap shirt, this time a white button down oxford with a shiny lilac colored Vera Wang skirt. Once again, Stone looked like million bucks even if her outfit didn't cost that much. 
Abercrombie and Fitch makes offensive t-shirts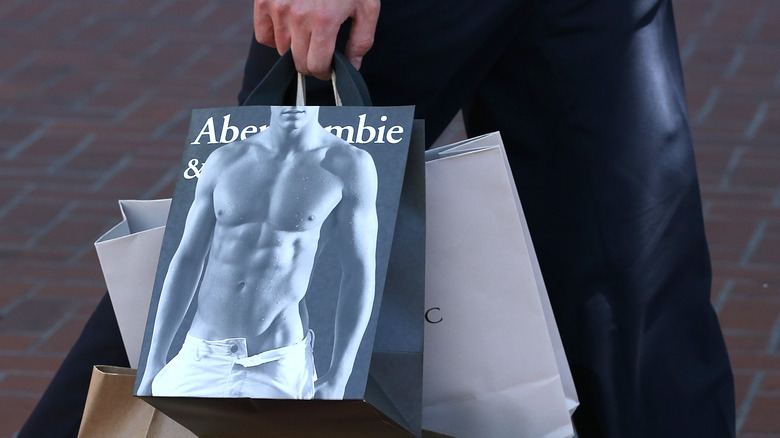 Getty Images
In 2002, Abercrombie and Fitch made people cringe when they released several t-shirts that depicted Asian stereotypes: "Wong Brothers Laundry Service — Two Wongs Can Make It White," "Wok-N-Bowl — Let the Good Times Roll — Chinese Food & Bowling," and "Abercrombie and Fitch Buddha Bash — Get Your Buddha on the Floor."
Michael Chang, the vice chairman of Stanford's Asian American Students Association at the time, told the SF Gate, "It's really misleading as to what Asian people are. The stereotypes they depict are more than a century old. You're seeing laundry service. You're seeing basically an entire religion and philosophy being trivialized."
Abercrombie spokesperson Hampton Carney responded to the publication saying, "We personally thought Asians would love this T-shirt. We are truly and deeply sorry we've offended people." But the apology was thinly veiled. Carney continued, "We never single out any one group to poke fun at. We poke fun at everybody, from women to flight attendants to baggage handlers, to football coaches, to Irish Americans to snow skiers. There's really no group we haven't teased."
Janet Jackson's Superbowl wardrobe malfunction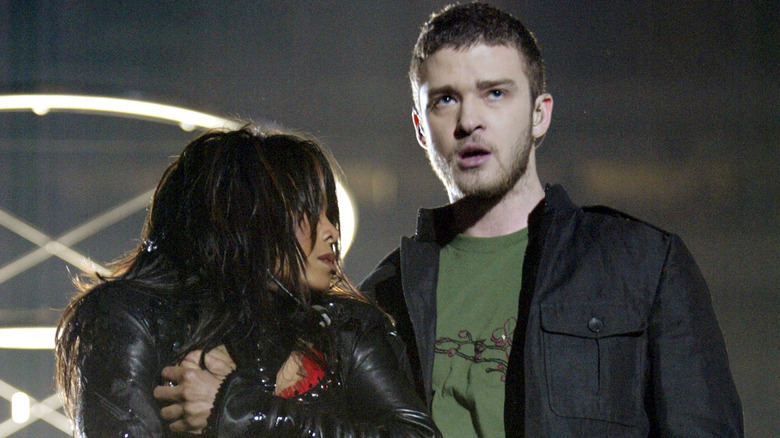 Getty Images
Perhaps no fashion moment was more controversial than Janet Jackson's infamous "wardrobe malfunction" at the 2004 Super Bowl halftime show with Justin Timberlake. Timerlake ripped Jackson's top, revealing her breast while the two performed his hit "Rock Your Body." CBS was initially fined $550,000 by the Federal Communication Commission for the slip. However, the Supreme Court tossed out this ruling in 2012.
Both Jackson and Timberlake denied the incident was intentional. According to Entertainment Weekly, Jackson said in a statement through her publicist Stephen Huvane, only a red bra was supposed to be revealed. "The decision to have a costume reveal at the end of my halftime show performance was made after final rehearsals. MTV [who produced the show] was completely unaware of it. It was not my intention that it go as far as it did. I apologize to anyone offended — including the audience, MTV, CBS and the N.F.L."
But not everyone was upset. According to Entertainment Weekly, a press release from TiVo stated the flash was "most viewed (and re-viewed) moment in the digital video recording company's history."
15-year-old Miley Cyrus wears very little on the cover of Vanity Fair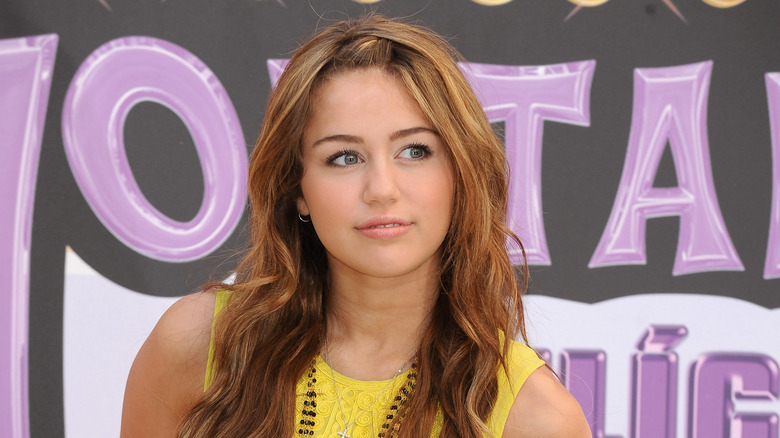 Getty Images
Sometimes a controversial fashion moment contains no fashion at all. At least this was the case for Miley Cyrus who appeared topless with a draped cloth covering her chest on the cover of the May 2009 issue of Vanity Fair. Shot by famed photographer Annie Leibovitz, Cyrus told People she wasn't happy with the end result. "My goal in my music and my acting is always to make people happy. For Vanity Fair, I was so honored and thrilled to work with Annie [Leibovitz]. I took part in a photo shoot that was supposed to be 'artistic' and now, seeing the photographs and reading the story, I feel so embarrassed."
She added, "The pictures of me on the Internet were silly, inappropriate shots. I appreciate all the support of my fans, and hope they understand that along the way I am going to make mistakes and I am not perfect. I never intended for any of this to happen and I am truly sorry if I have disappointed anyone."
Cyrus was starring on The Disney Channel's Hannah Montana at the time. Needles to say, their executives weren't exactly thrilled and gave their own statement to People. "Unfortunately, as the article suggests, a situation was created to deliberately manipulate a 15-year-old in order to sell magazines."
Nike's Boston Massacre t-shirt shocks the city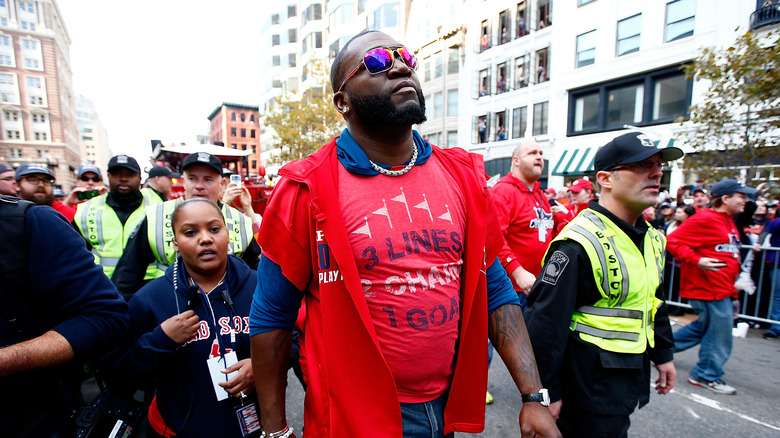 Getty Images
Sometimes a controversial fashion moment is just an unfortunate circumstance of bad timing. Just a week after the Boston Marathon bombing, Eric Stangel was shopping at a Nike outlet when he noticed a t-shirt that said "Boston Massacre." CNN explained it was a reference to a "four-game sweep of the Red Sox by the Yankees in 1978." The T-shirt depicted blood splattered over Yankee-colored lettering.
When word got out, the shirts were immediately recalled. In an email to CNN, Nike spokesperson Brian Strong said, "The shirts being referenced are older baseball shirts that were predominantly being sold through our Factory Store Outlets."
But in a strange turn of events, the shirts quickly became a collector's item. According to the Huffington Post, the shirts were selling for as much as $150,000 on eBay. However, the auction site ultimately pulled the sale of the shirt, saying it violated the company's offensive materials policy.
JCPenny's too pretty to do homework t-shirt is too controversial to wear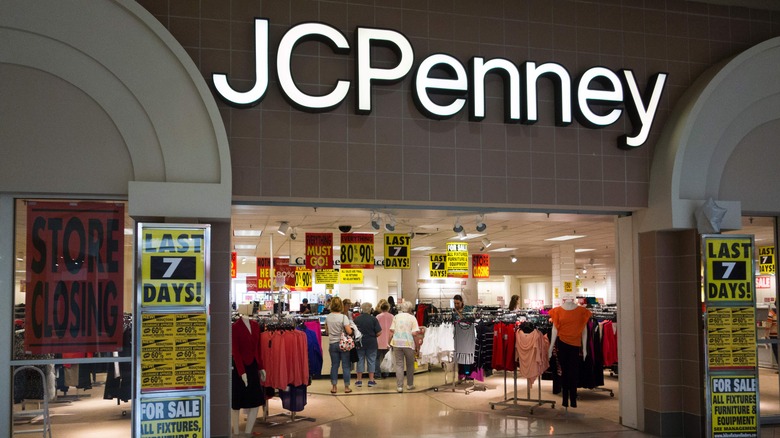 Getty Images
One can only wonder why JCPenney would sell a shirt that says "I'm too pretty to do homework, so my brother has to do it for me," on their website. To make matters worse, according to The Frisky, the caption for the product read "Who has time for homework when there's a new Justin Bieber album out? She'll love this tee that's just as cute and sassy as she is." 
Lauren Todd was so disturbed by this shirt that she created a petition to "Tell JCPenney to stop promoting sexist messaging to girls." It garnered a total of 1,620 signatures.
The company responded by issuing a statement. "We agree that the 'Too pretty' t-shirt does not deliver an appropriate message, and we have immediately discontinued its sale," the statement said. "Our merchandise is intended to appeal to a broad customer base, not to offend them. We would like to apologize for any concern we may have caused and assure you that we are taking action to ensure that we continue to uphold the integrity of our merchandise that [our customers] have come to expect."
Walmart's fat girl costumes are deemed offensive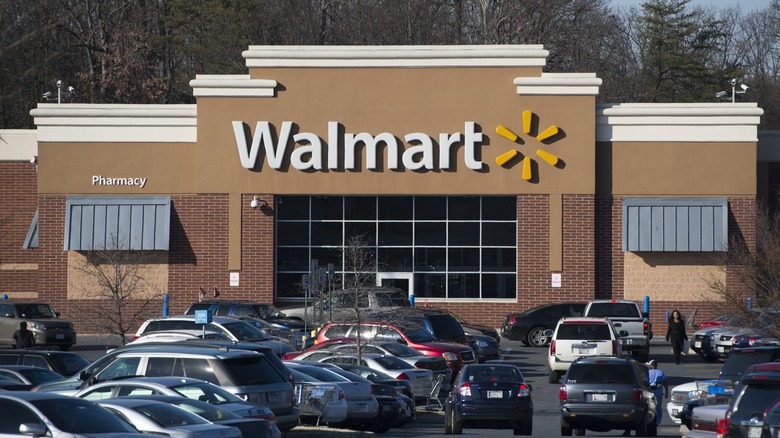 Getty Images
Weight and size are sensitive issues for most women, so it's nearly impossible to understand why Walmart would have a "fat girl costumes" category on their website. First reported by Jezebel, the error was discovered by a reader who was simply looking for a cheap costume in her size. While she didn't find what she was looking for, she found an egregious mistake by the company.
According to CNN, many people took to Twitter to express their disgust. Walmart responded by tweeting the same canned response to multiple users saying, "This never should have been on our site. It is unacceptable, and we apologize. We worked quickly to remove this.
Walmart ultimately made good on their promise, but never explained why or how the error occurred in the first place.
Kate Middleton recycles her outfits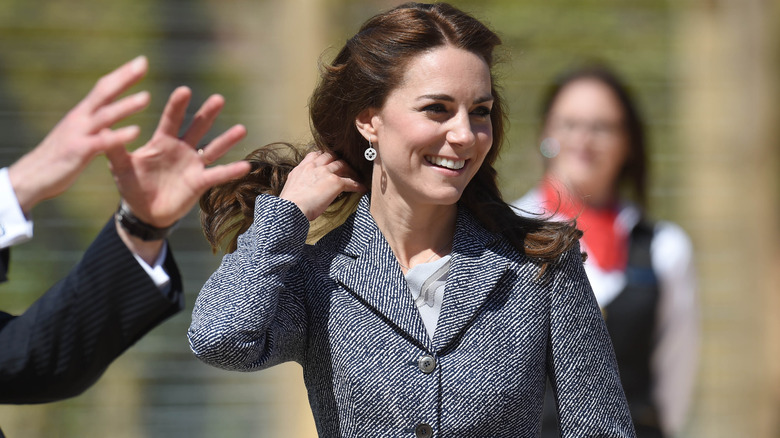 Getty Images
Even royalty can be guilty of an outfit repeat or two, but Kate Middleton is a serial offender of this fashion rule. According to Fashionista, the Duchess of Cambridge has a grey tweed Michael Kors coat that simply can't part with. 
In 2014, she was spotted wearing it throughout her tour of Australia and New Zealand. Two years later she was photographed wearing it again at the opening of the Magic Garden playground at Hampton Court Palace. That same day she repeated another one of her outfits, wearing a pastel blue Roksanda Ilincic dress to a charity luncheon at the Anna Freud Centre. According to Elle, Middleton wore the same dress at least four times from 2011 to 2016. Perhaps she donated the money she was going to spend on something new. Then again, who really cares if you wear the same outfit more than once?