Wedding Trends You Need To Know In 2018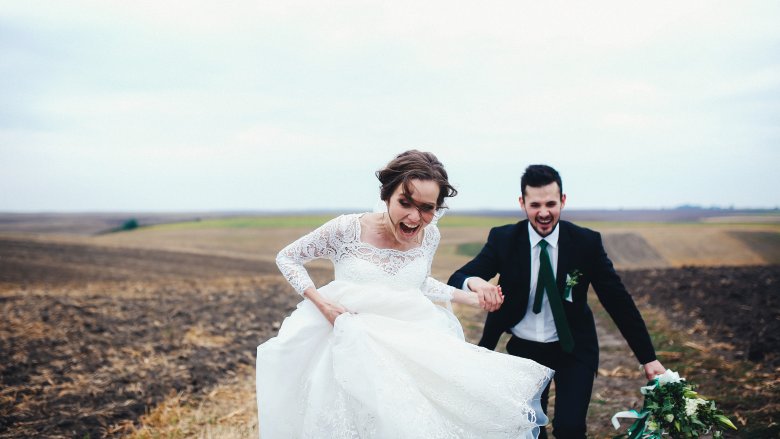 Shutterstock
Every year, weddings tend to take on a different aesthetic based entirely off what trends the industry is seeing pop up. These ideas come from each vendor —  professionals like floral designers, pastry chefs, and event planners — and help make each wedding more of an experience than just an event. Now more than ever, brides and grooms are personalizing their wedding day to evoke who they are as a couple, rather than focusing on the wedding rules of the past.
Looking into 2018, there are certainly some new trends on the rise, but also a few oldies that are here to stay. I interviewed wedding vendors that are experts in their field, and got an inside look at the trends to expect for the year to come. If you're a lover of colorful stationery and intricate designs on sweet confections, it seems that 2018 just might be the most epic year to plan a wedding. Read on to find out which wedding trends will be all the rage in the year to come. 
Unexpected local blooms will be coming back in style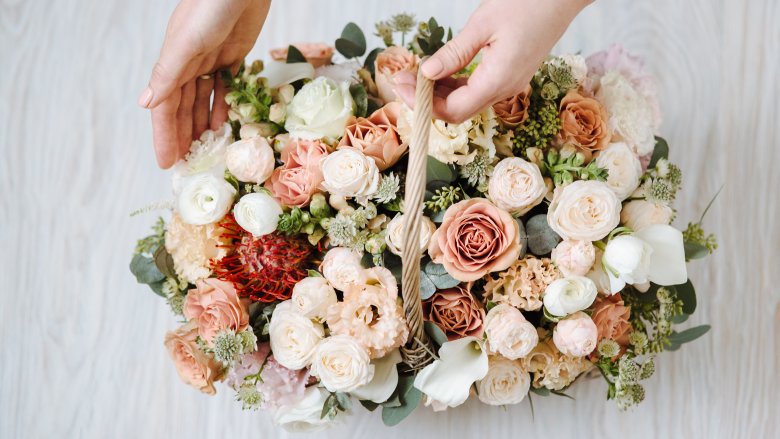 Shutterstock
Recent floral trends have focused on flowers like peonies, garden roses, and ranunculus — but 2018 will bring back some long-forgotten blooms. "Flowers like irises, mums, and daffodils are making a big comeback for many reasons," says Caroline Bailly, owner of floral design company L'Atelier Rouge. "There are planet-conscious couples that aren't interested in flying [exotic] flowers from South America or Japan, so that's part of the consciousness." Keeping your florals local with old-school flower choices is a highlight for those eco-friendly couples.
You'll also see more flowers based off of what season they're in bloom — which also helps with a couple's wedding day budget, as in-season flowers typically cost less than out-of-season ones. "Brides and grooms also want the flower type that's best for the time of year that they'll be married. Couples want more textures, more mixed foliage," says Bailly. "We'll see florals that are more romantic, more open, and more lush greenery."
Undone bouquets are here to stay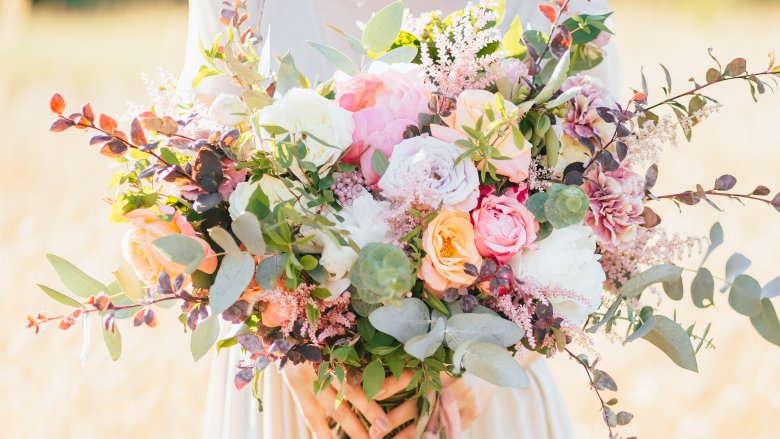 Shutterstock
If you hop onto Pinterest or any wedding website, you'll see that overflowing bouquets that cascade down have been incredibly popular in 2017. But as we look into 2018, will the classic, compact bouquet make a comeback? "Years ago, we had very compact arrangements, with very minimal greenery. That's not the case anymore," says Bailly. "We still have a green trend going on, where the bride is still requesting green foliage in her bouquet. In 2018 we'll still be following the fashion trends and the bridal couture trends, so we're going into more cascading and lush bouquets still."
Bailly top recommendation for brides who are thinking of following the bouquet trends for 2018? "When it comes to bridal bouquets, I always request to see what the bride's dress is going to look like. We don't want to make a bouquet that will overpower the dress — we want to do something that is going to complement the dress," Bailly says. So if you're considering a whimsical, undone bouquet, check with your florist first to make sure to customize this bouquet style in a way that fits cohesively with your wedding gown.
Informal invites will be increasingly popular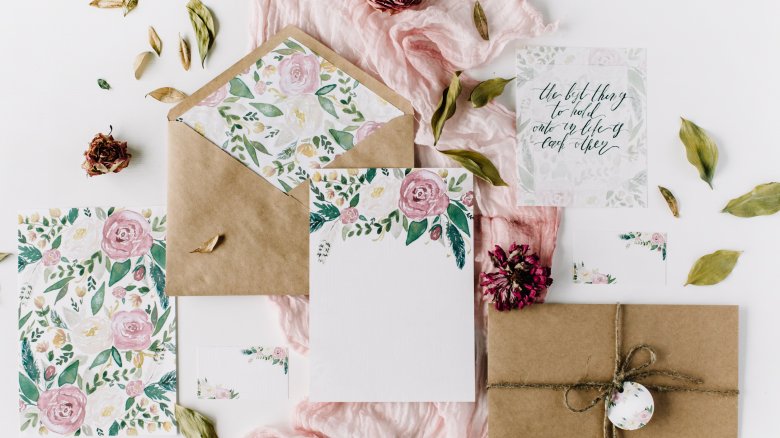 Shutterstock
Gone are the days when a wedding invitation needed to be in formal script, with a crisp white backdrop and minimal color. "For 2018, I'm expecting a further push away from formality," says Carly Martin, wedding stationery designer and founder of Clementine Studio. 
"Couples are wanting to express their personalities more than ever in their wedding details, and paper goods are the perfect way to flex their creativity." Are you obsessed with watercolor? Do you love the look of letterpress? These are all things that are no longer "against the rules" for your wedding invites. "Wedding invitations and websites are sort of like an extension of their social media personalities, so couples are having more fun with colloquial wording and playful designs versus more traditional styles," Martin says, adding, "I'm also doing a lot with color and unexpected elements, like a punchy envelope liner or a custom monogram."
Wedding itineraries are becoming the new normal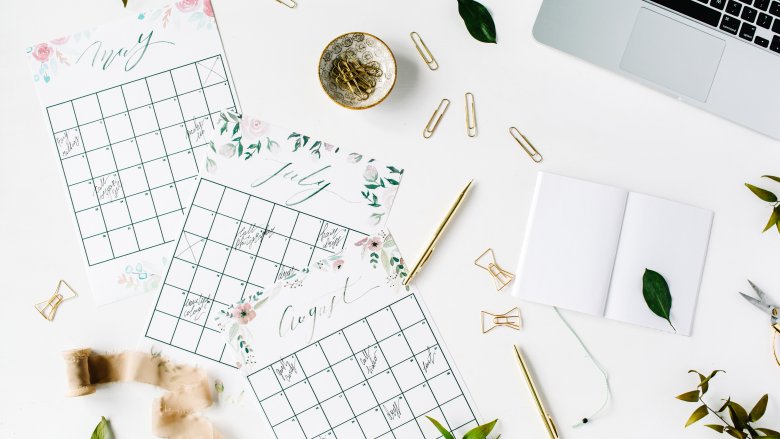 Shutterstock
My wedding was in New York's Hudson Valley, and I knew that the majority of my guests have never been there. I knew I wanted to ensure that people knew of things to do around the area, places to eat and drink, and other nearby points of interest. The best way to get this information out to your guests is by making an itinerary.
"Destination weddings are continuing to increase in popularity year after year, and that means weekend itineraries are a must," says Martin. "Even though wedding websites are standard practice now, especially for destination weddings, I'm seeing that people still want to give their guests a tangible way to experience their wedding plans. I've been designing a lot of accordian-style, tri-folded 'wedding weekend' invitations that include a welcome cover page, an invitation page, info page, a custom map on the back, as well as a detachable RSVP card that can be torn off and sent right back in the mail. This allows for plenty of colorful illustration to set the tone for the weekend and build excitement."
Buttercream cakes will overtake fondant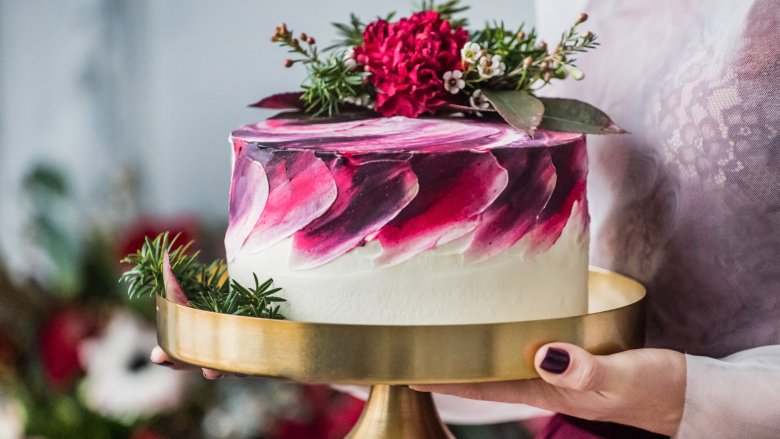 Shutterstock
For those of you who don't know the difference between a buttercream cake and a fondant cake, it's pretty simple. Buttercream is used as a filling or icing on a cake and offers a soft and creamy texture, while fondant is more of a solid paste that has been historically used when a cake is in need of design or decoration, as the texture is much more durable. But the problem with fondant is that many people don't love the taste. So does a couple have to choose between taste or design? The short answer: No!
"Buttercream is becoming more popular than fondant in recent months, as brides want to create a more natural and softer look," says Lisa Maronian, owner and head pastry chef of Sweet Lisa's Exquisite Cakes. "We're seeing more simplistic, softer designs, like a textured buttercream design with minimal flower garnishes. Buttercream also just tastes better!," Maronian adds. However, if you choose to do fondant, don't be discouraged. You can jazz up the inside of your cake with a unique, unexpected flavor. "Vanilla cake with a dulce de leche filling is becoming a popular choice, as it's a flavor that appeals to mostly everyone," says Maronian, but adds, "But chocolate is always popular and a crowd pleaser!"
Cakes will take on trending colors and patterns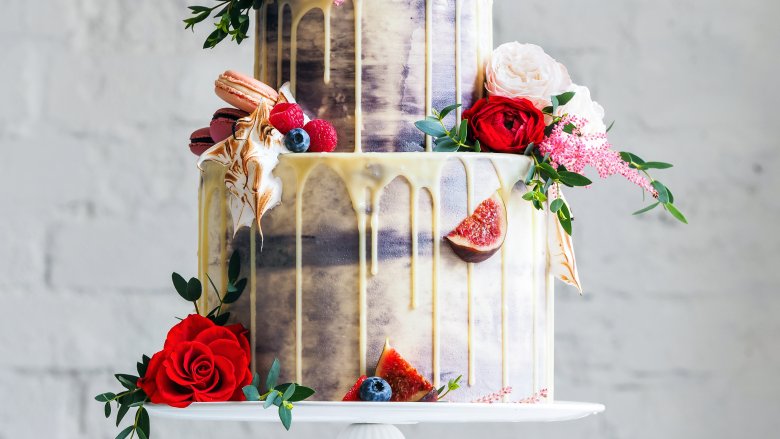 Shutterstock
You won't find many stark-white cakes on a couple's wedding day anymore, since traditional details seem like yesterday's news. "Colors are usually dependent on the seasons, but we'll be seeing a lot of white and greens, and more natural colors," says Maronian. A softer, more bohemian style will take over the look of any preppy, classic style, too, and that includes patterns and designs on the wedding cake. "We're seeing a lot of lacework, chevron, and quilting," says Maronian. Think about the details incorporated throughout your wedding day, and weave that into the design of your cake. 
Along with unconventional designs and colors, the cake size will be moving away from massive and leaning more towards minimal. "The trend is going to be more smaller, 3-tiered cakes, with an additional backup sheet cake, as opposed to larger, 4, 5, and 6-tiered cakes," says Maronian, adding, "This makes it easier for cutting and serving, as well as displaying." So instead of a cake that towers over the bride and groom, we'll be looking more at a compact cake, and perhaps a focus on other treats, such as a coffee station or mini desserts passed by waiters, to complement the wedding cake.
Dresses with capes and crepe are going to be all the rage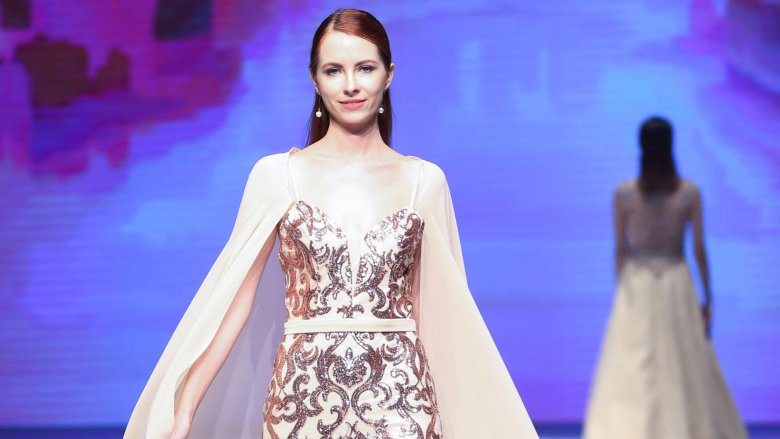 Getty Images
While a simple white wedding dress is always a timeless look for a bride on her wedding day, one trend that will take 2018 by storm are capes. Amber Silva and Dawn Silva Rigney, sisters-in-law and owners of Kinsley James Couture Bridal, weigh in on this daring style trend: "One of our favorite trends from 2018 are capes. Although they can be fierce and dramatic, don't let them intimidate you," they told me, adding, "with the right styling, you can soften up the look and give it a more romantic, dreamy feel."
If you're trying to stick to a more traditional look for your wedding day, instead of daring to go with a bold style, go with an unconventional material, like crepe. "Crepe and other materials that allow for movement are big for 2018," they told me. "Crepe in particular is a great option for brides who want to look effortlessly chic, and dance the night away."
Dresses with a nod to tradition will make a comeback in an untraditional way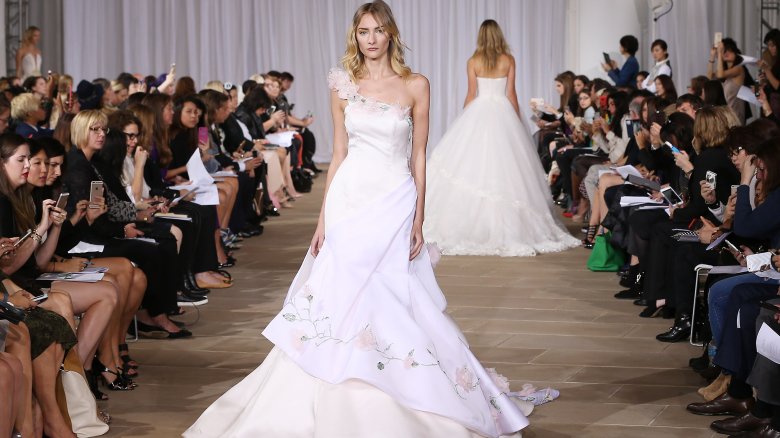 Getty Images
While long-sleeved or cap-sleeved gowns always evoke classic style, a one-shoulder gown might take over the bridal world. "For 2018, the off-the-shoulder trend has evolved into the one shoulder, or asymmetrical look," say the sister-in-law duo. "We think it's the perfect combination of sophistication and sensuality; brides who want to show a bit of skin without going over-the-top will love these gowns."
And if you prefer keeping your gown fitted to a sweetheart style or a lovely empire waist, instead of playing with the cut of the gown, you can play with the details: particularly the back of your dress. "Everybody loves a sleek row of buttons down the back of their dress, but why settle for one row when you can have two?" says Silva Rigney. "The kissing button trend adds a twist on a more traditional look and elevates an otherwise simple gown with a bit of drama." So, instead of wearing a gown that many people have seen at countless weddings before yours, adding a bit of your own personality into your dress will add that wow factor to your upcoming nuptials.
Specialty food stations will enhance guests' experiences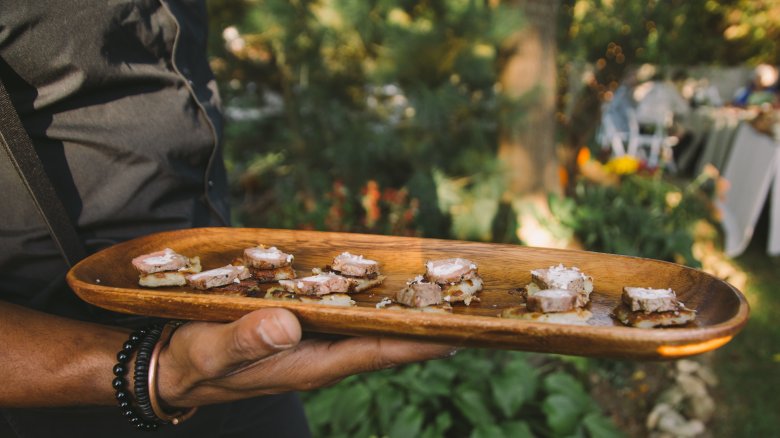 Shutterstock
While there's nothing wrong with keeping the traditional dinner of poultry, red meat, or seafood on the menu, 2018 will see a growing trend of incorporating food stations that showcase the couple's personality. 
"Specialists are even being brought in for curated food experiences — think elaborate display of gourmet donuts where guests get to customize their confection with a variety of glazes and toppings paired with professional baristas," says wedding planner Andrea Freeman, who has planned celebrations for celebrities, including Nikki Reed and Ian Somerhalder. "Food stations have been popular for some time, but they're becoming increasingly customized to the couple's unique tastes and entertaining style."
But what if the couple (or the guests) aren't big on desserts? "Late-night comfort foods, like sliders and cones of fries with dipping sauces to choose from are fun," says Freeman, adding, "so is a make your own grilled cheese station — guests select their bread and cheese before it gets turned into an ooey, gooey treat."
Say goodbye to buffet and family-style dinners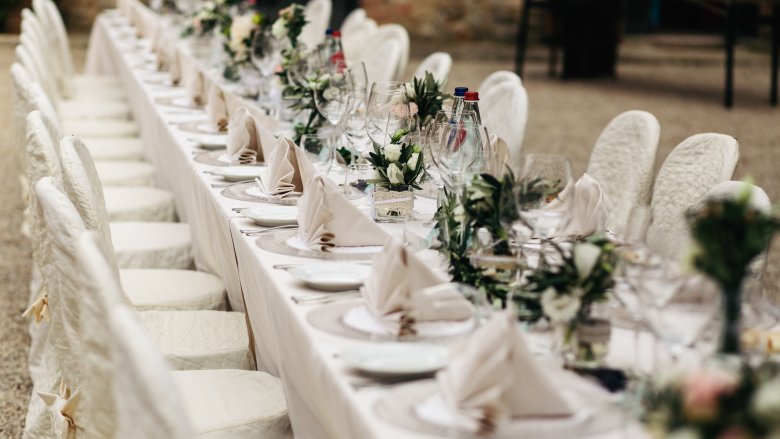 Shutterstock
While serving a buffet or family-style dinner at weddings can be a fun, casual, and cost-saving option, 2018 will bring back the formality of plated dinners. "I'm noticing more and more couples going for the more formal plated dinner again," says Freeman. "If you think about it, when you host a party at home, you often have guests grab from a buffet or pass shared dishes around the table. While it's an intimate experience, having a chef create distinct flavor profiles on a single plate is an elegant way to set your wedding apart from most other parties you'll host."
If it's within your means, it may be worthwhile to budget for a plated dinner to really wow your guests. Having long, farmhouse style tables and chairs and simple china will put all of the guest's focus on the delicious food that's being served while they are seated. Plus, there's something elegant about having meals brought right to you — guests will be raving about the food service for years to come!