Will Joe Biden Attend The Queen's Funeral?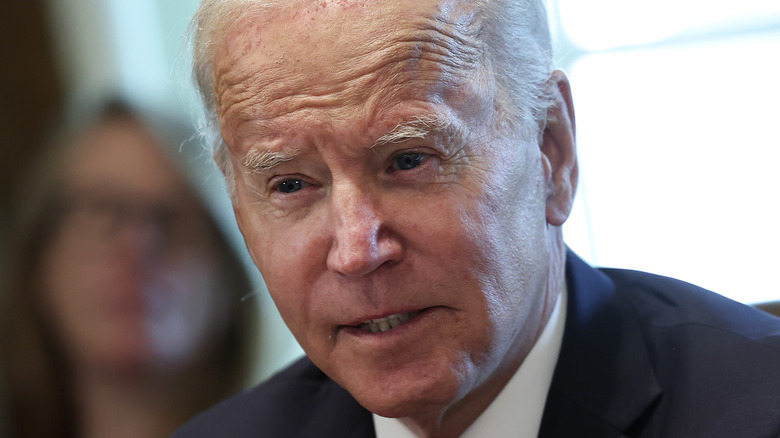 Kevin Dietsch/Getty Images
In the day following Queen Elizabeth's death at the age of 96, the world is abuzz with questions about how she will be honored, when her funeral will be and more specifically, who will attend the memorial service. 
It's likely that the long-serving monarch's funeral will look very different from her husband Prince Philip's. Who could forget the haunting images of the Queen sitting alone in St. George's Chapel, socially distancing as she bid farewell to her partner of 73 years? Due to COVID restrictions, only a small number of people were even allowed to attend the funeral.
But with the Queen's passing, it's anticipated that heads of state may show up to pay their respects. President Joe Biden has already told DailyMail.com that he is likely to travel across the pond for the somber occasion, although, he stopped short of committing 100%.
Perhaps Biden's statement that "yes, probably" he'll be on hand for the funeral has something to do with the fact that definitive plans for the service are yet to be made.
President Joe Biden seems intent on honoring the Queen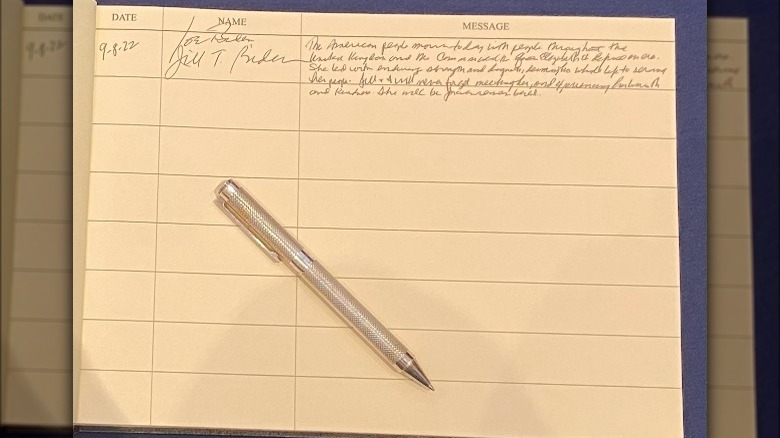 Handout/Getty Images
President Joe Biden has already gone out of his way to honor Queen Elizabeth following her death on Thursday. He took to Twitter to share a message on behalf of the First Lady and himself that characterized the monarch as being a woman of "unmatched dignity" and saying "her legacy will loom large" in history.
DailyMail.com reports that the POTUS also stopped by the British embassy in Washington, D.C., where he signed a condolence book, as did Jill Biden.
As far as Biden's plans to attend the British ruler's funeral, at this time what we know is that the country is in a 10-day mourning period, with a funeral to follow. At time of writing, an exact date for the sad event had not yet been announced (via People). TimeOut reports that Monday, September 19th is the rumored date, however.
It's worth noting that Biden did not attend Prince Philip's funeral, again due to COVID restrictions in England (via Washington Examiner).