Here's How Kate Middleton Reportedly Broke The News About The Queen To Her Kids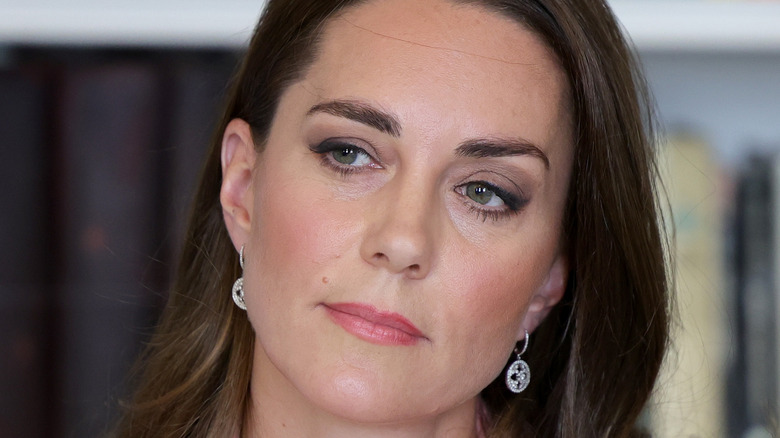 Chris Jackson/Getty Images
Kate Middleton, the newly appointed Princess of Wales, enjoyed a special relationship with Queen Elizabeth II. Before the monarch passed away, Kate had a direct line to speak with Elizabeth at any time, per The Observer. The queen also helped to prepare the young woman for her future role as queen consort, a title that Kate will likely inherit when her husband, Prince William, Prince of Wales, ascends to the throne. "She's really taken Kate under her wing," a source told Us Weekly in 2019. "The two of them will often spend hours discussing royal life and the future of the monarchy."
But when the queen fell ill and family members rushed to Balmoral to be at her side, Kate decided not to accompany William on the trip. Instead, she stayed at Windsor to make sure that her and William's three children — Prince George, Princess Charlotte, and Prince Louis – settled in during their first full day at their new school, per the Daily Mail. 
William and Kate's children were especially close to their great-grandmother, whom they affectionately called "Gan-Gan." So when it came time to tell the little ones about Elizabeth's passing, Kate wanted the news to come from her.
Kate Middleton told her children the queen was in heaven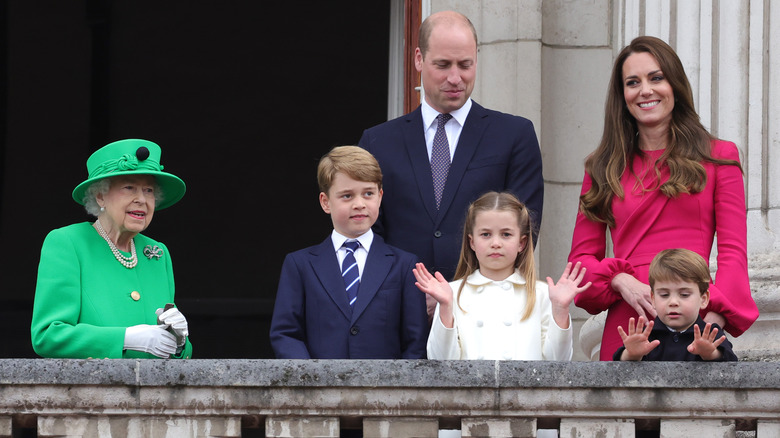 Chris Jackson/Getty Images
When it came time to break the news of Queen Elizabeth's passing to her three children, Kate Middleton, Princess of Wales, wanted to be the one to break the news. "Kate didn't travel to Balmoral to be there for the children. She gently told [Prince] George, [Princess] Charlotte and [Prince] Louis about Elizabeth's passing at Windsor prior to the official announcement," an insider told Closer Weekly. "She wanted them to hear about the tragic news directly from her to ease the blow. Kate used her words carefully and said that Elizabeth is in heaven with Prince Philip. There were lots of tears and hugs and naturally the children are upset."
Kate and Prince William, Prince of Wales, can find some comfort in knowing that their family got to spend quality time with Elizabeth this summer. The couple and their children traveled to Balmoral a few weeks ago, per People. However, it is unknown if George, Charlotte, and Louis will be in attendance at the queen's funeral, which typically takes place 10 days after a monarch's death. With that in mind, the event is expected to be held sometime around September 18 or 19, per The Washington Post.
Kate Middleton will continue to emulate the queen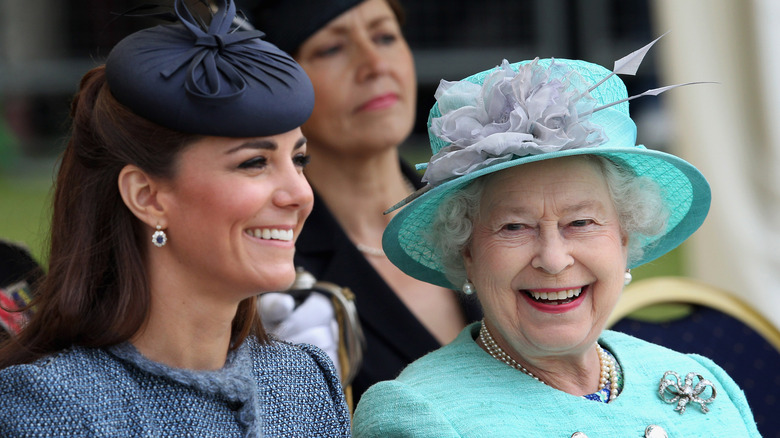 Chris Jackson/Getty Images
Although she is no longer here to offer guidance, Queen Elizabeth will continue to have a profound impact on Catherine Middleton, Princess of Wales. In fact, before the queen's passing, Kate had started taken fashion cues from Her Majesty, adding bright colors to her wardrobe. Elizabeth was known for her colorful ensembles, with her daughter-in-law, Sophie, Countess of Wessex, revealing in the documentary, "Our Queen at 90," (via People), "She needs to stand out for people to be able to say 'I saw the queen.'"
In addition, Kate follows Elizabeth's lead by not addressing private matters or political beliefs in public. She also adopted what was said to be the queen's unofficial motto for living under the public eye: "Never complain. Never explain," according to People. "Catherine has learned by observing," the queen's biographer Sally Bedell Smith said. "She knows what resonates. She will have absorbed a lot from this queen."
Sources have also pointed out that Kate has a close relationship with Camilla, Queen Consort, per the Daily Mail. The two women will likely spend a great deal of time together in the coming years, so when her husband, Prince William, Prince of Wales, ascends to the throne, there is no doubt that Kate will be more than prepared for her role.