How Much Money Do Physical Therapists Make?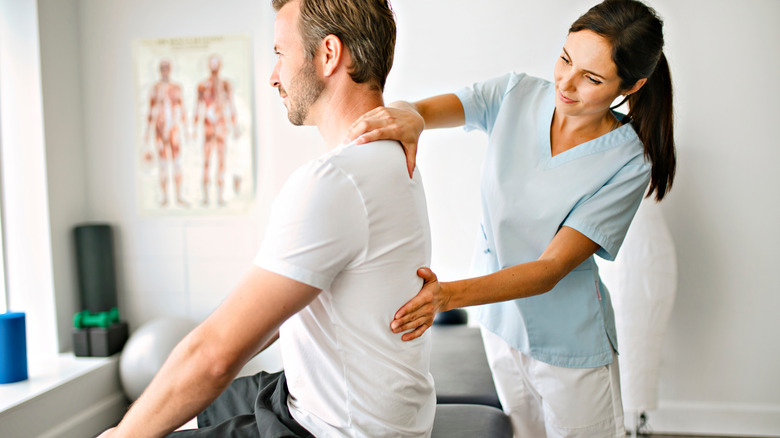 Lopolo/Shutterstock
A physical therapist (PT) is a health professional who focuses on disorders of the body, mainly the bones and muscles, but also the skin, heart, lungs, and brain, per WedMD. There are a wide variety of places you may find a physical therapist. Often, a patient is referred to one from their primary doctor after they determine the route case of your health concern or need a further opinion. Physical therapists may work in a traditional hospital or clinic setting, but can also be employed by athletic facilities, schools, and assisted living homes. Many physical therapists may also have their own practice and will work in a private practice setting.
According to The Balance Careers, the main functions of a physical therapist are to help a patient return back to normal following an accident or health issue. They focus on the joints and muscles to improve mobility, help restore any function that may have been lost, limit or prevent physical abilities, and even relieve pain. A physical therapist wears a lot of hats and is often a vital step in ensuring a person can live a happy, healthy life. But just how much do these health professionals get paid?
Physical therapists make a good yearly salary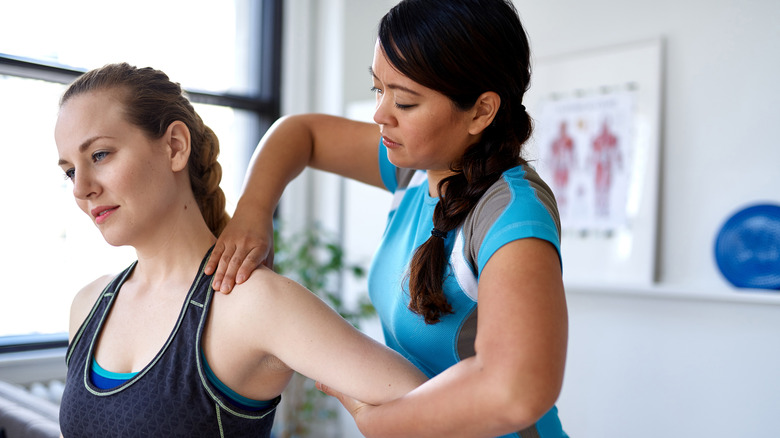 AYA images/Shutterstock
Being a physical therapist is a rewarding career that also yields a rewarding salary. But, there are many factors that go into the amount you will be paid as a PT, including where you live, the amount of years you've been on the job, and whether or not you have done extra schooling to focus on a speciality like pediatrics, geriatrics, or cardiac. Overall, per The Balance Careers, the median salary for a physical therapist is $91,010. The top earners earn about $126,780 or more, while the lower end of the PT salary range can dip as low as $63,530.
If you are looking at geography, you may want to consider moving west. California and Nevada are the top paying states for physical therapists, per U.S. News & World Report, and California is home to the top paying cities, El Centro, Modesta, and Visalia. But where you work also plays a big factor. Physical therapists who work on spectator sports make the highest average salary, followed by those who work in individual and family services.
How to become a physical therapist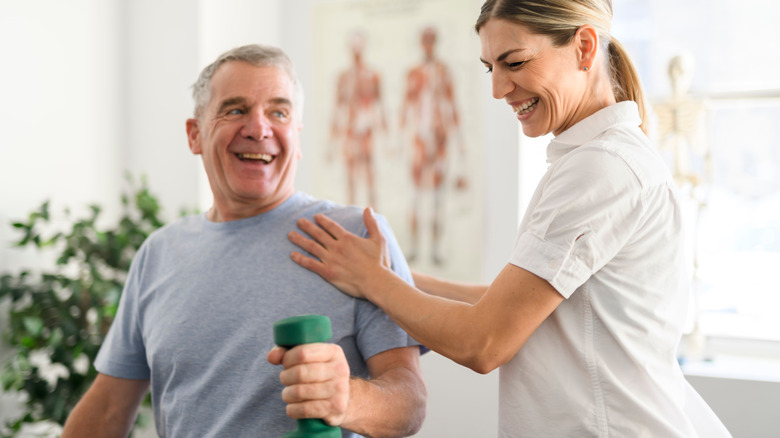 Lopolo/Shutterstock
If you are jumping at the idea of switching careers to become a physical therapist, don't get too excited. While the salary is high for PTs and according to the U.S. Bureau of Labor Statistics, the job outlook is higher than average, it is anything but easy to become one. The first step in becoming a PT is education. According to the American Physical Therapy Association, you must continue your education after undergrad and earn a doctor of physical therapy degree from an accredited program. This degree often takes about three years to complete and focuses on a wide-range of science-focused courses including biomechanics, physiology, pharmacology, and pathology.
Once you have your degree, you must pass an exam to become licensed in the state you wish to practice, per The University of St. Augustine for Health Sciences. This exam is called the National Physical Therapy Examination (NPTE) and is a multiple-choice style test that is offered four times a year. Once this is obtained, you can choose to do a residency or fellowship. While this is optional, it can greatly help you enhance your career by learning on-the-job. You also have the option to get board certified, allowing you to work in a special section of PT like sports, women's health, oncology, or orthopedics.