Stunning Details Revealed About Queen Elizabeth's Coffin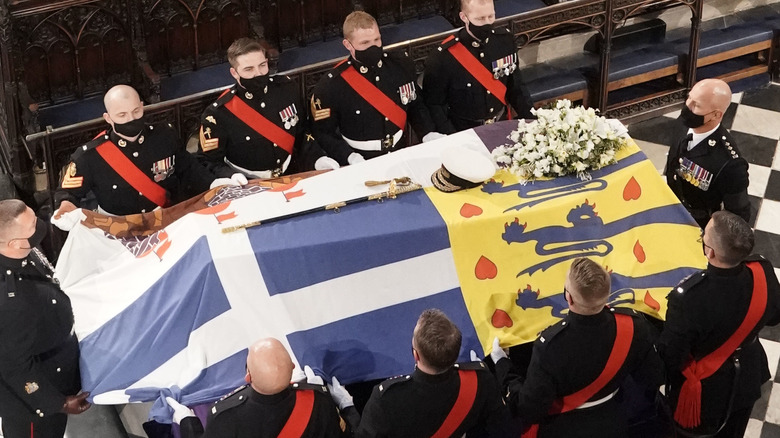 Wpa Pool/Getty Images
The official state funeral for the late Queen Elizabeth II will take place Monday, September 19 at Westminster Abbey and will be the first royal funeral held at the venue since that of King George II in 1760 (via Daily Mail). Currently, her coffin is lying in state in St. Giles Cathedral in Edinburgh, Scotland before it is to be flown to London and then driven to Buckingham Palace.
While there are countless details involved in the ceremonies surrounding the death of such a long-reigning and beloved monarch that are likely to garner a great deal of attention, Queen Elizabeth's coffin is itself a marvel and has people astonished. Not only is it made of difficult-to-find English Oak, but it is lined with lead and features fitments on the lid that will ensure the instruments of state can be fitted to the coffin for appropriate display. 
But perhaps the most shocking detail regarding the coffin is that it had been ready and waiting for thirty years prior to Her Majesty's passing. If that sounds terribly morbid to you, rest assured there is a reason. 
More details and the reasoning behind them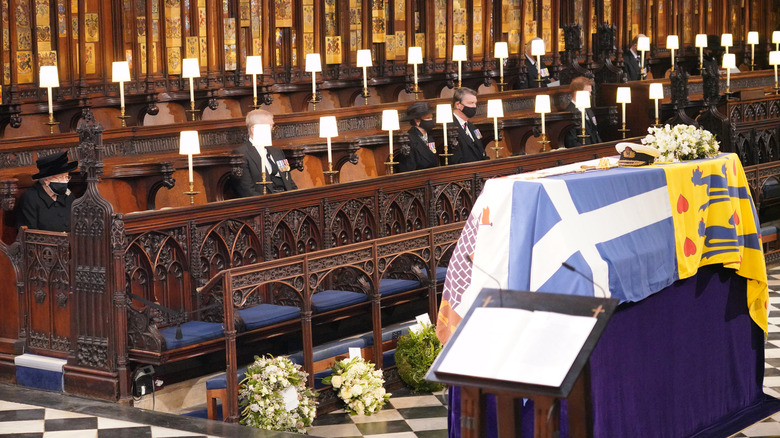 Wpa Pool/Getty Images
When speaking about Queen Elizabeth's coffin back in 2018, Andrew Leverton of Leverton & Sons, which has worked on royal funerals since back in 1991, explained the reason the coffin was made so long ago was because such an ornate and special piece is "not something you can just make in a day" (via Daily Mail). He said that the elements of the coffin are particularly special, explaining, "It is made from English oak, which is very difficult to get hold of. Oak coffins are now made from American oak. I don't think we could use English oak for a coffin now. It would be too expensive." The casket is lined with lead, as is royal tradition, because it helps to preserve the body longer. 
After the funeral and all related services and ceremonies are completed, the late Queen Elizabeth II will be buried at St George's Chapel beside her husband Prince Philip.