Queen Camilla's Biographer Shows Just How Much She Dislikes Meghan Markle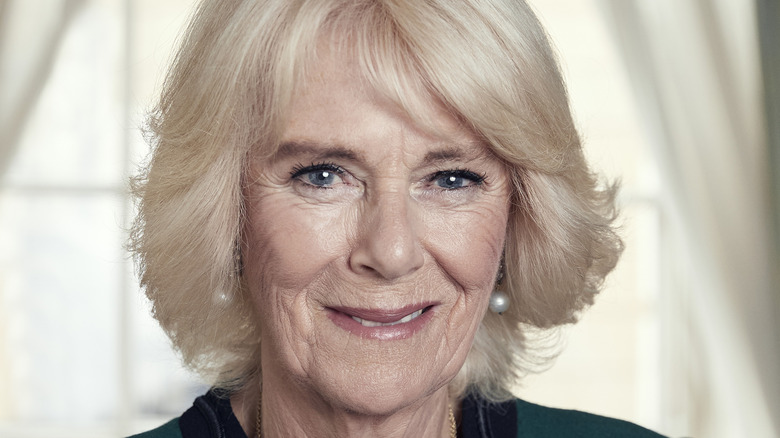 Chris Jackson/Getty Images
A new biography about Queen Camilla will launch soon. "Camilla, Duchess of Cornwall: From Outcast to Future Queen Consort," by Angela Levin, tells the story of the royal, who recently became queen consort following the heartbreaking death of Queen Elizabeth II. 
According to the book's overview on the Barnes & Noble website, author "Angela Levin uncovers Camilla's rocky journey to be accepted by the royal family ... Most of all, Levin tells the story of how [Camilla] has changed from a fun-loving young woman to one of the senior royals' hardest workers."
This isn't the only book promising to reveal secrets about the royals coming out soon. There is also the upcoming memoir from Prince Harry, Duke of Sussex, which contains many details that royals should be nervous about, and many of them may be about Camilla. A royal insider told The Sun, "Harry is fiercely loyal and protective of his late mother and her legacy, and didn't approve of Camilla sweeping in as the great love of his father's life." The source added, "Understandably he found those early years incredibly difficult, and he might publicly blame Camilla for much of what he believes went wrong in his childhood, and the trauma the whole situation caused."
Camilla's biography could potentially make things even more awkward between her and her stepson-in-law as her biographer really dislikes Harry's wife, Meghan Markle, Duchess of Sussex.
Angela Levin called Meghan Markle 'unfit' on TV
Angela Levin has long been open about her dislike for Meghan Markle, Duchess of Sussex, but was recently confronted about her behavior. On the U.K.'s "TalkTV," she was called out for her attacks on Meghan when host Vanessa Feltz pushed back after Levin claimed Meghan was "unfit" for the royal family. Feltz shot back, saying, "Do you feel any guilt that you have been responsible for fuelling a kind of anti-Meghan faction that has been spiteful and targeting, and possibly fanciful as well? I mean, quite a lot of what has been said about her has been pretty much manufactured anyway." After more back and forth, Levin responded, "I don't have to justify myself to you. I'm not in court."
Following the heated exchange, Bot Sentinel CEO Christopher Bouzy tweeted, "Angela Levin has been attacking Meghan for years, and she couldn't take 6 minutes of softball questions." The tweet included a screenshot of one of Levin's tweets, which reads, "Is Harry going to show his comic side by copying Meghan and show he too can eat like a chimp and drink from a baby's bottle? Any playfulness and cracking jokes is hardly compatible when promoting a memoir that rumour says will attack his family."
Bot Sentinel notably helped uncover the deliberate hate campaign against the Duke and Duchess of Sussex, listing the many Twitter accounts posting spiteful comments about the couple.  
Angela Levin blamed Vanessa Feltz for the on-air argument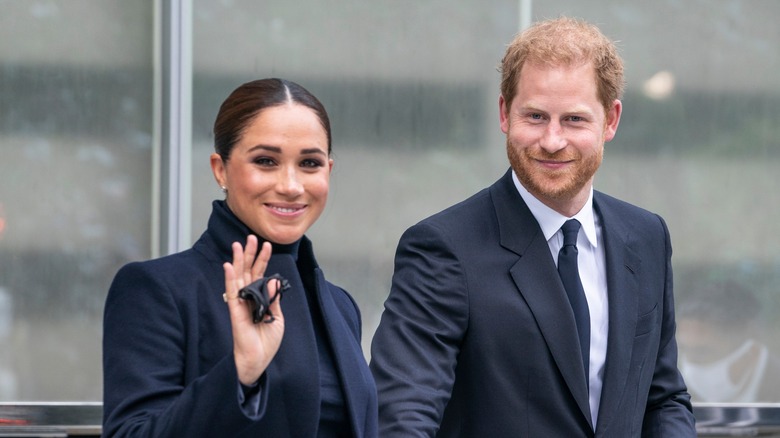 lev radin/Shutterstock
Meghan Markle, Duchess of Sussex, was bullied and attacked by the British media so severely that she revealed in her and Harry's bombshell interview with Oprah Winfrey that she considered suicide at one point (via Time). Recently, a video clip from Prince Harry and Winfrey's Apple TV series, "The Me You Can't See," made the rounds on social media, invoking sympathy. Political correspondent Nadine Batchelor-Hunt tweeted the video of Harry talking about the vicious attacks on his wife, writing, "I've never seen this before, and it makes the hounding of them by the British tabloids even more grotesque."
As nasty as the attacks on the Duke and Duchess of Sussex are, there are many people still rooting for the couple. Angela Levin getting called out could be a sign that things are changing, so perhaps we will see more people push back going forward. 
As for Levin, she defended herself to Newsweek, saying the "Talk TV" spat was all Vanessa Feltz's fault. "I don't think that her behavior went with being an interviewer," she said. "She was very aggressive and determined to try and squash me." Given Levin's feelings towards Meghan, we can only imagine how the Duchess of Sussex will be portrayed in Queen Camilla's upcoming biography. 
If you or anyone you know is having suicidal thoughts, please call the National Suicide Prevention Lifeline by dialing 988 or by calling 1-800-273-TALK (8255)​.