What You Need To Know About The Clean Makeup Aesthetic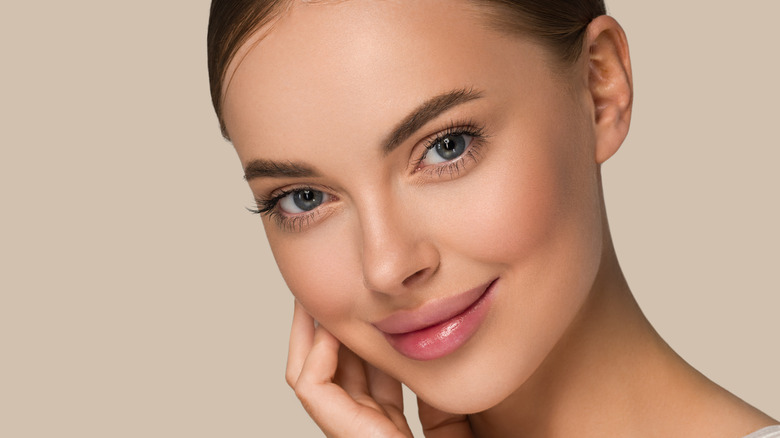 Irina Bg/Shutterstock
Chances are that you've heard of the clean makeup trend that has been sweeping social media. On TikTok alone, the hashtag #cleangirlmakeup has over 800 million views. You can find tutorials, aesthetic videos, and recommended clean beauty products from thousands of creators who are sharing their own version of the "clean-girl" makeup trend.
So, what exactly is the clean makeup aesthetic? According to Ciaté London founder Charlotte Knight, clean makeup stems from the "no makeup" trend that has been taking hold in the past year or so (via Grazia). She believes that the look was created due to the fact that many of us wore either much less makeup or none at all during the pandemic. Though things have opened up again, the appeal of wearing minimal makeup is something that seems to be sticking around. Another major factor is that the pandemic gave everyone the opportunity to re-examine their skincare routine and get back to basics. As a result, the fresh, "clean" look is intrinsically linked with taking care of yourself.
The main aim of the clean makeup trend is to look dewy and sun-kissed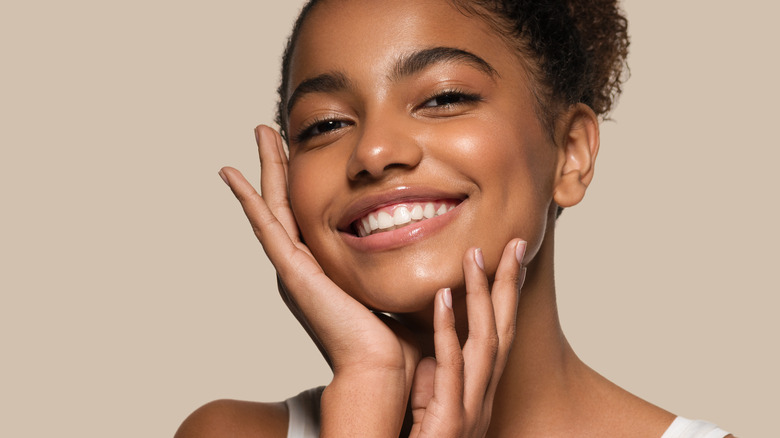 Irina Bg/Shutterstock
As with all makeup looks, there are a few key products you'll need, and Vogue has broken down the look to its bare essentials.
Firstly, your base should be minimal. All you need is moisturizer, SPF, and some concealer. If you have oily skin, you can use powder over the top, but remember to keep it low-key as the main appeal of clean girl makeup is to have a glowing complexion. If you can't bring yourself to go completely foundation free, InStyle recommends the lightweight Rose Inc. Skin Enhance Luminous Tinted Serum, which will give your face a more even texture without the dreaded cakey look.
Next, reach for cream contour and cream blush. The cream formulation will once again add to your dewy finished look. Lightly define your cheeks and then dot blush across them and your nose for a summer-tan look that works all year round. InStyle recommends the Drunk Elephant O-Bloos Rosi Glow Drops, which contain a subtle shimmer.
Finally, tie the look together by defining your brows whilst still keeping them natural for a feathery look. For your lips, add a dash of lipgloss or a tinted lip balm for hydration. Tinted products will give you a hint of color but still look super natural.
The trend isn't loved by everybody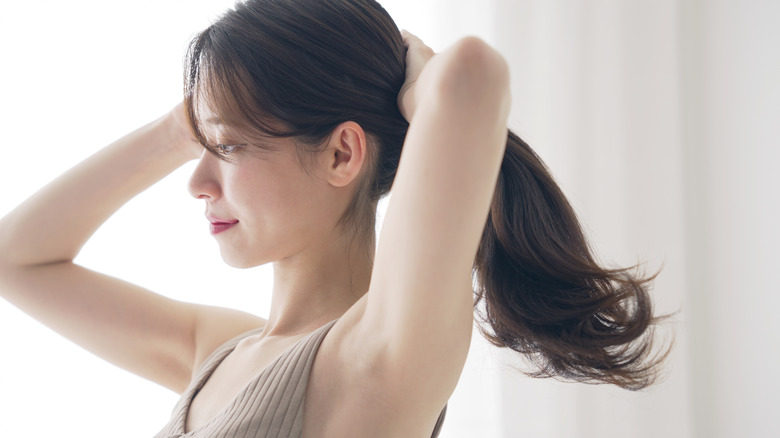 metamorworks/Shutterstock
Despite its popularity, there has been some pushback against the clean makeup trend. As pointed out by MindBodyGreen, the phrase "clean girl" has become synonymous with clear skin. This of course is not the case for most of us — even the clearest complexion can have hyperpigmentation, blemishes, and other visible texture from time to time. 
Another issue is that the trend has mostly been spotted on white celebrities with already-perfect skin, like Bella Hadid and Hailey Bieber. Several brown and Black creators spoke to Bustle about how they not only felt excluded from the trend, but thought of it as a trend only for those who adhere to the typical beauty standard like Hadid and Bieber.
Though of course anyone can wear the clean beauty trend, not all of us will look like the celebrities we were inspired by. Celebrities have access to expensive skincare treatments that give them the perfect base for a fresh, dewy look. Don't let this put you off trying the trend yourself if you are interested. Natural makeup should be for everybody, no matter your skin texture, appearance, or skin color.