Why Smudged Eyeliner Will Be All The Rage In Fall Of 2022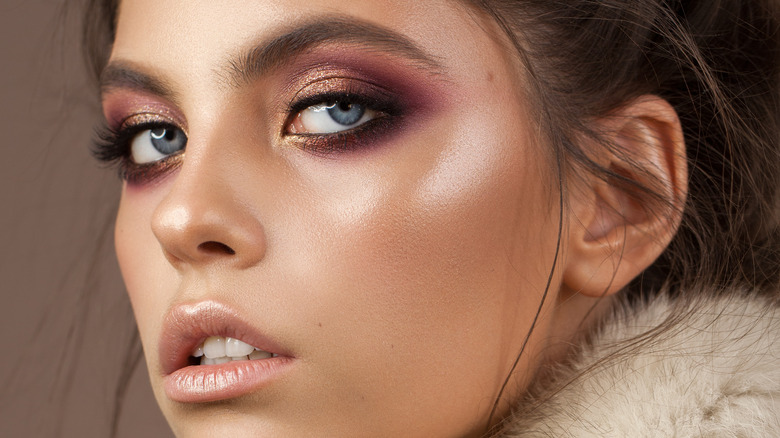 Tata Mamai/Shutterstock
If you often find yourself struggling to achieve that elusive, perfectly pointy and even winged eyeliner, now is your moment. Fall 2022 is the season of smudged, imperfect eyeliner. We all know that makeup trends change with the seasons, and as pumpkin season sets in and we head into the cooler months, the glowy, highlighter-centric faces of summer are making way for deeper, darker looks. 
Grunge-inspired, punk makeup is the new beauty trend, and dark, bold eyes with carefree smudged liner are the way to achieve it, via The Zoe Report. The global artistry director for Haus Labs, Sarah Tanno, told InStyle, "Grunge makeup has a 'lived in' vibe — it allows for more freedom in the sense that there are no rules to follow and gives off an 'IDGAF' attitude." Smudged eyeliner is a subtler version of a smokey eye, and in addition to being less of a fashion statement, it's also a lot easier to execute well, via MasterClass.
Why it's trending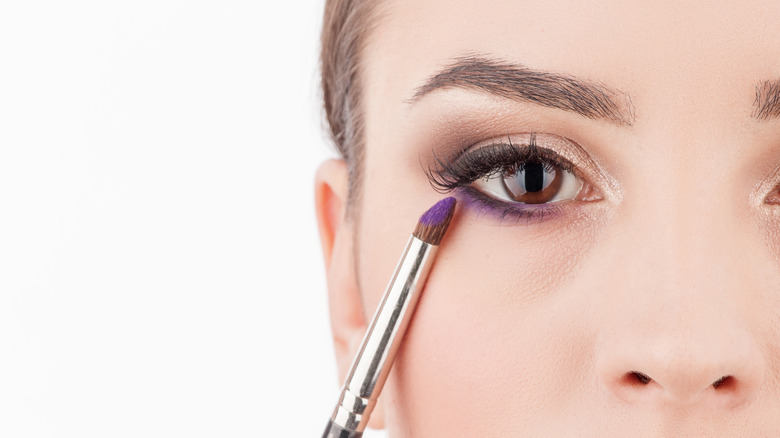 Olena Yakobchuk/Shutterstock
No matter how many eyeliner tips, tricks, and tools the beauty world comes up with to help us get even wings on both of our eyes, it never ceases to be one of the most challenging parts of our makeup routines to perfect. While it seems like a flawlessly executed cat eye never goes out of style, the rise of less sharp and graphic and more imperfect and unruly eyeliner is upon us. This is certainly good news for anyone who wants to spend a little less time getting their eyeliner just right.
Hair and makeup artist to the stars, Aaron Barry, told The Zoe Report, "Smudged out, lived in grunge eye makeup was a hit at the Altuzarra F/W 2022 show and I'm obsessed!" With '90s trends all-the-rage in recent years, it's really no surprise that grunge-inspired makeup is next on the trend docket, via InStyle. According to Sarah Tanno," 2022 is all about drawing attention to the eyes with a bold eye makeup, and grunge fits right into that with a strong, dark eye."
How to get the look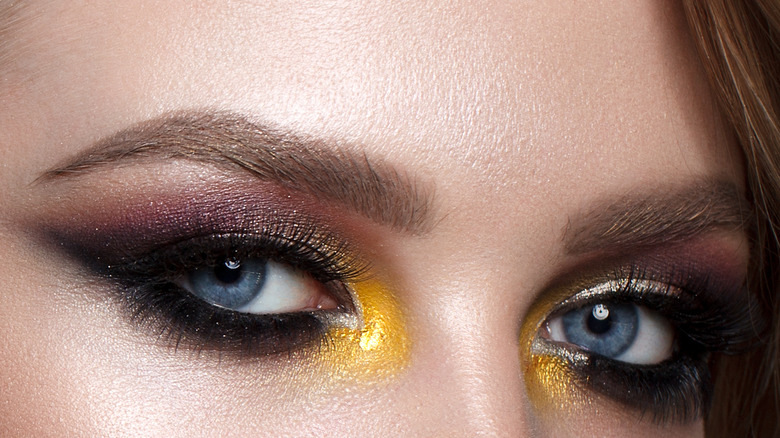 Tata Mamai/Shutterstock
If you're hoping that purposely smudging your eyeliner is as easy to achieve as it is when you accidentally smudge your eyeliner that's supposed to look sharp and precise, you're in luck; it basically is. Swap out your liquid or felt tip liner out for a kohl or kajal pencil, via Allure. Apply a light line with your eyeliner and then smudge lightly with a beauty blender, smudging brush, or Q-tip, via MasterClass. If you like to live life on the edge or simply want to make a bigger statement for night out, blend a dark or bright and bold eyeshadow out from your liner, via The Zoe Report. You can even layer a bit of liquid liner on top of your line for an extra pop.
While bleached eyebrows or big, graphic Julia Fox liner moments aren't the easiest or most accessible trends for most of us mere mortals to pull off as part of an everyday makeup look, smudged eyeliner is something that we can get on board with, via Bustle. Remember that, unlike with almost every other makeup trend, the goal here is imperfection, so don't be afraid to experiment with different colors and techniques to get that ultra-cool, laidback look.