Of All Adele's Looks - This Stands Above The Rest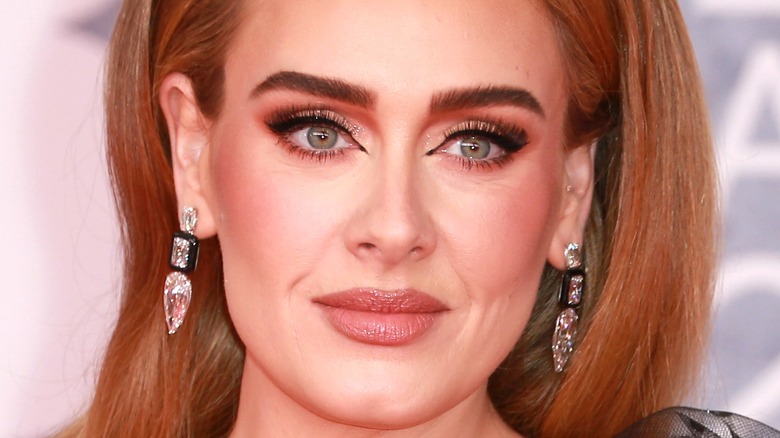 Fred Duval/Shutterstock
Adele's hold on culture has been steadfast since she released her debut studio album "19" and her powerful voice skyrocketed her to global fame. Besides her award-winning voice — and her status as a certified EGO recipient, per her Instagram — Adele is also known for her glowing skin and signature cat-eye look, which she's worn from album covers to the cover of Time. The star's style plays on Mod looks, and the singer favors a classic black dress and '60s era up-dos or wearing her sleek hair down with plenty of volume, per Insider.
The playful star also doesn't take herself too seriously, posting photos of herself backstage in a robe to Instagram and even resharing memes of herself. In other notable fashion moments, Adele has dressed up as Dolly Parton and George Michael, rocked her own concert merch, and twinned with Adele impersonators. 
Adele took a hiatus between her 2015 album "25" and her 2021 release "30," undergoing change in her personal life as she divorced her husband of two years, Simon Konecki, in 2019, per Us Weekly. But her fashion continued to evolve, bringing the star back stronger than ever into the public eye.
She's killing it courtside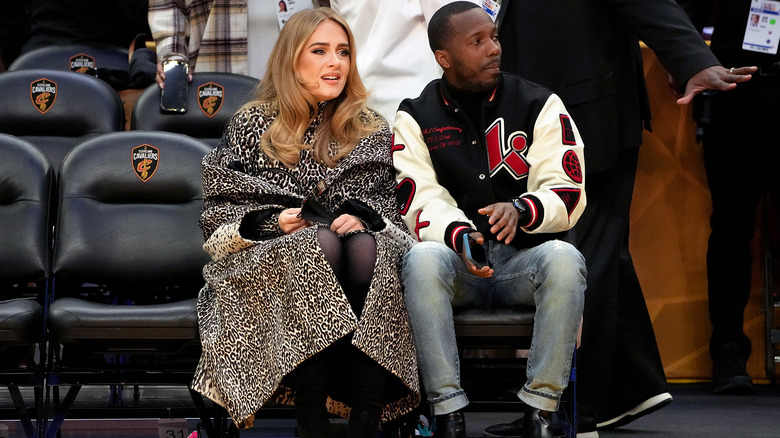 Kevin Mazur/Getty Images
Adele was the musical guest on SNL in 2008, and when she hosted in 2020, she shouted out the show's hot-button episode featuring Tina Fey as Sarah Palin as a jumping off point for her career, per Cosmopolitan. In her 2020 appearance, she also joked about her personal transformation since that first show. "I know I look really, really different since you last saw me," she said on the 30 Rock stage. "But actually, because of all the COVID restrictions and the travel bans, I had to travel light and only bring half of me — and this is the half I chose."
Another part of the singer's transformation has been the risks she takes with her fashion; One of which was a starry Valentino dress she wore to the 2016 Brit Awards, via Harper's Bazaar, which incorporated sequins and shine. i-D also points to this look as one of the singer's best and also mentions her spot-on courtside attire. Sitting next to her sports agent boyfriend Rich Paul, the star has rocked a monogrammed Louis Vuitton coat over a sleek brown leather suit with heels, and a dramatic leopard print outfit with her hair styled in soft waves.
Per Harper's Bazaar, Adele has compared herself to country singer Johnny Cash, since he was also known for wearing black. But there are exceptions to every rule, and Adele has thrown plenty of colorful outfits into the mix over the years, per Page Six.
The 2022 Brit Awards were Adele's time to shine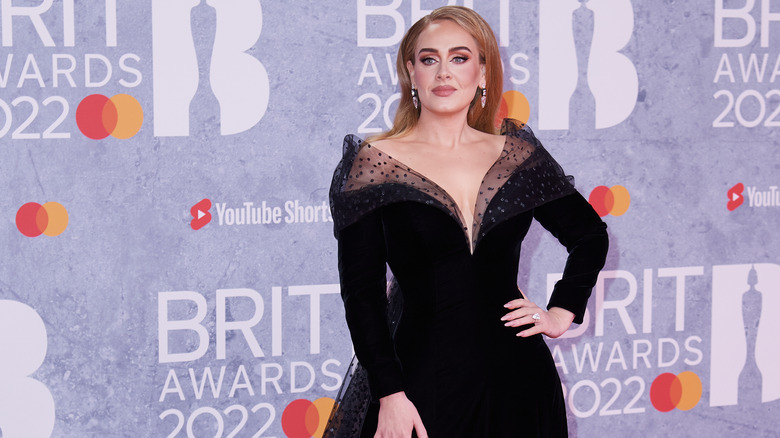 Gareth Cattermole/Getty Images
In W Magazine's round-up of Adele's best red carpet looks, the outlet couldn't help including the Schiaparelli Haute Couture dress she wore to a friend's wedding in 2021, a piece that balancing Adele's love of an LBD with cloud-like sleeves that round into rose shapes on the bodice.
But it was her look at the 2022 Brit Awards that stands above the rest; an Armani Privé black velvet V-neck with polka dots embellishments on its playful sheer collar, included in Insider's list. Per Billboard, she didn't just win with her fashion that night — Adele won artist of the year, album of the year for "30," and song of the year for her smash hit "Easy on Me."
Honorable mention for the star's best look is an Adele classic, a black dress with a twist for her iconic One Night Only performance at Griffith Observatory in Los Angeles in 2021, per i-D. This dress in particular feels like a nod to the singer's evolving style and willingness to take risks, featuring a sophisticated bodice that flared at the knee and included a partial hood at her shoulders.