Adele Shared The Secret To Getting Her Glowing Skin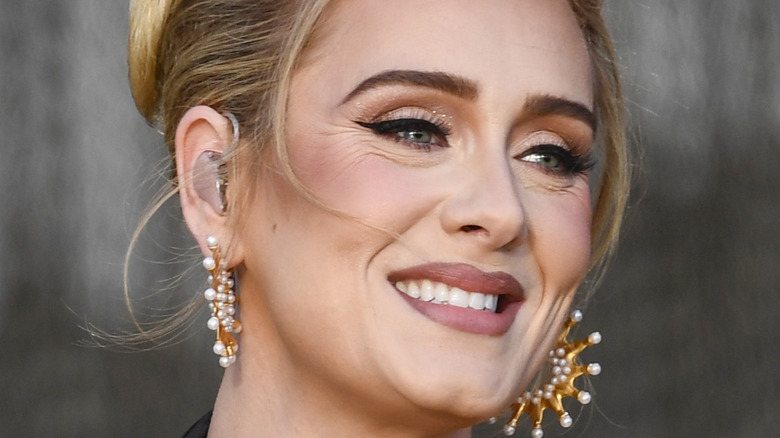 Gareth Cattermole/Getty Images
As one of the most talented female vocalists in modern times, Adele's powerful voice has been known to evoke tears of both happiness and sadness. Who hasn't sung along to "Someone Like You" or "Rolling in the Deep" during a heartbreak?
Insider called her the artist of the decade for the 2010s, citing how her album "25" reigned supreme over superstars in their own right — Beyoncé, Drake, Justin Bieber, and Rihanna. Though barely in her twenties when she rose to popularity, Adele's style of music was unlike most other popular music and that's partly what made her stand out. While her voice is surely amazing, it may be her authenticity and vulnerability that is most impressive.
After divorcing her husband Simon Konecki in 2019, Oprah Winfrey asked Adele what she wanted out of life, and she replied, "Peace of mind. And stability" (via Elle). "I don't have to expect someone else to give me stability," said the singer. " I can also be stable for myself and be a solid house that doesn't blow over in a storm."
It's this openness and strength that captivate fans, though her down-to-earth glamour is another draw.
Adele is like any of us when it comes to DIY make-up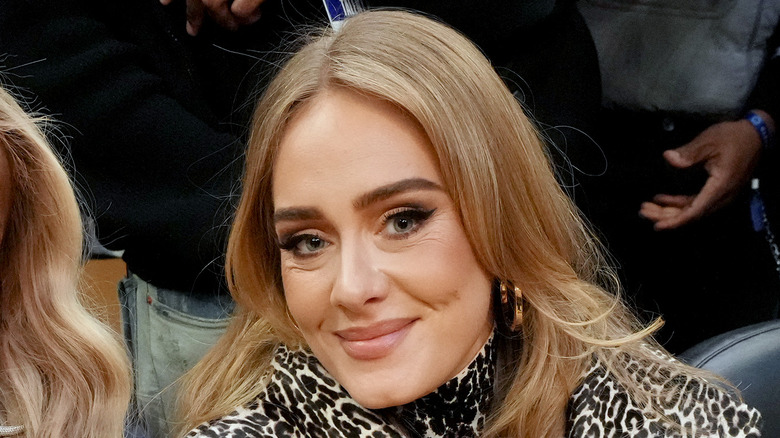 Kevin Mazur/Getty Images
Another way that the ever-stunning Adele is relatable is her love for makeup. She went barefaced for a session with Nikkie de Jager of NikkieTutorials and shared how she learned a thing or two about her makeup routine during the COVID-19 quarantine (via People).
"I actually learned how to dye my own brows in the pandemic. I used to go every week because I really am fair," said the singer. "One day I did a load of research, watched a YouTube video [and] ordered all the products on Amazon. I do it once a week on my own now." 
For the video, de Jager left one side of the singer's face completely bare and did one side in full glam. Always self-effacing, Adele joked about how makeup changes her face. "You truly see the power of makeup when she does that with half my face for sure."
Yet, while Adele is famously known for the perfectly drawn cat eye, according to Vogue, it isn't her flawless makeup that makes her beautiful. On the contrary, it's her natural beauty underneath that makes her stunning.
Adele's favorite go-to for glowing skin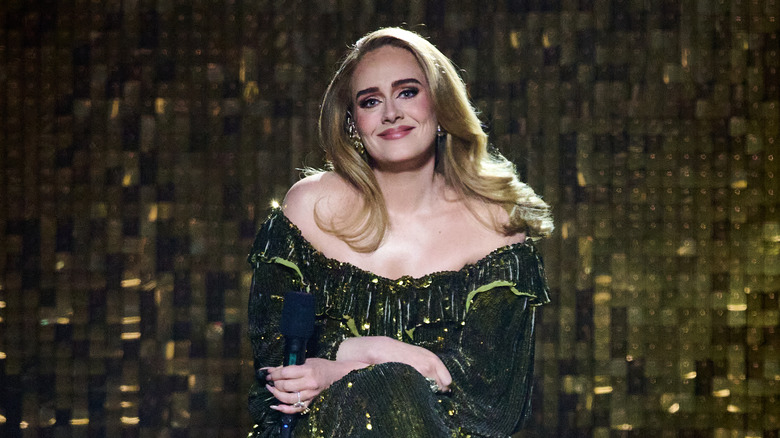 Gareth Cattermole/Getty Images
Of course, as the busy mom of a nine-year-old son, like many of us, Adele doesn't always have the time to put on a full face of makeup (via Hello!). She shared what she believes helps her face glow when in a hurry — she relies on Charlotte Tilbury's Hollywood Flawless Filter, Prevention reported.
"I'll literally just put on Charlotte Tilbury, that glowy thing . . . that glowy cream, I put it on just over my face," Adele said. "And then I put a really nice bronze highlight pretty much all over my face. I look like I just walked off the beach."
Though the name sounds strange, the product is formulated to make you appear as if you have a social media filter on. Chemically, the product claims to provide 24 hours' worth of moisturizing.  According to Prevention, It contains a "lightweight glossy oil" to provide maximum hydration which goes a long way because the skin looks its very best when it's supple and moisturized.