J. August Richards And Jonetta Kaiser Talk Vampire Academy Dynamics - Exclusive Interview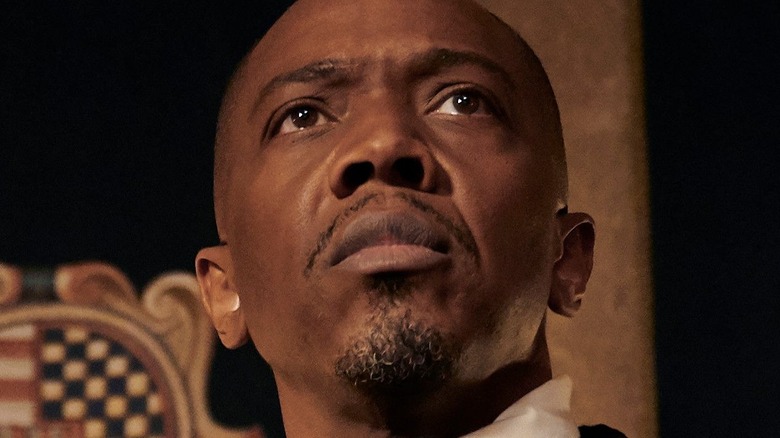 Peacock
For any vampire genre fans who didn't get enough of J. August Richards on "Angel," Richards is heading back to the genre again — this time, with fangs. Richards, the once vampire hunter Gunn, is now playing the royal vampire Victor Dashkov on Peacock's new series "Vampire Academy." 
While Victor certainly isn't a stranger to fans of the series, "Vampire Academy" showrunners Julie Plec and Marguerite MacIntyre shook up the Dashkov family dynamics for the new show. Instead of having a daughter named Natalie, Victor has two adopted daughters named Mia (Mia McKenna-Bruce) and Sonya Karp (Jonetta Kaiser) — with slightly tweaked origins from the books to connect some of the characters' backstories. 
In addition to Richards' work in the vampire genre, he has a long résumé that dates back to the late '80s. The actor has had long arcs on shows like "Agents of S.H.I.E.L.D.," "Girlfriends' Guide to Divorce," "Notorious," "Kevin (Probably) Saves the World," and "Council of Dads." Meanwhile, Kaiser has appeared on shows like "Breakwater" and "Two Sides" along with the movie "Root Letter," starring Danny Ramirez. 
During an exclusive interview with The List, Richards and Kaiser dished on their "Vampire Academy" family dynamics on and off the screen and their characters' shakeups from the books. Richards also explained how the "Angel" reunion inspired him to rejoin the vampire genre, what his former character Gunn would do to Victor, and which of his former "Angel" co-stars he wants to play a vampire on "Vampire Academy." 
Gunn vs. Victor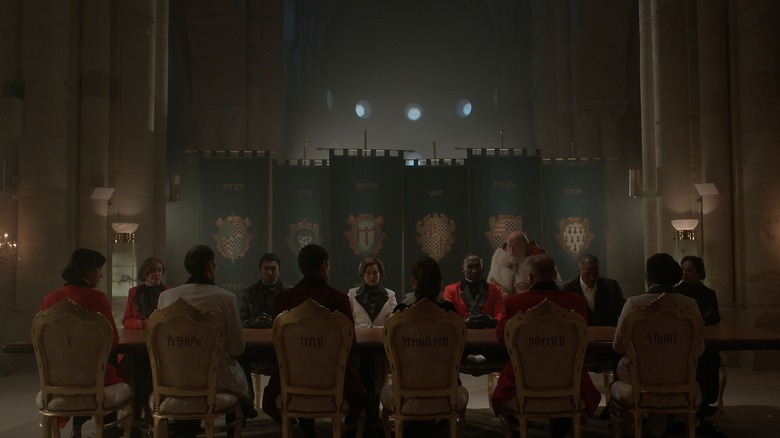 Peacock
J. August, this isn't the first time you've been in the vampire world. You played a vampire hunter on "Angel," and now you're playing a vampire on "Vampire Academy." What was it like coming back to a vampire world after so long, and what do you think Gunn would do to Victor if he met him?
J. August Richards: Wow.
Jonetta Kaiser: Wow, juicy.
Richards: Dang, you went there. You took it there. Well, early Gunn would want Victor dead immediately. Later Gunn might hear his story a little bit. That's how I'll answer that. 
We celebrated the 20th anniversary of "Angel" right before the pandemic, I believe — a few years before the pandemic — so I thought it was the perfect time to come back to this genre. I always wanted to, and I knew that if I did, I'd want to come back playing a vampire. On "Vampire Academy," I play a royal vampire, which means I'm the head of one of 12 royal families — which means I wield a lot of power in this world. I have two daughters, Sonya and Mia, and because they're adopted, they're not considered royal like my [character]. Because of this, I am going to use my power to make society more just and equal for all parties.
A break from the action and bringing in co-stars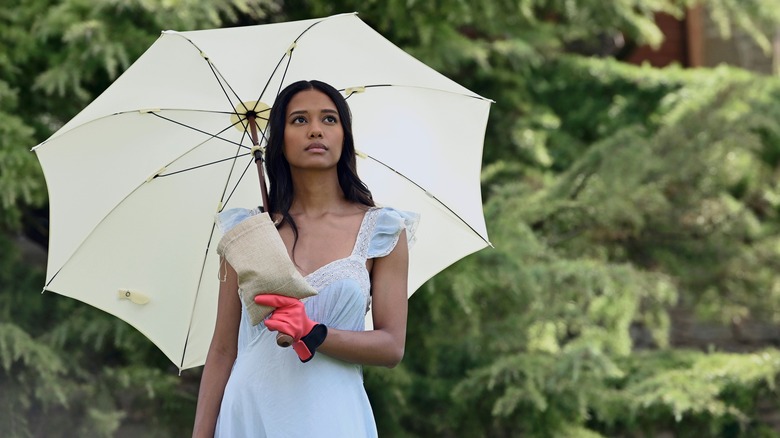 Peacock
Jonetta, your character, Sonya, had a bit of a tweak from the books to the show in becoming Victor's daughter. Did you read any of the "Vampire Academy" books? How do you feel that the adjustments add to the story?
Kaiser: I did read the books as a kid. I was 13 or 14. I was a huge fan. I think the adjustments make sense. It's something to give a storyline, if anything. Sonya Karp, in the books, is immediately a Strigoi, and we don't know that much about her. Maybe we'll get to learn a little bit more here.
J. August, you're used to heavy action sequences from your work on shows like "Agents of S.H.I.E.L.D." and "Angel." How did those roles help prepare you for this one? Can we expect Victor to get into the thick of the action in "Vampire Academy"?
Richards: In this world, the Dhampirs are the ones who do all the fighting for the Moroi. The Dhampirs have speed and strength, so they do all of the fighting. Trust me, I was so happy to sit back and let all the other people do all the fighting sequences.
I've been there — done the fights at 4 o'clock in the morning, the fight choreography, the stunt training. I was so happy not to do it on this job. I like to do different things. I love very physical roles, but this role is a very intellectual and emotional one, and they were too. It's fun to try something a little different this time.
Are we going to see some Victor magic?
Richards: I did train for one thing, so we'll see how that goes. I love to do my own stunts. I always have.
Do either of you have any former co-stars you think would be a good fit for the "Vampire Academy" universe? Which kind of vampire do you think they should play?
Kaiser: That's a good question. I don't know.
Richards: I'd bring Amy Acker over here because she didn't play a vampire on our show ["Angel"] either, although she did play Illyria. I would bring her over to this show so that she could play a vampire as well.
Kaiser: I worked with Ja Rule. He'd probably be really cool as a vampire.
Richards: He would be. He could throw a Fyre Festival for the non-royal Moroi.
Kaiser: That'd be awesome — non-royal Moroi.
Shaking up the family dynamic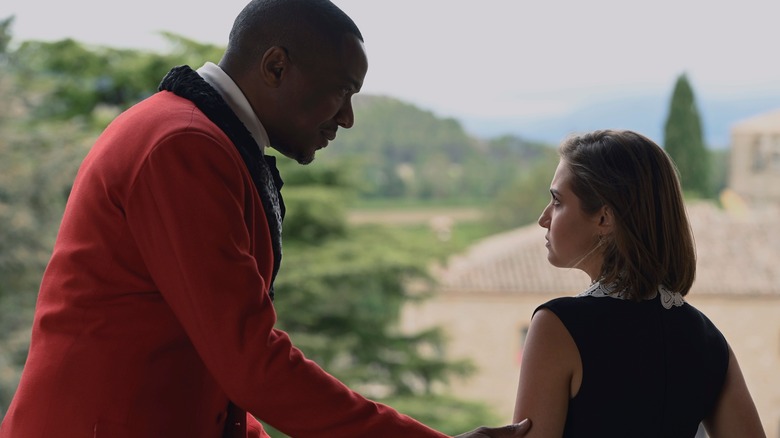 Peacock
The family dynamics between Victor, Mia, and Sonya are pretty unique. Did you all have a discussion on how that was going to play out? And Jonetta, why is it so important for shows and movies to depict people or vampires with mental health struggles in a positive way?
Kaiser: The family dynamic was amazing because we all get along so well in real life. We have such great chemistry, and me, him, and Mia [McKenna-Bruce] have a lot of fun. Playing family was easy. We trust each other. We feel safe around each other, so it was fun. It was great.
With mental health being addressed on a show — especially a show like this when the stakes are so high — it's something that doesn't get shown very often. In this way, where the stakes are very high, you can go very extreme. You can go very, very far, and people are going to watch it because it's a fantasy world. Sometimes, shows will shy away from showing something that is very real and can be extreme and seen [as] far out. But that's just the reality. Mental health can, at its worst, be very extreme. It works perfectly for this fantasy world.
Richards: We did talk a lot about the backstory of our family and how we came together and used that on screen together. Off screen, we don't really have that dynamic. But on screen, we definitely turn into that father [and daughters dynamic]. When I say we don't have that dynamic, I feel we're more friends and colleagues ... in the sense [that] I'm not paternal.
Kaiser: Oh, it's definitely not. I mean family in the way of me being like, "Hey, J. What're you doing? Come over. Come to lunch."
Richards: Of me being the senior, It's not like that.
Kaiser: He's not my father.
Richards: Right. We are collaborators. We're colleagues.
Kaiser: Friends become family in that sense.
Richards: Yes. In that sense, but not in the sense of like, "Oh, J's the big bro" or whatever.
Kaiser: No.
Richards: I could be the big bro. I'll be the big bro.
Kaiser: You're the big bro.
The first four episodes of "Vampire Academy" release September 15 on Peacock, with subsequent episodes releasing Thursdays.
This interview was edited for clarity.