Meghan Markle's Facial Expression At The Queen's Procession Has Twitter Upset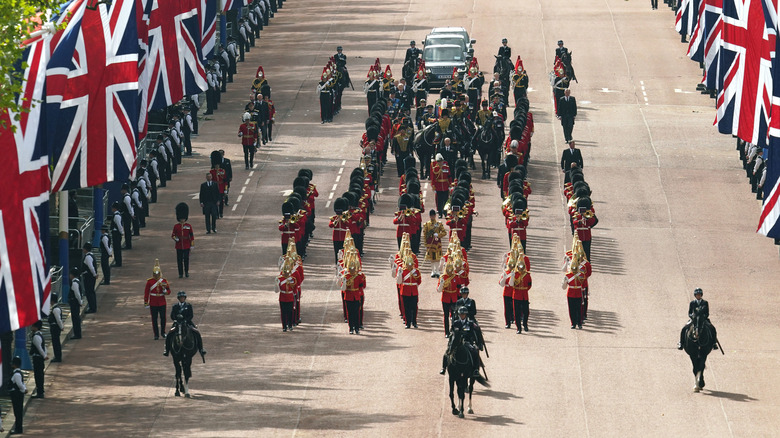 Wpa Pool/Getty Images
Today, followed by a procession of the royal family, the Queen's coffin made its way from Buckingham Palace to Westminster Abbey, where her funeral will take place on September 19 (via BBC and Bloomberg). The looks on the faces of the long-serving monarch's closest relatives, including Prince Andrew, not in his military uniform, was heartbreaking, with King Charles looking exhausted. And why wouldn't he? Since losing his mother last week, the new sovereign has endured a full schedule of events that will lead up to saying a final goodbye to the Queen.
Meanwhile, following behind their grandmother's coffin, the Prince of Wales and Duke of Sussex appeared deeply sad. The moment reminded many royal fans on Twitter of watching the boys as kids walking behind their mother Princess Diana's coffin.
The Princess of Wales was also captured with a very grim expression on her face, with especially-moving moments of the future queen consort being captured during the service for the Queen at Westminster Hall (via Hollywood Life).
And while there were many photos that appeared to show Meghan Markle looking just as downcast during today's somber events, one particular image revealed a facial expression that is not sitting well with Twitter.
Was it a smirk or a hopeful smile?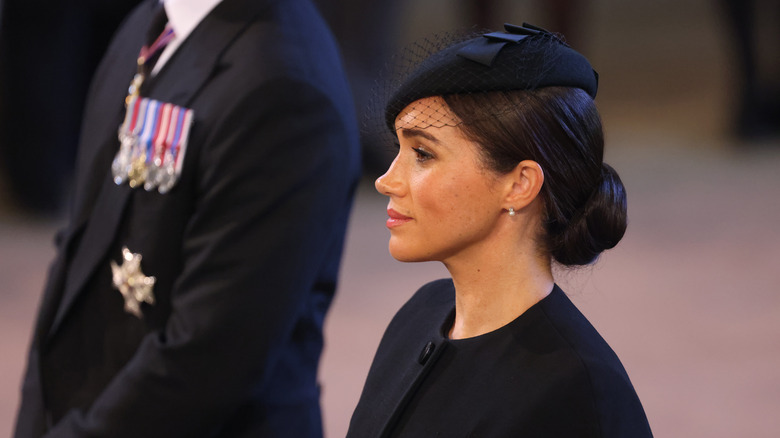 Wpa Pool/Getty Images
Twitter caught a glimpse of the Duchess of Sussex, dressed in all black like the other members of the royal family, seemingly smirking at one point during the procession, which drew a record numbers of mourners, and service that saw the Queen's coffin coming to rest at Westminster Abbey.
Fans quickly flooded the social platform with disdain for the duchess, with one person fuming about the attention-grabbing look, "She couldn't have day that is not about her." Someone else blasted Meghan for having "zero shame." And yet another angry fan called the mom of two "smug."
Other Twitter users came to the Duchess of Sussex's defense, however, with a supporter urging people to give Meghan a break. Someone else saw the moment, which may have shown the royal expressing a hopeful smile or just being moved by the service, as displaying "grace and class," proving once and for all that no matter what Meghan does, in times of mourning or otherwise, the controversial wife of Prince Harry will anger some folks and delight others.
Meghan and Harry could be taking the time to mend things with William and Kate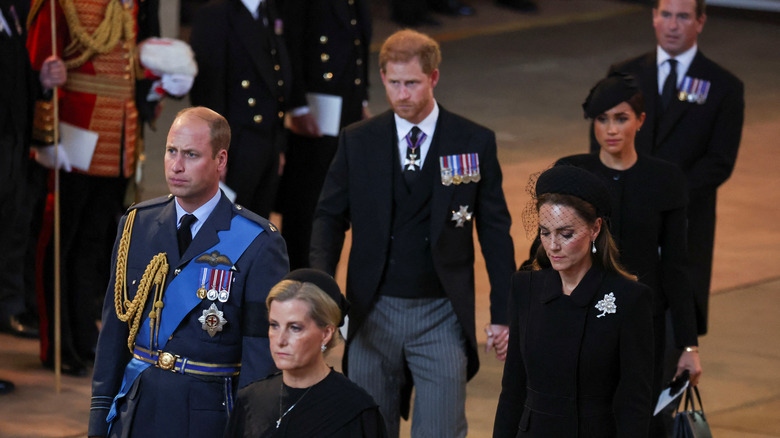 Wpa Pool/Getty Images
Amid Queen Elizabeth II's procession, all eyes seemed to be on Meghan Markle, the Duchess of Sussex. As aforementioned, social media was quick to point out any small movement on the duchess's part, for good or bad, amid what can only be described as an awkward reunion for the royal family and the Sussexes. However, time and tragedy might finally be bringing some common ground between Prince Harry, Duke of Sussex, Meghan, and the Prince and Princess of Wales, William and Catherine. As noted by Page Six, the two couples — previously known as the Fab Four — joined each other for dinner following the receiving of the queen's casket. Dining inside Buckingham Palace, Harry, Meghan, William, and Catherine got together for an "intimate sit-down," which is a far cry from the previously tense and awkward interactions between the Sussexes and the rest of the royals. 
Still, time will tell if a long-lasting reunion (and burying of the hatchet) will take place between the feuding brothers. As Yahoo! News's royal editor, Omid Scobie, noted in his column on September 7, a true reconciliation between the brothers relies on one thing: accountability. 
"What [Harry] is waiting for is accountability... Many lines were crossed by William," a close source to the brothers told Scobie. "He was at the centre of a number of painful moments, be it the actions of his own staff or turning his back when support was needed. It was a dark time and one that, so far, William has been unprepared to unpack."