Queen Elizabeth Reportedly Had A Trick For Keeping Her Crown On Her Head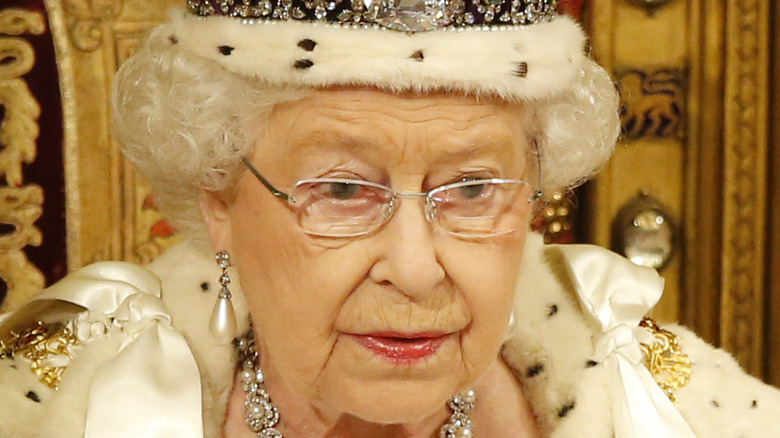 Wpa Pool/Getty Images
As Queen Elizabeth II lies in state ahead of her funeral, the Imperial State Crown sits on top of her coffin. This is one of two crowns belonging to the Crown Jewels the queen has worn for official events. Per Historic Royal Palaces, St. Edward's Crown was made in 1661 for the coronation of Charles II; Queen Elizabeth II was crowned with it when she took the throne in 1953. Made with a solid gold frame encrusted with semi-precious stones, it weighs 2.23kg (4.9lbs). The official coronation portrait of Queen Elizabeth, though, shows her wearing the Imperial State Crown, as St. Edward's Crown is only used "at the moment of crowning itself," according to the site.
The Imperial State Crown was made for the coronation of King George VI in 1937 and has been passed down through the monarchs. It is made of gold and almost 3,000 diamonds, plus sapphires, rubies, emeralds, and pearls, according to Historic Royal Palaces. Queen Elizabeth II wore the crown — which weighs in at 1.06kg (2.3 lbs) — each year for the State Opening of Parliament, per BBC.
In a filmed interview with BBC (via YouTube), Queen Elizabeth II spoke about wearing the crown. Due to its weight, the queen noted that "once you put it on, it stays. It just remains on." Although, she did follow one trick to keep it in place. "You can't look down to read the speech, you have to take the speech up. Because if you did, your neck would break; [the crown] would fall off." She concluded, "So there are some disadvantages to crowns, but otherwise, they're quite important things."