Torrid's Future Is Looking Bright According To Foot Traffic Numbers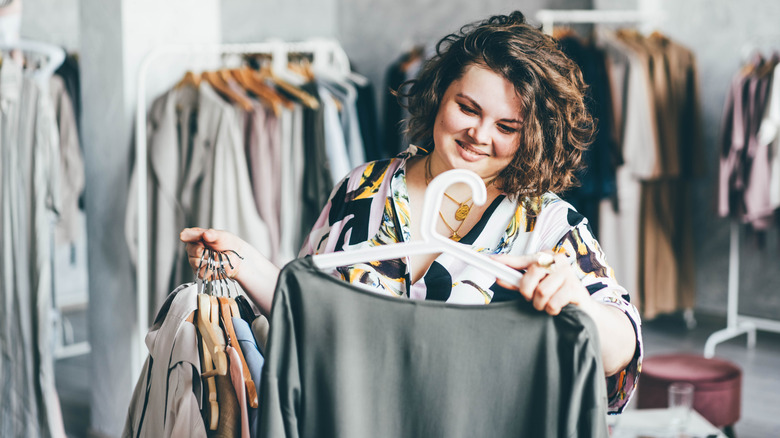 Mariia Korneeva/Shutterstock
The body positivity movement has been making waves on social media these past few years, encouraging people of all shapes and types to celebrate their bodies. But the world of fashion has been slow to keep up, with many brands lacking representation and inclusive sizing.
A recent study found that the average woman in the United States wears a size 16/18, indicating that "plus-size clothing standards should be a major priority." Unfortunately, many people will tell you that size inclusivity in the fashion industry is hard to find, especially when it comes to brick and mortar stores. While the fashion industry has taken strides toward the goal of inclusion in recent years, most brands that offer a wide range of sizes, only carry them online, leaving out people who enjoy shopping in-person and trying on their clothing before purchasing, per Refinery29.
Luckily, brands like Torrid cater exclusively to mid-size and plus-size people, with sizing ranging from US 10-30, via Torrid. The clothing brand was established in 2001 and quickly rose in popularity. In 2021, as Torrid debuted on the New York Stock Exchange, CEO Liz Muñoz expressed the importance of keeping their brick and mortar stores open, saying, "We believe in stores. This customer deserves to have a store, she deserves that experience," via Chain Store Age.
To find out just how well Torrid's stores are doing lately, The List conducted a study via Data Herald that tracked monthly foot traffic trends over the past two years.
Torrid provides a space for people of all sizes to enjoy high-quality clothing
The pandemic has forever changed the way we shop, with companies and consumers alike navigating inflation, safety regulation, and changing trends. Luckily, Torrid seems to be recovering just fine — foot traffic data indicates that the store remains in high demand, as one of the few plus size brands that offers in-person shopping. According to The List's graph, Torrid saw approximately 9,000 monthly visitors on average pre-pandemic, with a spike to nearly 15,000 shoppers during the holiday season. In spring 2020, Torrid saw a drastic drop in visitors, as COVID restricted people's ability to shop. But averages quickly recovered, resuming their normal foot traffic averages in 2021.
But in recent months, Torrid has seen a slight drop in visitors, with averages falling below 6,000 in July 2022. This could be due to shoppers struggling to navigate rising inflation, but more likely it is because of the increasing backlash on social media. As the fashion industry evolves to cater for all bodies, many are asking brands to observe current trends, and extend their sizing to include plus-size individuals. Plus-size creators on TikTok have called out the brand's lack of variety of styles and lack of diversity in their models. Fatfabfeminist criticized Torrid's new Y2K inspired line that only featured models who wore the smallest size Torrid carries. Other creators like Cassandra Voelker and Zyia Marie mock Torrid's outdated styles and expensive pricing.