The Truth About Kate McKinnon's Sexuality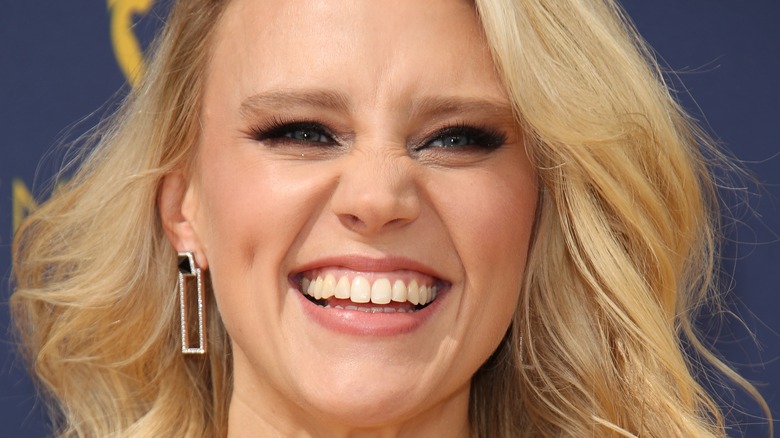 Dan Macmedan/Getty Images
Kate McKinnon had her debut on "Saturday Night Live" in 2012 and has since won two Emmy awards for her hilarious performance on the sketch comedy show. Sadly, the star announced her departure from "SNL," though she told the hosts of "Live with Kelly and Ryan" about the emotional decision she made to leave the show after a decade. "I thought about it for a very long time, and it was very, very hard because all I ever wanted to do in my whole life was be on 'Saturday Night Live,' and so I did," she shared. "I had the best decade, and then I was just like, my body was tired, and I felt like it was time."
The actress has built a repertoire of spot-on impressions, including Ellen DeGeneres, Hilary Clinton, and Justin Bieber, to name a few. Between her seasons at "SNL," McKinnon became a veritable movie star, in comedies like "Rough Night," "The Spy Who Dumped Me," and the "Ghostbusters" remake, as well as her more serious dramatic venture in "Bombshell." 
Though Kate McKinnon is a larger than life comedic presence on screen, the performer is known for sharing very little about her personal life with the public, per Parade. However, she has been a proud voice for the LGBTQ+ community throughout her career, and has opened up about the performers who inspired her to be her authentic self.
Kate McKinnon shouted out a hero of hers in the LGBTQ+ community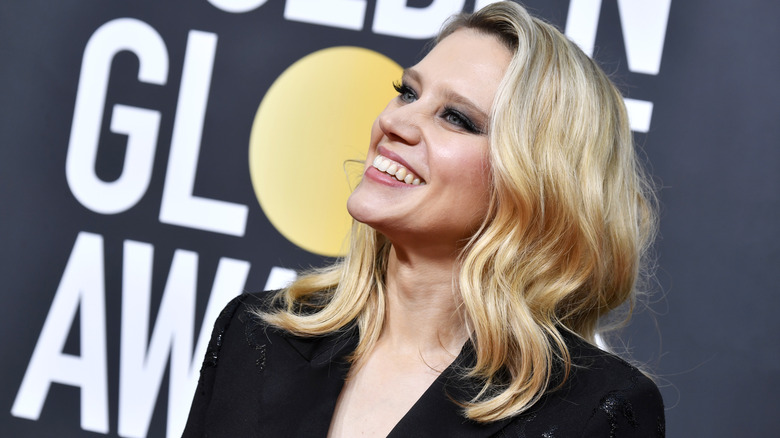 Frazer Harrison/Getty Images
Kate McKinnon hasn't tried to conceal her sexuality during her career, per The New York Times. She leaned into her lesbian identity in her breakout role on "The Big Gay Sketch Show," as well as plenty of "SNL" sketches and in interviews over the years. At the 2020 Golden Globe Awards, Kate McKinnon's sexuality took center stage, as she acknowledged Ellen DeGeneres' vital role in building her own personal and professional confidence as a gay woman.
McKinnon's speech shared a moment from her childhood when DeGeneres had a major impact. "In 1997, when Ellen's sitcom was in the height of its popularity, I was in my mother's basement lifting weights in front of the mirror and thinking, 'Am I gay?'" The star told the audience. "And I was, and I still am. But that's a very scary thing to suddenly know about yourself."
Seeing a role model who embodied her ambitions and whose coming out created a tangible change in the industry made all the difference in Kate McKinnon's path. "If I hadn't seen her on TV, I would have thought, 'I could never be on TV,'" McKinnon explained. "They don't let LGBT people on TV. And more than that, I would have gone on thinking that I was an alien and that I maybe didn't even have a right to be here."
The comedian is a very private person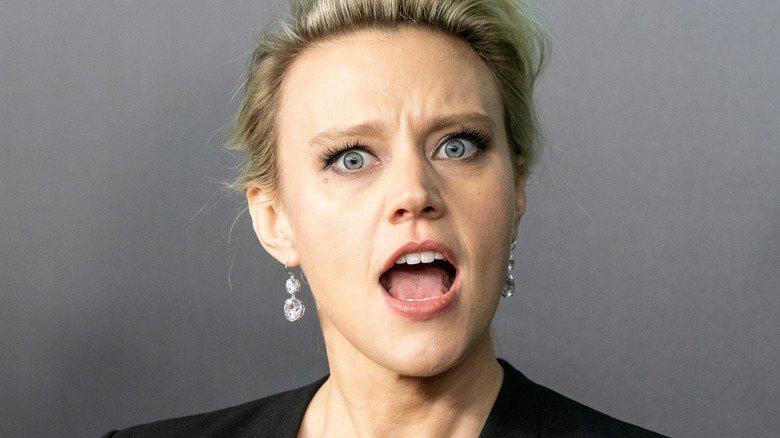 lev radin/Shutterstock
Despite Kate McKinnon's high-profile acting roles and public persona, the comedian is widely acknowledged as a private and introverted person, per Parade. She told GQ in 2018, "The whole reason that I like doing this is because I want to talk to people. I don't know if you've noticed, but my voice is quite soft, and I speak slowly, and I feel it's easier for me to talk to people through the medium of sketch comedy."
Though McKinnon doesn't typically open up about her personal life, the actress has been thought to be in a relationship since she was seen at the Broadway adaptation of Allison Bechdel's "Fun Home" in 2016 with actor and photographer Jackie Abbot, per People. McKinnon also brought Abbott to the 2017 Emmy Awards ceremony, where she won Outstanding Supporting Actress for her work on "SNL." Their relationship status became clearer when "RuPaul's Drag Race" alum Michelle Visage posted a pic of the pair in a group photo on Instagram, with the caption, "I have SUCH a crush on #KATEMCKINNON SO HAPPY SHE WON!!! Her girlfriend Jackie was just as lovely as she is!!" 
Since the comedian has no social media, it can be a challenge for fans to keep up with Kate McKinnon outside of her upcoming projects. But Jackie Abbott's website and Instagram page have a bit more info on the comedian's presumed partner, so fans might find Easter eggs about their favorite "SNL" alum herself, if they're lucky.