Of All Cardi B's Looks — This Stands Above The Rest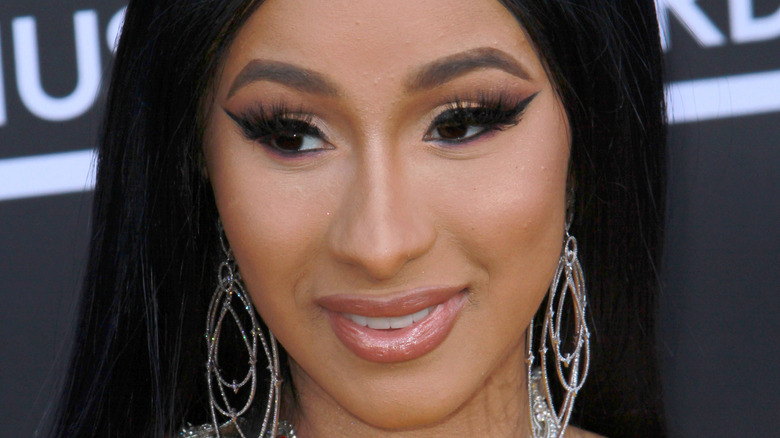 Kathy Hutchins/Shutterstock
Do you remember the iconic lyric, "I don't dance now, I make money moves," from Bodak Yellow – the song that launched Cardi B into fame in 2017? Cardi B has accomplished so much since that breakout night-out anthem. For instance, she's collaborated with some of the most successful musicians in the game, including Lizzo, for their dance-worthy song "Rumors" and rapped in Maroon 5's "Girls Like You." According to IMDb, the rapper has won many awards for her musical talent, such as the American Music Awards, BET Awards, and Billboard Music Awards. In addition to her success in the music industry, Cardi B is a devoted mother and sparked much excitement on social media when she shared an adorable first look at her son (via Instagram).
Not only is Cardi B an ultra-talented rapper and caring mother, but she consistently kills it in the fashion and beauty game, as Cardi B rocks many iconic manicures and outfits. While the rapper and mom flaunts countless striking ensembles, one of her looks is truly head-turning.
She looked like a queen in a red Mugler gown
Cardi B has worn so many elaborate outfits that we'd initially assume choosing one standout look to be an impossible task. However, her red Mugler gown from late September 2021 instantly takes the cake. Styled by the super talented Kollin Carter, there are many reasons why this ruby-hued outfit is the rapper's most showstopping look. The gown's rich red hue, body-hugging silhouette, and glistening sparkles all contribute to the intensity. But the accessories are what take the look to the next level, starting with the huge, feathery, red piece framing her head. Furthermore, the sparkling red necklace and glamorous matching gloves add a regal flair to the look.
The outfit exudes a somewhat old Hollywood vibe with a royal twist, appearing sexy but classy, and the rapper's hair and makeup perfectly complete the look. She wore her hair in short, sculpted blond Marilyn Monroe-esque curls, contributing to the old Hollywood glamour of the ensemble. And regarding makeup, she had a neutral lip, as the focal point of her makeup was the eye area; Cardi B had ultra-long lashes and sparkly red eyebrows to match her dress and accessories. There's no doubt that Erika La' Pearl had meticulous attention to detail when doing the rapper's makeup, as the bold look couldn't have been more cohesive with the daring outfit — without appearing too over-the-top.
Here are more noteworthy Cardi B looks
Between the ruby red hue, glistening sparkles, and head-turning accessories, Cardi B's red Mugler dress stands above her other ensembles, but she's worn some other outfits so unique that they deserve recognition. For example, her colorful polka dot catsuit perfectly hugged every curve on her body while exuding a bold '80s vibe, and her ultra-long, straight copper tresses added to the allure. Moreover, the rapper stunned at the 2022 Met Gala in a golden Versace gown with an intricate matching statement necklace; everything about this look screams glamour.
There's no doubt that Cardi B enjoys sparkly pieces, as another one of her top outfits is a Playboy-themed ensemble featuring a skin-tight sparkling mini-dress, complete with matching bracelets, a gleaming watch, and a statement necklace flaunting the iconic Playboy bunny. This look is super sexy, fitting the Playboy theme, but Cardi B's glamorous long locks and glassy lips added just enough class to the provocative ensemble.
Everyone knows that Cardi B is one of the most successful musicians in the rap and hip-hop genres, but one of her most memorable outfits proved that she looks excellent in punk looks, too. The rapper shocked us in a long leather jacket by Richard Quinn, covered in spikes and studs. This outfit proves Cardi B isn't afraid to step out of her comfort zone and explore different styles. The rapper constantly wows us with her looks, and we can't wait to see what's next.