Cardi B Shares An Adorable First Look At Her Son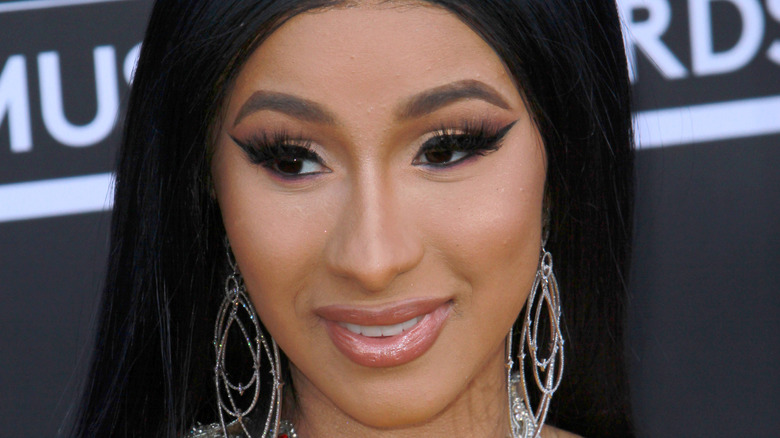 Kathy Hutchins/Shutterstock
We can always count on Cardi B to produce fun, dance-worthy music. Who can listen to her hit songs without dancing and trying to keep up with her fast-paced rapping? Between her new song "Shake It" and her hit classics like "Bodak Yellow," we can never get enough of her music.
The rapper, who shares a music record with Katy Perry, has not only received a lot of buzz for her successful career as a musician but for her marriage to Offset, another rapper. The truth about Cardi B and Offset's relationship is that while their relationship has certainly had its rough patches (via Harper's Bazaar) — as most long-term relationships do — they seem happy together, and they share two children to boot. Their first child is a beautiful girl named Kulture, who even has her own Instagram.
On April 15, Cardi B made her millions of followers smile by giving the world its first glimpse at Kulture's baby brother.
Cardi B and Offset's baby boy made his social media debut
Cardi B shared an adorable post of her son on Instagram, and he's one of the cutest babies we've ever seen. Of course, he's dressed very stylishly, rocking a tiny light blue puffer coat with a large furry hood over a light blue beanie that matches his blue pants. He also wore a plain white t-shirt that complemented his fresh white sneakers. To complete the look, he flaunted a huge necklace in the shape of an ocean wave. We have a feeling that this little boy is going to grow up to be a style icon! He's such a little cutie that the one and only Megan Thee Stallion commented "OMGGGGGG" with four heart-eye emojis.
Complementing the fun ocean-inspired outfit, Cardi B captioned the post with a few emojis, one of which being a blue wave. This ocean theme makes perfect sense, as his name is Wave, which Essence revealed on Twitter. The Cardi-Offset household has made waves in the music industry since they both entered the scene, with this baby boy ringing in a new wave for the family, so his ultimately makes so much sense — and we love it.