Donald Trump's Response To A Potential Indictment Will Surprise No One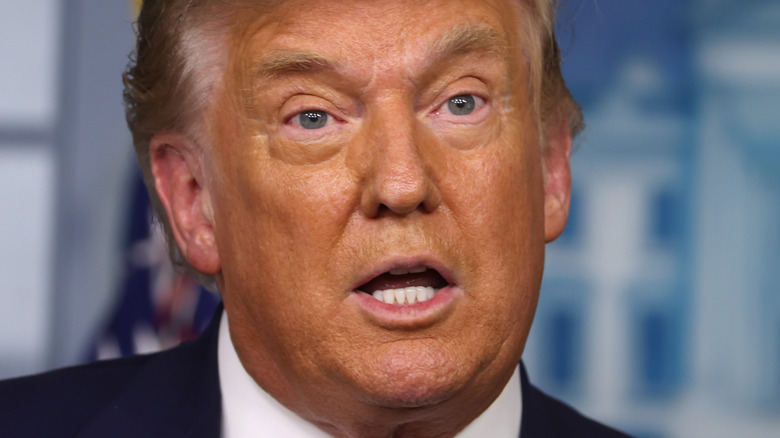 Tasos Katopodis/Getty Images
Even as the Department of Justice investigates the possibility that Donald Trump illegally possessed sensitive government materials, the former president is inching closer to an announcement about another run for the White House. But when he was recently asked whether an indictment would stop those plans, his answer struck many as being a veiled threat.Hugh Hewitt, a law professor and longtime political analyst, interviewed Trump for his podcast on September 15, 2022. Among the topics they discussed (per the interview transcript) was the FBI raid of Trump's Mar-a-Lago residence and the events that followed. 
Confirming previous reports, Trump claimed that he had previously declassified the top secret documents that were taken from his home, and that attorney Kash Patel and "other people" witnessed him doing it. "I have the absolute right to declassify, absolute," he declared. "A president has that absolute right, and a lot of people aren't even challenging that anymore."
Then the former president was asked whether he would run for the White House in 2024 even if he is indicted on charges of obstruction of justice. "Well, I can't imagine being indicted. I've done nothing wrong," Trump said. He went on to list his accomplishments as president — tax cuts, job creation, getting "the gift from China, the plague" under control — before finally addressing the question of running while under indictment. After explaining that he would legally have "no prohibition against running," Trump hinted at a dark consequence.
Donald Trump warned that his supporters might cause problems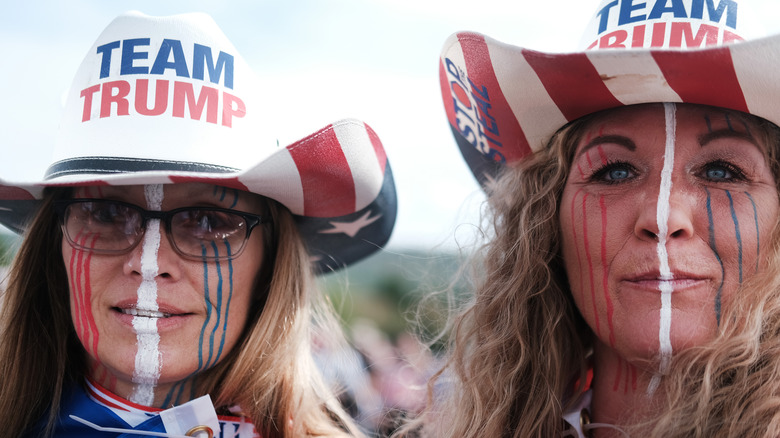 Spencer Platt/Getty Images
Being barred from running from office could incur the wrath of his loyal followers, Donald Trump warned in his recent interview. "I don't think the people of the United States would stand for it," he said. "I think you'd have problems in this country the likes of which perhaps we've never seen before." Podcast host Hugh Hewitt tried to get the former president to be more specific, but without much luck. Repeating that there would be "big problems, big problems," Trump added, "They will not, they will not sit still and stand for this ultimate of hoaxes ... I don't think the people of this country would stand for it, especially since they know, especially since they know I'm totally innocent."
Trump denied that he was trying to incite his fans to violence. "I'm just saying what my opinion is," he insisted. However, many Twitter users begged to differ. One commenter said, "Trump damn well knows it's a 'Call to Action' to his followers, just as he did leading up to January 6. The consequences of letting him get away with it again are likely to be the end of our Democracy." Another respondent suggested, "Thanks for the heads-up. Let's test his claim with an indictment."
Then there was a faction of Twitter users who promised another type of reaction, with one writing, "I will not only stand for it, I will also dance in my living room and pop champagne for it!"