Inside Donald Trump's Various Explanations For Keeping Documents At Mar-A-Lago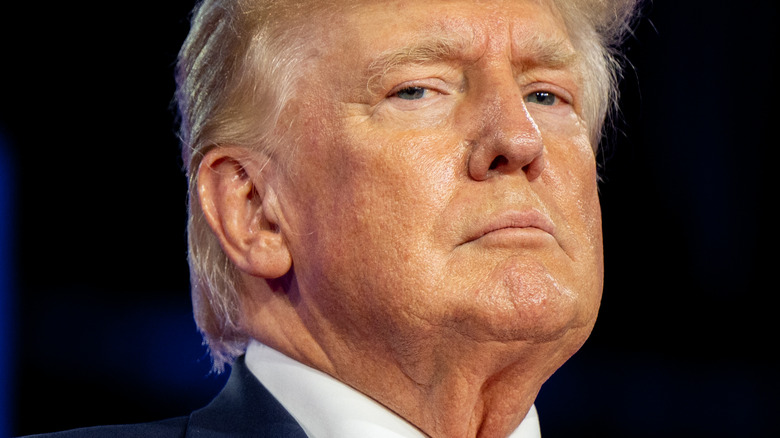 Brandon Bell/Getty Images
It would be an understatement to say it's currently a contentious time for former President Donald Trump. The media had a field day with reports of the FBI raiding Trump's current Floridian Mar-a-Lago residence to seize federal documents they believe to be in Trump's possession (via Vogue).
On August 8, Trump released a statement on his official website about the supposedly "unannounced" raid, saying, "These are dark times for our Nation, as my beautiful home, Mar-A-Lago in Palm Beach, Florida, is currently under siege, raided, and occupied by a large group of FBI agents ... Here, in reverse, Democrats broke into the home of the 45th President of the United States."
While it was at one point unclear as to what the FBI was searching for at Trump's Palm Beach home, the Washington Post recently revealed that the FBI and Department of Justice were searching for numerous classified documents, marked top-secret, secret, and confidential. As far as the subject matter for these documents are concerned, the Post reported that documents were about nuclear weapons, among other agenda materials.
However, Trump's initial statement is only just a small glimpse at one of the retorts he's voiced about the investigative search.
Trump name-drops Hillary Clinton when talking about unclassified documents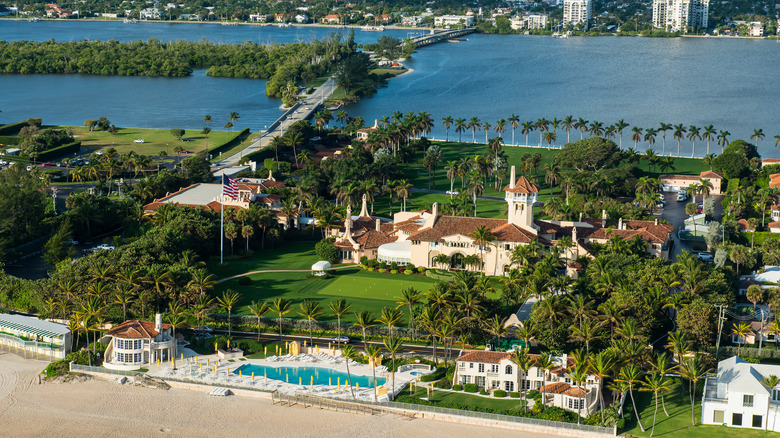 FloridaStock/Shutterstock
Since the FBI raided Trump's Mar-a-Lago residence to Donald Trump's surprise and dismay, he's given numerous reports of his side of the story, trying to rid himself of any guilt in relation to the investigation.
His official statement on the day of the raid also compared his actions to the ones of his former presidential co-runner, Hillary Clinton: "Hillary Clinton was allowed to delete and acid wash 33,000 E-mails AFTER they were subpoenaed by Congress," he wrote. "Absolutely nothing has happened to hold her accountable. She even took antique furniture, and other items from the White House."
In his first interview since the raid he told Fox News, "The country is in a very dangerous position. There is tremendous anger, like I've never seen before, over all of the scams, and this new one — years of scams and witch hunts, and now this."
But as the days have gone on, Trump has given further explanations about his alleged possession of government documents, and some say that it reads as an admission of his guilt.
Trump says government documents are 'mine'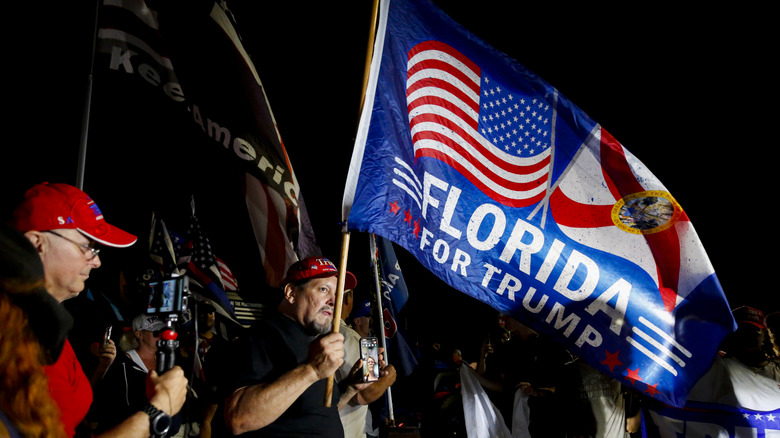 Eva Marie Uzcategui/Getty Images
It's been a whirlwind keeping track of all of Donald Trump's comments about the FBI raiding his Mar-a-Lago residence. Once the media reported that the FBI was seemingly searching for classified documents (via NPR), The New York Times reported that Trump said all documents were "declassified." 
But Twitter users like attorney Ron Filipkowski are saying that it's a recent Trump post on Truth Social that has people thinking the 45th president has "got caught and he knows it." Trump's post reads: "The FBI and others from the Federal Government would not let anyone, including my lawyers, be anywhere near the areas that were rummaged and otherwise looked at during the raid on Mar-a-Lago. Everyone was asked to leave the premises, they wanted to be left alone, without any witnesses to see what they were doing, taking or, hopefully not, 'planting.' Why did they STRONGLY insist on having nobody watching them, everybody out? Obama and Clinton were never 'raided,' despite big disputes!" 
While the investigation chugs along and Trump continues to tweet, The New York Times reported that while speaking about the documents the FBI are trying to seize, Trump reportedly told advisers: "It's not theirs, it's mine." It's clear that Trump isn't going to go mum on this issue anytime soon.