Kirk Douglas' Secret To A Long And Happy Life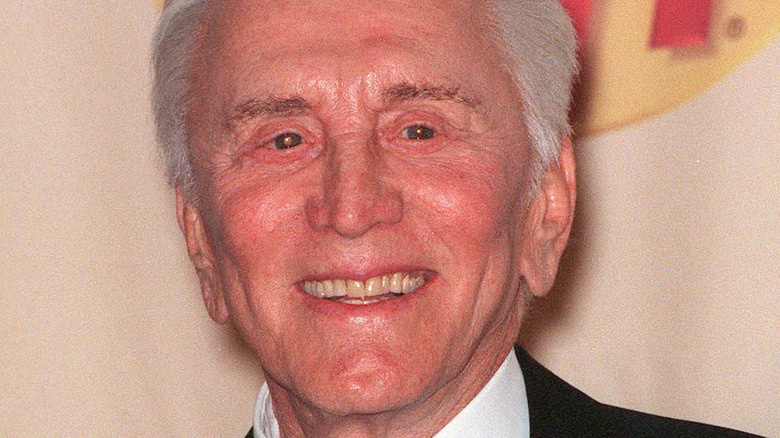 Featureflash Photo Agency/Shutterstock
Who doesn't want to know the secret to a long and happy life? Longevity and happiness are arguably two of the most coveted aspirations for many —  and it seems Hollywood's bona fide superstar, Kirk Douglas, knew the secret. Kirk Douglas (Issur Danielovitch Demsky) was born on December 9, 1916, in Amsterdam, New York. His parents, Bryna and Herschel Danielovitch, were Jewish immigrants from Chavusy, Mahilyow Voblast, according to IMDb. Douglas died on February 5, 2020, at age 103, after a long and illustrious life.
Douglas — who changed his name before pursuing a career as an actor — was known for movies like "Spartacus," "Paths of Glory," "Out of the Past," and "The Bad and the Beautiful." As People explained, Douglas thought his original name was "too unwieldy and too Semitic for Hollywood at the time." The star did admit, however, that he wished he could have kept his birth name. "It's more interesting to keep your original name," Douglas told the publication. "But can you imagine that name on a marquee?"
Names aside, what was his secret to a long and happy life?
Kirk Douglas said having a purpose is the secret to a long, happy life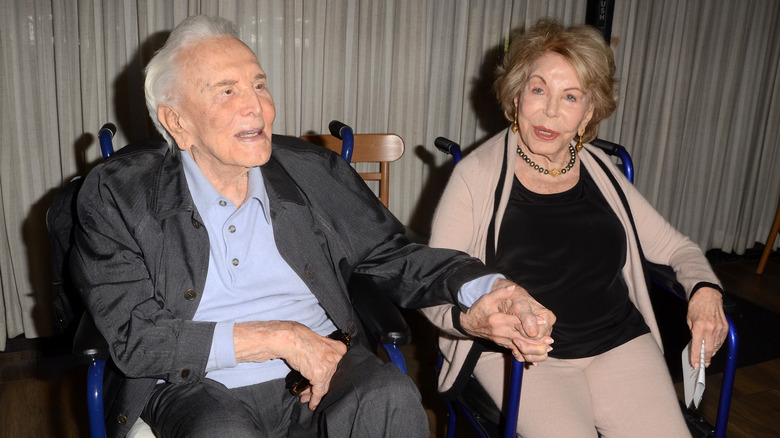 Kathy Hutchins/Shutterstock
Kirk Douglas clearly understood something about living a long and happy life, despite suffering a stroke and experiencing a helicopter accident in the '90s. In an article he wrote for Closer Weekly on the eve of his 100th birthday, he revealed having a purpose was his secret to a long, happy life — and for him, that meant altruism and helping others.
Douglas and his wife, Anne Buydens, founded the Douglas Foundation in 1964 with the goal of helping those "who cannot help themselves," according to the nonprofit organization's website. In the article he penned for Closer Weekly, Douglas wrote, "[My wife Anne Buydens] and I always use these happy occasions to give presents to the institutions we support through our foundation." He further shared that "giving is a selfish act ... because it makes you feel so good. I am always asked for advice on living a long and healthy life. I don't have any. I do believe, however, that we have a purpose for being here. I was spared after a helicopter crash and a stroke to do more good in the world before I leave it."
He couldn't have said nicer things about his wife, Anne. In the piece for Closer Weekly, Douglas shared that he was "lucky enough" to have found his soul mate, adding, "I believe our wonderful marriage and our nightly 'golden hour' chats have helped me survive all things."
What can we learn from the life of Kirk Douglas?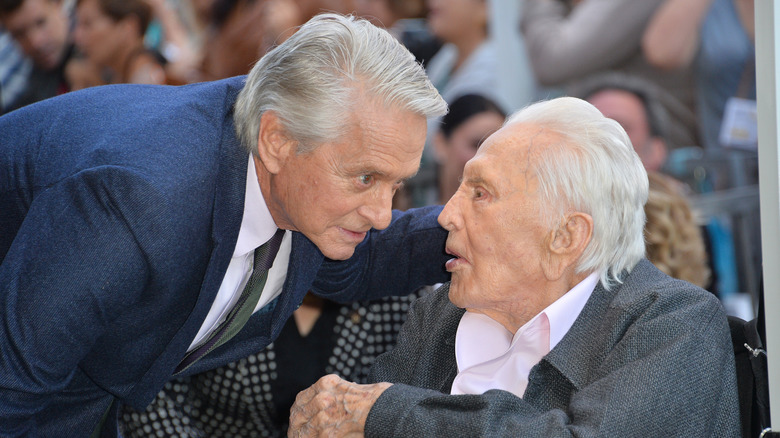 Featureflash Photo Agency/Shutterstock
From humble beginnings, to a happy marriage and trials that he turned into opportunities, Kirk Douglas' life was the stuff of movies. His son, Michael Douglas, also shared a special tribute with Closer Weekly ahead of his father's 100th birthday. Michael explained what he admired the most about his dad were his stamina and tenacity. "He has taught me always to give it your best shot at whatever you take on," the younger Douglas said. "He's the full package."
Douglas' life wasn't without hardship, but the well-loved actor never gave up. Authors of "The Longevity Project" — University of California psychology professor Howard S. Friedman and LaSierra University psychology professor Leslie R. Martin — into the social and psychological characteristics that contribute toward long life. They found that people who "lived meaningful and committed" lives were the healthiest people, as per "Today."
"You can't stop an actor," Douglas wrote in his memoir (via the Los Angeles Times), referring to how he bounced back after his stroke. Perhaps sheer will and determination to keep going are also secrets we can learn from Douglas' long and happy life.