Prince Andrew's Outfit For The Queen's Vigil Has Twitter Seeing Red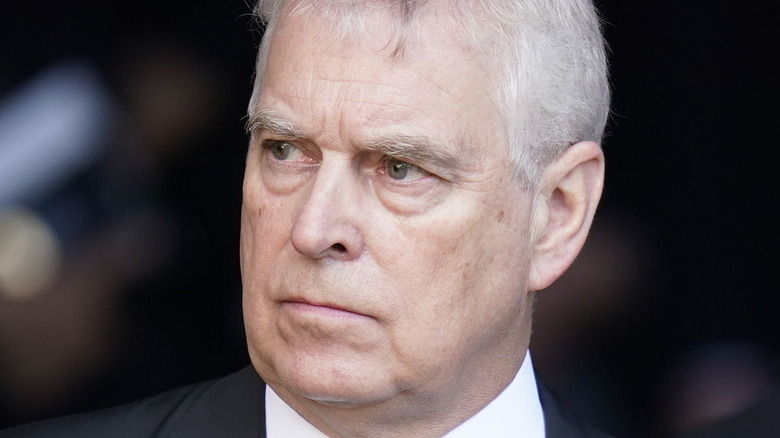 Wpa Pool/Getty Images
On September 16, fans of the royal family tuned in to one of the queen's final vigils ahead of her upcoming funeral. During the somber affair, the monarch's four children –– King Charles III, Princess Anne, Princess Royal, Prince Andrew, Duke of York, and Prince Edward, Earl of Wessex –– were seen honoring their late mother in their military uniforms (per Daily Mail). While fans showcased their support for the royal siblings, some were surprised to see Prince Andrew, Duke of York, in his military attire. Under the current rules, royal family members can only wear their military uniforms if they are working members, according to CNN. Back in 2019, Prince Andrew stepped away from his royal duties due to his alleged ties with sex offender Jeffery Epstein, as reported by BBC.
Due to the aforementioned rules and controversy, social media users expressed their disappointment over Prince Andrew's military garb. One person wrote: "So Prince Andrew gets to wear his military uniform after all. How s**t is that." Another user tweeted: "Prince Andrew in Military uniform is disgraceful." Before the event took place, there were reports that Prince Andrew would not be wearing his uniform. However, it was later revealed that the controversial royal would be allowed to as a "special mark of respect" (per Sky News AU).
Twitter was quick to point out key differences between Andrew and another royal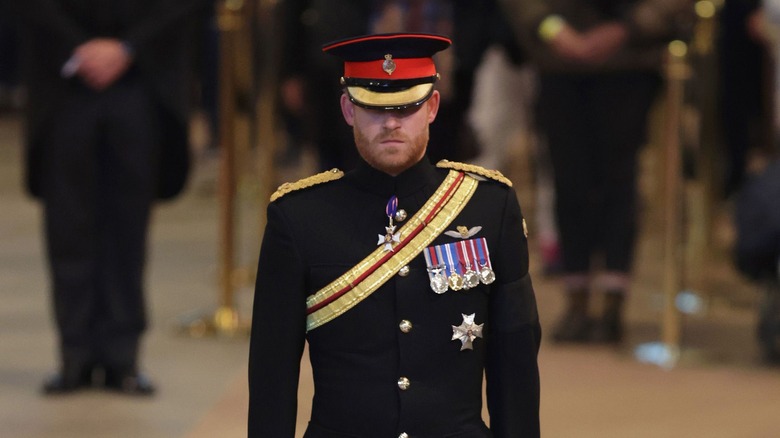 Chris Jackson/Getty Images
Twitter quickly weighed in regarding Prince Andrew's attendance and permission to wear his military uniform during one of Queen Elizabeth II's final vigils, and that wasn't the only point that was made on the ever-active social media platform. Another royal has been at the center of military uniform drama amid the queen's honoring — Prince Harry — who too has not been allowed to sport military attire alongside his family members. As CNN explained, members of the royal family who are not actively working are not permitted to wear such an ensemble, yet Twitter is firmly on Harry's side. After being granted special permission from King Charles III, Harry was spotted in his military attire during the grandchildren's vigil on September 17. While social media was happy to see this accomplishment met, many were quick to point out the stark difference between Harry and his uncle's grievances against the crown. 
"We hear Harry can wear his uniform. Great! Why not?! You keep putting him on a par with Andrew. Harry has done nothing wrong. Andrew has. Show us you at least perceive the difference!" one Twitter user stated, pointing out the difference between Andrew's association with convicted sex offender Jeffrey Epstein, and Harry's decision to step back from royal duties to prioritize the safety of his family and escape a unsupportive system. "Unlike Andrew, Harry didn't lose the right because he is friends with 2 convicted pedophiles & paid a victim £12m. Harry lost his because he no longer wanted to be kept & treated like property," another Twitter user asserted. 
Victims of Jeffrey Epstein are calling Prince Andrew out amid his return to public life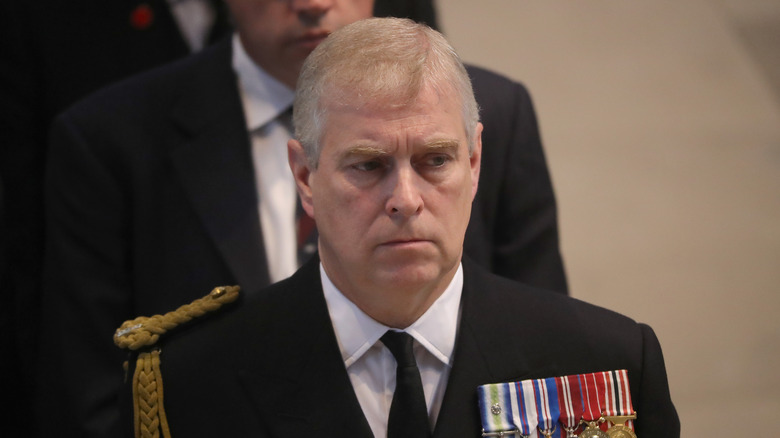 Christopher Furlong/Getty Images
Uniform or no uniform, victims of Jeffrey Epstein's troubling past are finding it incredibly difficult to watch Prince Andrew return to the public stage amid the death of Queen Elizabeth II, The Guardian reports. Attorney Mariann Wang, who represented more than 12 survivors of Epstein's tyrannical structure, told the publication that the Duke of York's reappearance — especially amid such a high profile string of events — is "beyond shameful." 
"The brave women who came forward to hold Epstein, [Ghislaine] Maxwell and others to account deserve better. [Prince Andrew's] past conduct and judgment make clear that he is not worthy of any state-sponsored privileges, including reaping the benefits of being a royal," Wang stated. Her words were echoed by fellow attorney Spencer T Kuvin, who also represented Epstein survivors. In his rebuking of the prince's status on the world stage, Kuvin told The Guardian, "You want to honor the memory of a very respectable monarch who served over 70 years ... but at the end of the day, you also want to acknowledge the fact that [Andrew] should not be publicly allowed to benefit from society and these organizations, given his past and he should be held accountable by the public."