The Huge Royal Duty Prince Andrew Is Shockingly Still Allowed To Do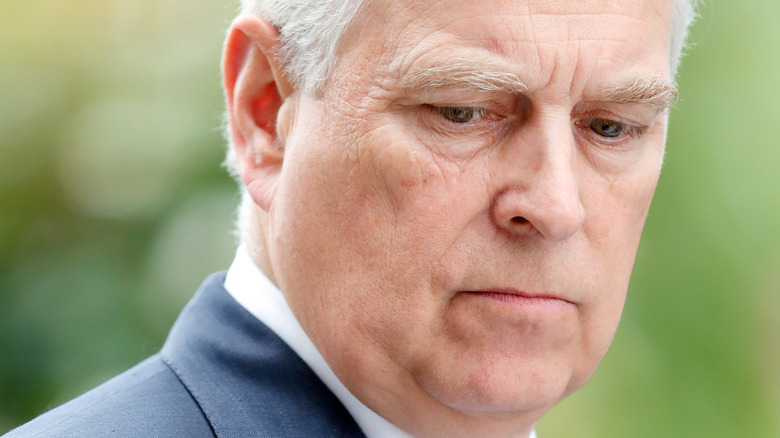 Max Mumby/indigo/Getty Images
Big changes are happening to the royal family after the death of Queen Elizabeth II. Aside from the obvious passing of the crown to King Charles III, roles within the family are also being decided upon, and all eyes are on Prince Andrew.
Prince Andrew achieved notoriety when his connection to convicted sex offender Jeffrey Epstein became public knowledge. He was also accused of sexual assault by Virginia Giuffre, and while he denied it in a now-infamous BBC interview, he eventually agreed to an out-of-court settlement, which would have him pay an undisclosed sum to Giuffre. Following the interview, he announced that he would step back from public duties for the "foreseeable future," and in January 2022, he was stripped of his HRH and military titles. But even then, Andrew's presence was still felt. Apparently, it's because he was the queen's favorite. "There was an unbreakable bond between them, and she must have been devastated when his name was dragged through the mud," royal expert Phil Dampier told the Daily Mail. "He only had himself to blame, of course, and it's difficult to feel sympathy for him, but as a mother, she always supported him."
With Queen Elizabeth gone, Prince Andrew technically no longer has an ally in the family, but as it turns out, a decades-old rule still warrants him some power.
Prince Andrew can step in for King Charles if he can't perform duties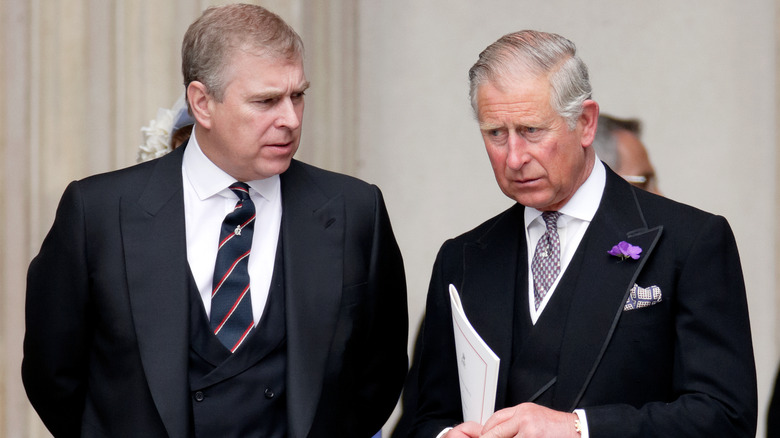 Max Mumby/indigo/Getty Images
When Prince Andrew stepped down as a senior royal, he was no longer obligated to carry out official tasks as a member of the royal family. However, with his brother, Charles, ascending the throne, an age-old law makes him a counsellor of state, meaning he can be a stand-in for the monarch when he's unable to perform his duties.
The Guardian notes that the monarch does not appoint the counsellors, but according to the law, the sovereign's spouse and the next four people in line for the throne who are over 21 are an automatic shoo-in. This means Queen Camilla, Prince William, Prince Harry, Prince Andrew, and Princess Beatrice can all be a stand-in for King Charles. Princess Anne does not qualify because of archaic laws prohibiting royal women from the role have carried over from her birth, despite a 2013 law revoking the practice. In order for a female royal to qualify as a counsellor she must have been born after 2011.
It should be noted that counsellors of state are rarely called to execute tasks for the monarch, but it did happen in May when King Charles (then Prince) and Prince William took over the Queen's duties at the state opening of parliament. Constitutional law expert Dr. Craig Prescott reckons that if they can't replace Prince Andrew, they will do everything in their power so as not to delegate tasks to him. "I imagine in practice they would co-ordinate their diaries as much as possible so the situation doesn't arise," he told The Telegraph (via The Mirror).
What's next for Prince Andrew?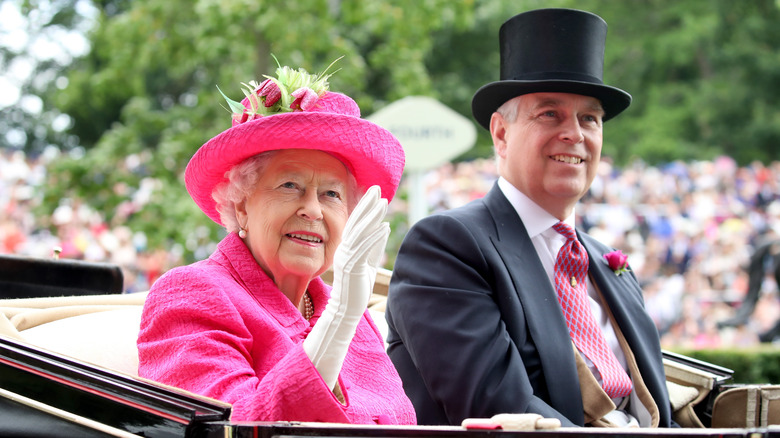 Chris Jackson/Getty Images
After the royal family bids their final farewell to Queen Elizabeth II, royal experts note that Prince Andrew won't get a chance to return to his royal duties — save for being the keeper of the queen's corgis.
"I think that he will remain very much in the background. There is no way he is going to resume royal duties. So, you could say his retirement continues," Majesty magazine editor Joe Little told The Guardian. "There is no hope, I would suggest, of him returning to the working royal-fold anytime soon." It's also unlikely that he will leave the Royal Lodge, since he apparently signed a 75-year-old lease on it. That is, unless, he is asked to vacate by King Charles. "He has a lease on Royal Lodge from the crown estate, so I think he is secure unless he wishes to relinquish the lease," Little added. "If the worst came to the worst, I suppose Charles could [ask him to leave]. But I think he is relatively secure."
Keeping Prince Andrew is the best the royal family could do, since banishing him may tarnish their reputation further. "They're not going to cast him out because he will be more trouble and start talking and giving TV interviews and writing books," royal expert and author Ingrid Seward told The Mirror. Instead, they're expected to just keep him out of the public eye and provide him financial security perhaps for the rest of his life.