The Lifetime Movie You Should Watch If You're A Scorpio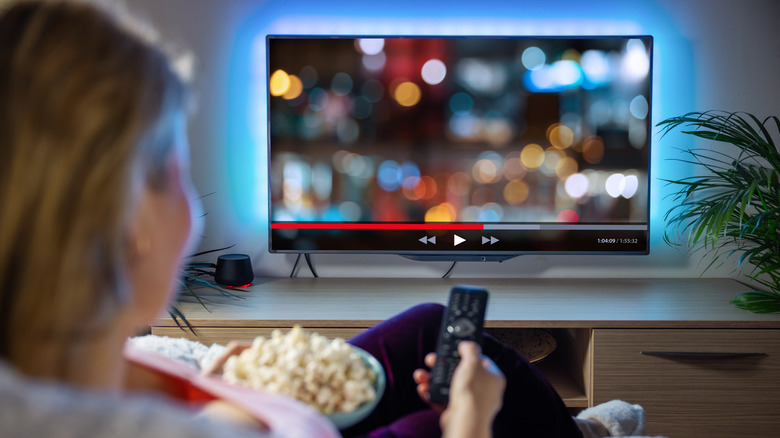 Kaspars Grinvalds/Shutterstock
Lifetime movies have quite the reputation. For most people, you either love them or hate them. But even if you claim to hate them, you may still be guilty of getting sucked into one on a rainy Sunday afternoon, and there is a reason for this. According to Newsweek, Lifetime released their first TV movie in 1990 (it was called "Memories of a Murder") and since then, hundreds more have been released and well-watched by viewers. While there may be many reasons one tunes into Lifetime for an original movie, there is one that we can all agree on: they are predictable. In times of high stress, like the recent pandemic, people look for a way to escape. Traditional thriller movies may only add to our stressed-out feelings, but Lifetime does things differently.
No matter what movie you tune into, you're likely to guess the ending before it ends. While this can be a cause for negative reviews, it can also be a sense of comfort for those seeking predictability in an otherwise unpredictable time. If you are hoping to use Lifetime as a coping mechanism, you'll be presented with a ton of options to choose from. Instead of rifling through lists, consider looking to your star sign to find the perfect Lifetime movie to watch.
Scorpios should choose something with an overall theme of betrayal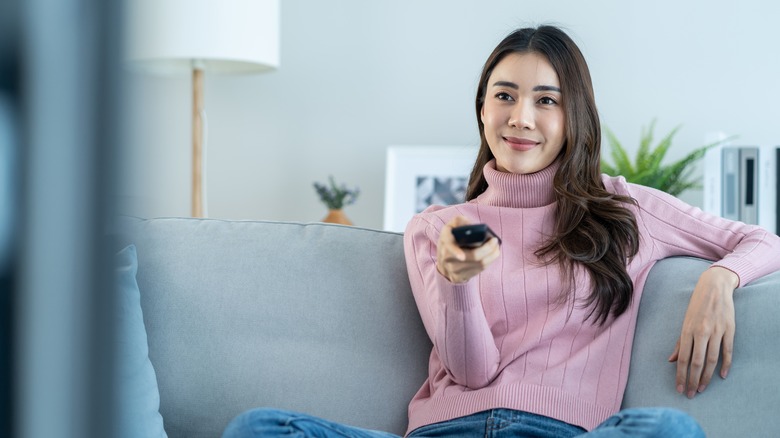 Hananeko_Studio/Shutterstock
Scorpios tend to gravitate towards movies with three specific traits: passion, betrayal, and a deep look into the human mind, making Scorpios quite possibly the best audience for Lifetime movies, according to Ranker. Not only that, per Direct TV, Scorpios are also known for being quite secretive about their movie interests, mainly due to embarrassment at the type of movies and shows they watch.
If you are a Scorpio who loves the theme of betrayal, you really don't have to look any further than Lifetime. Some of their best movies are based on this specific topic and are sure to have any Scorpio intrigued just from the title. Consider tuning into "Best Friend's Betrayal," which tells the story of two best friends whose relationship turns deadly when a new relationship threatens their friendship. "Betrayed by My Husband" is another must-watch for Scorpios. It follows a wife who is grieving the loss of her husband only to find out he is, in fact, alive and trying to scam her for their life insurance money. But the betrayal-themed movies don't end there — Lifetime also has "Twin Betrayal," "A Lover Betrayed," and "A Mother Betrayed."
Lifetime movies that fit your need for something steamy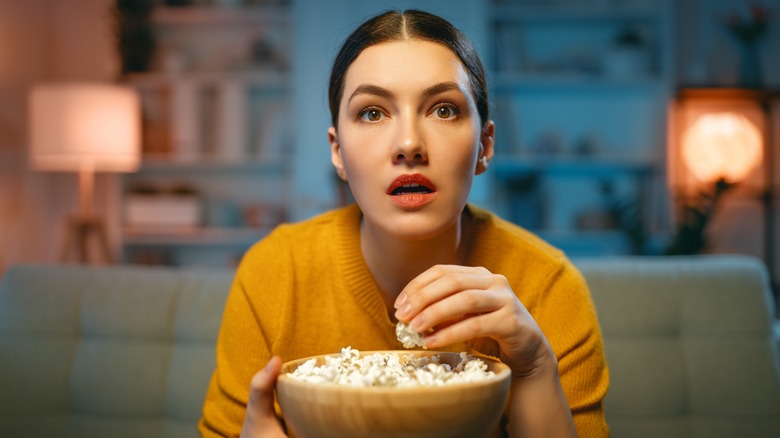 Yuganov Konstantin/Shutterstock
Scorpios also love something steamy — making the most passionate Lifetime movies a must-watch for anyone under this star sign. According to That Shelf, a Scorpio fan-favorite is the quintessential erotic film, "50 Shades of Grey." If you want something similar to this, Entertainment Weekly suggests "High Noon," a movie with so much steam, they actually say it has the best intimate scene on Lifetime. While the movie is far from new — it was released in 2009 — the sexy aspect is far from lacking.
Other sexy movies to fit your fancy include "A Dangerous Affair," which follows a pilates instructor's steamy romance with a client, only to find themselves in a deadly love triangle. "The Art of Passion" is about a woman who discovers herself sexually, and "Bodyguard Seduction" is about a woman who must use her seduction tactics to learn who she can and can't trust. So, Scorpio, grab your favorite candy (according to Reader's Digest, you should try a cherry cordial) and settle in for an evening of murder, betrayal, and of course, steamy passion.