Here's What People Dislike The Most About The NUiT Dating App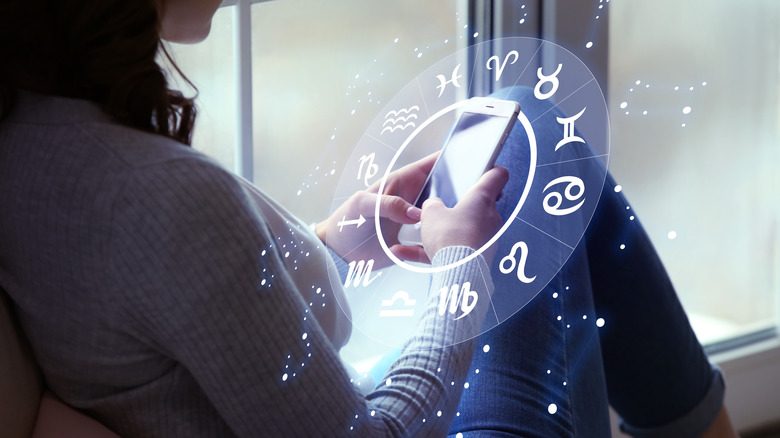 Pixel-Shot/Shutterstock
Right now, astrology is experiencing real popularity beyond the typical Twitter memes and Instagram pages. Interest in zodiac signs has recently brought us apps like Co-Star and Sanctuary, and while "What's your sign?" has long been a classic first date question, the ongoing rise of astrology has spawned several astrology-based dating apps as well.
NUiT is one dating app that relies on astrological birth charts to help users find matches. The app, founded and co-founded by Natalie Frangi and Chara Dela, was launched in 2018 (per Mashable). Whereas dating apps like Tinder use a "hot-or-not" function to pair users, NUiT allows singles to explore a handful of matches at their own pace and utilize birth charts by testing for compatibility.
This is emphasized on the app's about page, as they promise users a chance to surpass the superficial elements of some dating apps to focus on meaningful, astrologically driven connections (per NUiT). The app has also been popular among the queer community, as one of its most notable features allows users to opt-out of seeing and being seen by heterosexual daters. The creators have also expressed a commitment to ensuring the app caters to varieties of sexualities and gender expressions, currently offering a "non-binary" option to users.
Despite the well-liked features of the app, there are some issues that prospective daters should consider before downloading the program.
NUiT users have complained about the lack of potential matches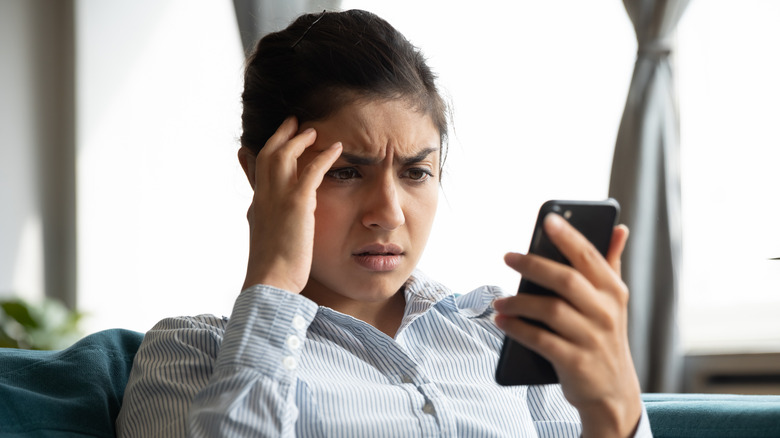 fizkes/Shutterstock
A recurring complaint about NUiT revolves around the number of potential matches available to users. While the popularity of apps like Tinder and Bumble usually guarantees a variety of matches in your area, this is something that NUiT users find the app is lacking. Despite going viral on TikTok in 2020 (per Mashable), reviews of the app suggest that this is an ongoing issue.
In a 2021 review from the Apple App Store, one user praised the concept of the app, but said, "I'm getting rid of it is [sic] because there's not enough people on there (not their fault) but it becomes a problem when they give you maybe 40 possible matches, and when that runs out, they repeat the same profiles you declined."
A similar concern was echoed by a reviewer in the Google Play Store, who gave the app a four-star rating, but wrote, "The only little concern is that there are not many people around me and the ones who I have sended [sic] messages to are probably inactive."
While the app offers many great features, users may have difficulty finding general matches or matches in their area, which is something to consider if you're debating downloading it.
Some NUiT users dislike the house system used in its birth charts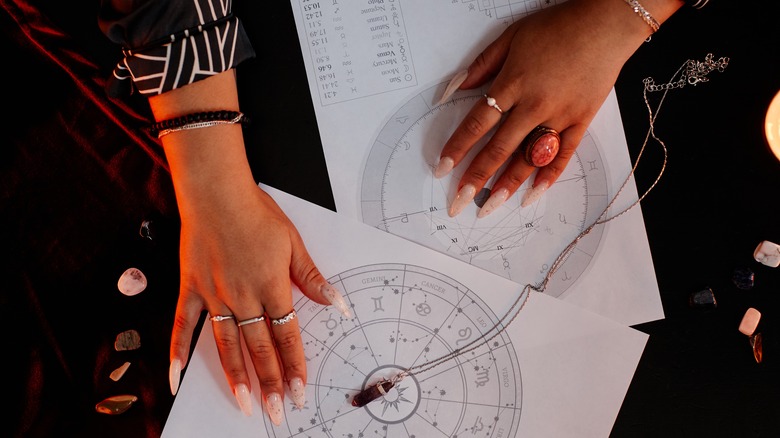 SeventyFour/Shutterstock
One thing that some users have reportedly disliked about NUiT is its birth charting methods. This complaint can be seen in the Apple App Store, as one user wrote, "I loved the app until I went to interpret my chart further. Upon digging I realized that with my correct birthday and birth time, it's displaying inaccurate information...Co-Star has always given accurate information and has my Saturn in the correct sign and house. NUiT failed to provide an accurate chart."
In response to this one-star rating, NUiT's customer support responded, "Please kindly note, that Co-Star uses Porphyry, the oldest system of quadrant style house division, while NUiT is based on Western, Tropical Astrology practices and uses the Placidus House system. That is why you might see a difference in your placements."
According to Big Sky Astrology, several different house systems can be used that can be used for birth chart creation. These house systems are ways of dividing up the sky into the 12 sections seen in a birth chart, which can result in variations in planet placements. If specific house placement is something that you're concerned about, then you might do more research to determine your preferred method and decide if NUiT is the right dating app for you.