Here's What Users Dislike The Most About The Tinder Dating App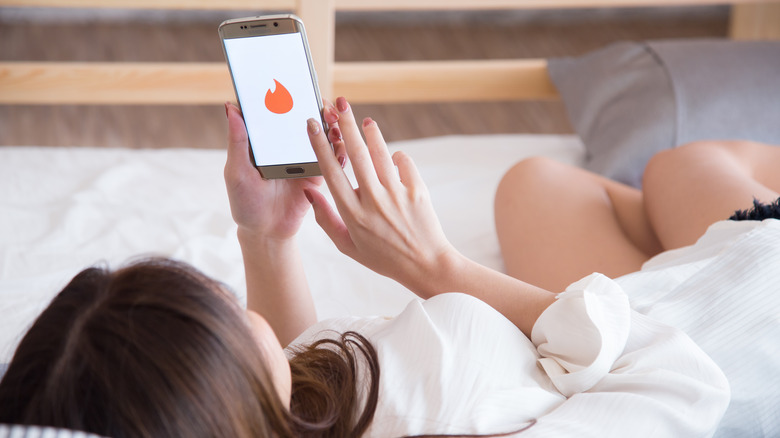 Teerawit Chankowet/Shutterstock
Love it or hate it, there's no doubt that Tinder is the first platform most people think of when the subject of dating apps is brought up. Ever since the app launched in 2012 for iPhones and a year later for Android phones, its reach has been fast and instant (via The Atlantic). In fact, despite the fact Tinder recently celebrated its 10th anniversary (via The Cut), it's still just as popular as ever all these years on.
It's thought that Tinder helped to popularize the avoidance tactic referred to as "ghosting," which is when either you or someone you're texting ceases all communication — in effect, becoming a ghost. This could partly be because there's no real pressure to go on dates or impress someone. Moreover, depending on your preferences, you won't run out of potential matches for hours, leading to endless swiping. 
For some, Tinder is a fun, time-passing game that will never lead to anything. For others, the app has allowed them to meet the love of their life and be in their happiest relationship yet. As with all dating apps, Tinder has its ups and downs. Still, there are some things about Tinder that its users just can't shake.
The app can make people feel as though reaching out isn't worth it anymore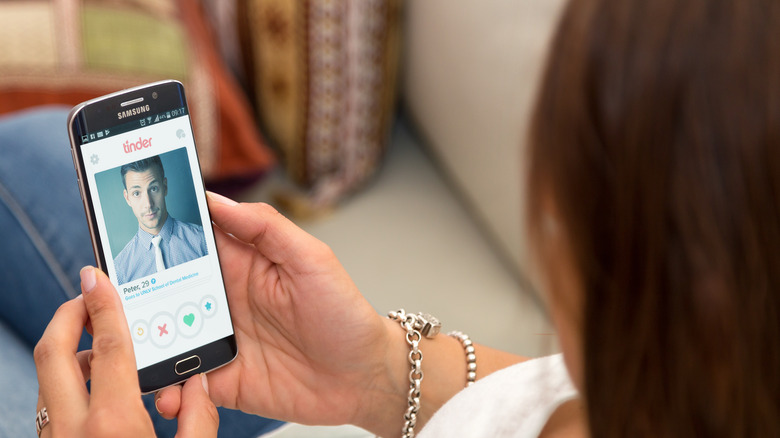 Alex Photo Stock/Shutterstock
It's no surprise that the cycle of swiping on Tinder can make people feel miserable. If you've been on it for a while and found no connections, it's easy to feel disillusioned and start questioning the point of making small talk conversation for the fiftieth time.
Though Mashable ranks Tinder as the "best for exploring online dating possibilities" and notes its huge user base, it does state that Tinder is mostly used for quick hook-ups. This is partly because you're basing your assessment purely on looking at someone's photos and very short bio, meaning you have to put in extra effort to get to know even the most basic details about someone. 
Elite Daily reports that a 2016 study from the University of North Texas found that those who used Tinder regularly felt worse about themselves and their body image. Tinder users also had lower self esteem than those who didn't use the app. Once again, this could be attributed to the fact most Tinder users swipe right based only on someone's appearance. While it is important to be attracted to the person you're dating, being able to reject more people than you ever would in real life leads to a power trip and a hit of dopamine that quickly becomes addictive (via Psychology Today).
Tinder can take a real toll on your self-esteem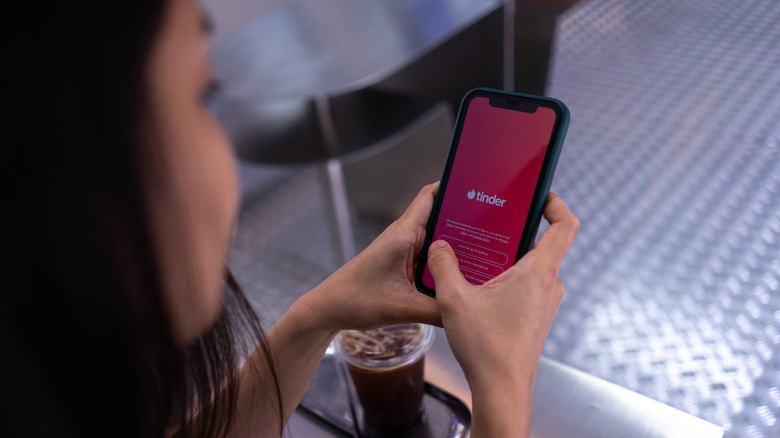 Pravinrus/Shutterstock
In an article for The Guardian, Tinder user CJ Hauser described the app as "small talk purgatory" due to the endless loop of meaningless conversations she encountered. Plus, in a telling study that surveyed British people aged 16 to 34, dating apps like Tinder were found to be the "least preferred" way of connecting with someone new (via BBC). Interestingly, 17% of those surveyed did say they met their current partner on a dating app. This number is just 1% behind the 18% who met their partner offline, a statistic that proves the looming presence of dating apps. 
One of the major downsides of Tinder is that it can very much impact your mental health. A man who was surveyed for the above article stated that he disliked Tinder due to the fact you are viewed through the lens of your profile rather than being judged on how you are in real life. As mentioned above, this can lead to more self-esteem issues and critical assessment of your body and personality (via Elite Daily).
Tinder is very much the type of app where what you see is what you get. Asking whether this works for everybody would result in a huge no, but the popularity of Tinder 10 years after its launch shows that it is still very much the front and center of all the dating apps available.