The Real Reason Princess Anne's Children Don't Have Titles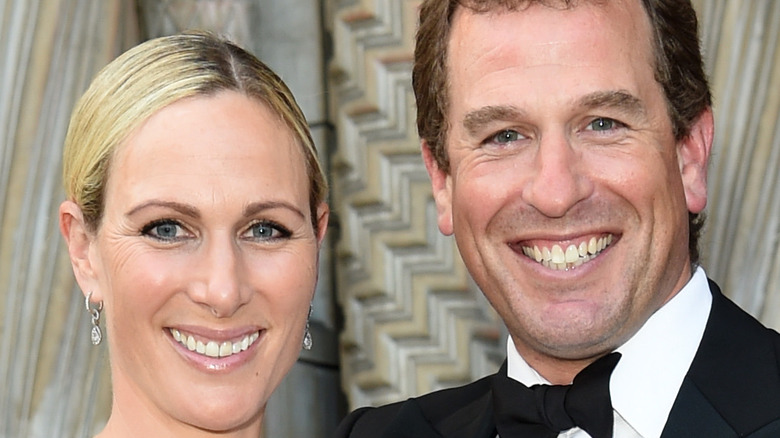 Antony Jones/Getty Images
They may have been in the periphery of most photographers' lenses during their grandmother's lifetime, but Peter Phillips and Zara Tindall — children of adored Anne, Princess Royal — were as close to the late Queen Elizabeth II as it got. Before William, Prince of Wales and Harry, Duke of Sussex arrived on the scene, Princess Anne's son Peter Phillips played an important role in the 1978 Christmas speech (via YouTube). 
As for his sister, Zara, Express quotes British body language expert Judi James as saying: "It's pretty clear from the Queen's body language that she adores Zara and that, importantly, she feels super-comfortable in her presence." And while The Daily Mail's Richard Kay says that as with most grandparents, Queen Elizabeth had been careful about not showing any favoritism when it came to her eight grandchildren, sources close to the queen said she had a special bond with both Peter and Zara.  
So with all that said, why did the Queen not gift Peter and Zara royal titles? It all comes down to their mother, Princess Anne. After Peter was born, the BBC reported that both Anne and her husband at the time, Captain Mark Phillips, turned down the queen's offer to give the children the right to be peers. 
They're not royal: they just happen to be related to royals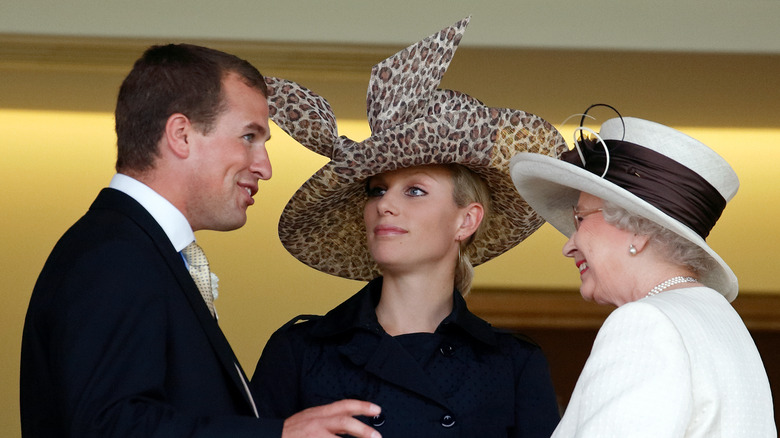 Max Mumby/indigo/Getty Images
Princess Anne had her reasons. She once described her children as "not royal" but enjoyed a relationship with the queen who "just happens to be their grandmother," per The Daily Mail. When asked about the matter decades later, the Princess Royal explained: "I think it was probably easier for them, and I think most people would argue that there are downsides to having titles. So I think that was probably the right thing to do," according to Vanity Fair.  
Edward and Sophie, Duke and Duchess of Wessex made a similar decision after their children Lady Louise and James Viscount Severn were born. "We try to bring them up with the understanding they are very likely to have to work for a living. Hence we made the decision not to use HRH titles. They have them and can decide to use them from 18, but I think it's highly unlikely," Sophie told Good Housekeeping back in 2020 (via Express).
Ironically, the fact that both Peter and Zara don't have titles may have been the very factor that made them closer to the queen, with Peter singled out as her favorite. "She [The Queen] thinks Peter especially has inherited the resilience that is so characteristic of Anne. She sees him as dependable." the source said, per Gloucestershire Live. 
Peter Phillips and Zara Tindall have real-life work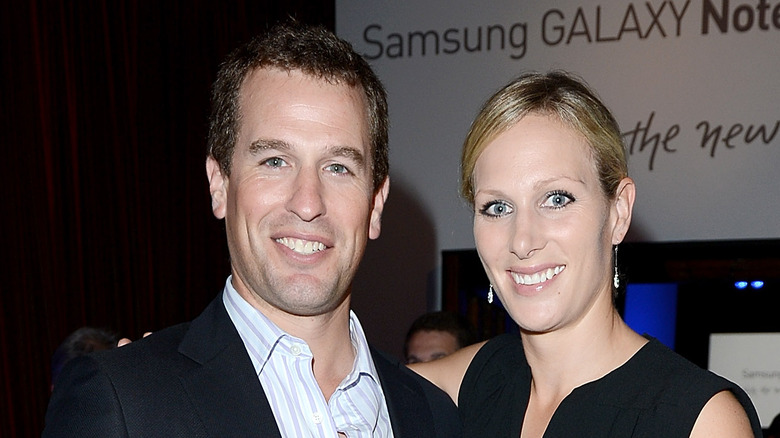 Dave M. Benett/Getty Images
Even though they don't have titles, that doesn't mean they aren't in the order of succession, and both Peter and Zara seem to have enjoyed the best of both worlds as a result. When he was born, Town & Country said Peter was fifth in line to the throne. Today, per the Order of Succession, he is 17th, while his sister, who is listed as "Mrs. Michael Tindall" is 20th. 
While both Peter and Zara have real jobs, they aren't considered "working royals," or the royals who can represent the sitting monarch at public engagements, per Metro. Instead, Town & Country noted Peter Phillips has worked at the Royal Bank of Scotland and Jaguar, while he has his own sports management company, while Zara is a talented equestrian with an Olympic silver medal. She is also an entrepreneur; both Zara and her husband, former rugby player Mike Tindall, are wealthy in their own right, per Marie Claire.
In 2016, Peter Phillips shed some light on how the lack of any titles didn't have an impact on his relationship with Queen Elizabeth II, saying: "I've always been very close to my grandmother, and we speak often. She has been an inspirational person throughout my life . . ." per The Telegraph.