The Pizza Topping That You Should Try If You're A Pisces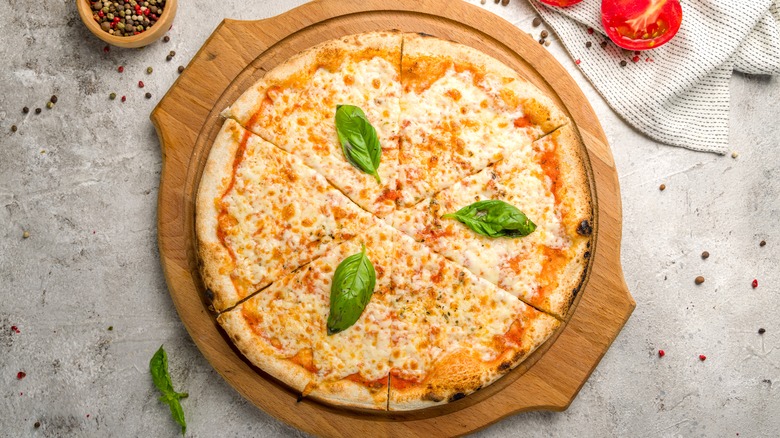 Snap Focus/Shutterstock
Did you know that up to 70 million people per day spend time reading their horoscopes according to the American Federation of Astrologers, per Scientific American?
Perhaps you are someone who likes a side of astrology with your morning coffee, or maybe you're someone who doesn't believe that the positions of the stars and planets have any effect on your day-to-day life. Whatever camp you're in, it's still fun to look up what your star sign says about you, and possibly the type of pizza topping you'd enjoy.
Pisces is the "last constellation of the zodiac" Allure reported, and it is denoted with a water sign. Pisces' attention is split by fantasy and reality, and this dichotomy is symbolized by the star sign's symbol: "two fish swimming in opposite directions", according to Allure. In addition to being a dreamer, Pisces is also "excessively romantic" and has "no boundaries" (via Co-Star). Pisces is also known to be the most sensitive of all zodiac signs (per Style Caster).
A Pisces' ideal pizza topping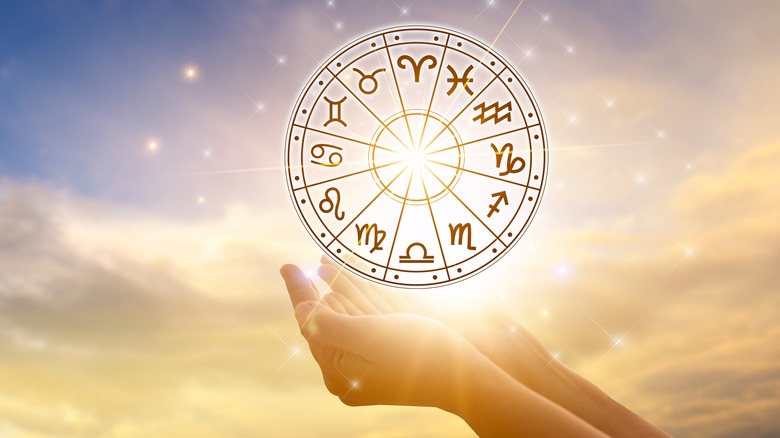 sarayut_sy/Shutterstock
While characteristics of Pisces point toward the water-like nature of the sign — so seafood seems like an ideal pizza topping — we can look much deeper. Just like deep water, Pisces' feelings are deep, which is one of the reasons they're known to be overly sensitive. With these strong feelings, comes the desire to "stick to the things that you know and love" (via Best Life) It's very likely that your favorite pizza topping might include flavors that bring you comfort and also remind you of home.
A classic and simple four-cheese pizza would work just fine for Pisces, according to Best Life. We don't have to stop with one kind of pizza topping though as there are more ideas and recipes to choose from. A good pizza topping recipe for Pisces could include garlic and herbs; again simple and reminiscent of home.
For a simple four-cheese pizza recipe, try following one this recipe from All Recipes that includes mozzarella, fontina, parmesan, and feta cheese. And keep in mind, it's probably a good idea not to overload it with too much cheese when you're making a homemade pizza.
What other pizza topping recipes can you try out?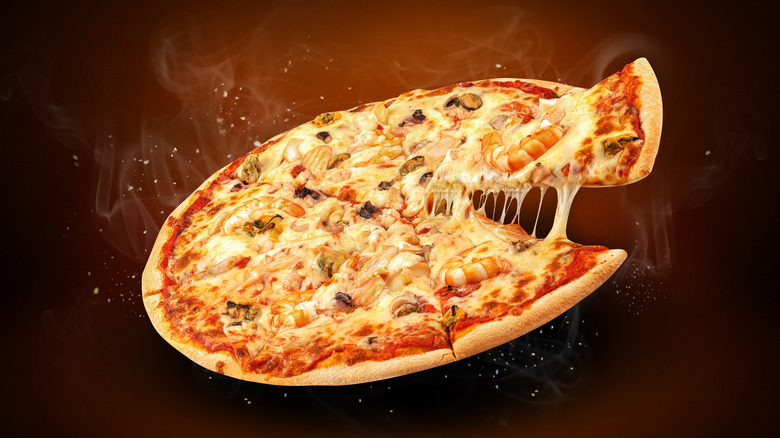 Dzha33/Shutterstock
If you want to try a seafood pizza, check out this recipe from Food Network. The network notes you'll need ¾ pound of deveined, tailless shrimp, ½ teaspoon oregano, 2 tablespoons of olive oil, salt and pepper, 3 tablespoons of unsalted butter, 3 tablespoons of all-purpose flour, 2 cloves of grated garlic, 1 ½ cups of milk, ½ cup of grated parmesan cheese, 1 pound of frozen pizza dough, 1 cup of grated mozzarella cheese, red pepper flakes, and 3 tablespoons of chopped fresh parsley. 
Start by preheating the pan over medium-high heat. In a bowl, toss the shrimp with the oregano, 1 tablespoon of olive oil, ½ teaspoon of salt, and a pinch of pepper. Add butter to the skillet and let it melt, then add the flour and cook it for a minute, whisk in the garlic for a minute, add milk and cook until it's very thick, and then add ¼ cup of parmesan cheese. Then you can remove the pan from the heat. 
Next, you'll season with salt and pepper and preheat the broiler on high. Flour a work surface and roll out the dough. 1 tablespoon of olive oil should be brushed on the grill pan and the dough should be grilled on both sides. Remove the crust and lay it on a tray. You'll then cook the shrimp for about 4 minutes and layer the crust with white sauce. Scatter the shrimp over the sauce, sprinkle with mozzarella and parmesan, and place the cheese under the broiler until it's melted and bubbly. Add parsley and red pepper flakes to garnish.