The Real Reason King Charles And Queen Camilla Have Separate Homes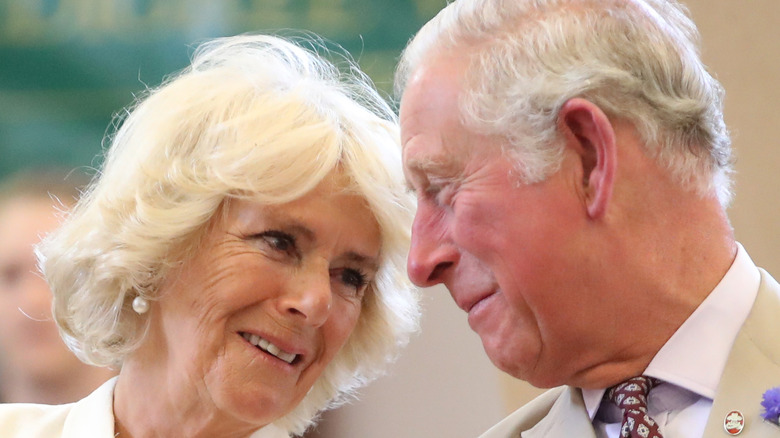 Chris Jackson/Getty Images
It's not unusual for a senior royal couple to sleep apart, at least if you consider that Queen Elizabeth and Prince Philip kept separate bedrooms throughout their marriage. Woman & Home reports this arrangement was due to upper-class tradition that prevented spouses from having to deal with annoying sleep habits like snoring or tossing and turning. After all, the royals could certainly spare a bedroom in Buckingham Palace, since the residence features a jaw-dropping 52 sleeping chambers.
The Queen and her husband of nearly three-quarters of a century resided together at the Palace for decades, until he retired from his royal duties in 2017. At that time, Philip reportedly moved from London to the couple's Sandringham Estate in Norfolk while the Queen remained in London to carry out her royal responsibilities. Two years into living separately, the royal spouses moved into Windsor Castle to isolate together during the pandemic (via Marie Claire). Sadly, the monarch lived by herself there following her husband's death.
With this history of a monarch and spouse living apart as a backdrop, consider that King Charles III and queen consort Camilla have actually maintained their own residences for more than 15 years (via New York Post).
When not in London, King Charles and Queen Camilla need some space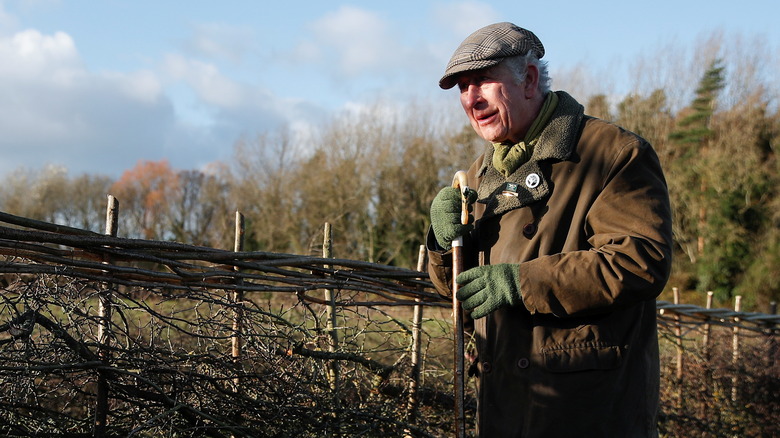 Wpa Pool/Getty Images
King Charles III and queen consort Camilla have put on a very united front in the week-plus since the Queen tragically passed away, attending multiple public appearances side-by-side, including a stop in Belfast, Northern Ireland where they visited with mourners and attended a service of reflection.
But following a rigorous schedule of events, during which, incidentally, the queen consort has been quietly nursing an injury no one really knew about, the new monarch and his wife traveled back to their own homes, separately (via Hello!). For her part, Camilla has kept Ray Mill House since her 1994 divorce from her first husband Andrew Parker Bowles. Meanwhile, the King decamped for his beloved Highgrove Estate, which he moved to in the 1980s while still married to Princess Diana (via BBC).
Of course, this is just one of the King's dozen properties throughout the UK. But since both Highgrove and Ray Mill House are in the country, why doesn't the royal couple stay together when they are not in London?
A source told the Post that it's not because there is a problem with their marriage, but for another, less expected reason.
In London, the royal couple still kept up tradition
Wpa Pool/Getty Images
As an insider explained to the New York Post, that King Charles and queen consort Camilla prefer to stay in their own homes, apart, at times is no cause for concern. "They are a very close couple so this is nothing to do with any tensions between them," the source told the outlet.
They added that while Camilla has her own room at the King's Highgrove Estate, she is an infrequent guest at the sprawling grounds. Note that it seems she does not sleep in the same room as her husband even when at Highgrove. The source also said that the queen consort simply prefers to stay at Ray Mill House since the home is closer to her family and her stables. "That is just the way things have always been with them," the insider concluded.
Meanwhile, when the couple was in London prior to the death of the Queen, they would stay at Clarence House. It's been reported that the couple kept three bedrooms there — one for her, one for him and a room they shared together (via Daily Mail).
Ultimately, as Elle Decor notes, King Charles and Camilla may move into Buckingham Palace now that he is the sovereign of Britain and has thus inherited the historic home. Will the couple share a bed or a bedroom there? If royal tradition is any indication, we are guessing not.