Why Royal Biographer Thinks Queen Camilla Will Be Different Than Other Consorts Before Her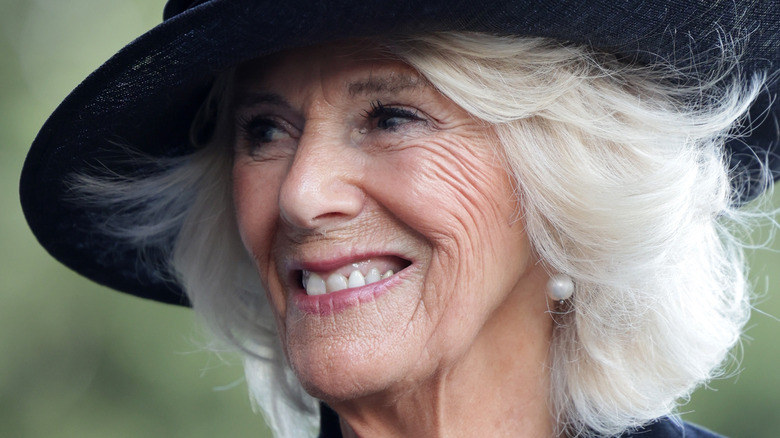 Chris Jackson/Getty Images
The first time Gyles Brandreth saw Queen Camilla, the Queen Consort, she was still Camilla Shand. He was at Bedales School when he caught sight of the then-17-year-old future queen, Brandreth writes in his memoir, "Odd Boy Out." She was "in her jodhpurs, hiding in the bushes, smoking a Woodbine," he recalls — though Camilla still denies that it "wasn't a Woodbine."
Throughout his adult life, Brandreth has built a career as a broadcaster, podcast, writer, and royal biographer. Not only has he written the book on the timeline of the relationship between King Charles III and Camilla, the Queen Consort, but he shared in his most recent column for the Daily Mail that he had also been Prince Philip's biographer and was the "chairman of one of his favorite charities."
But as the world prepares to say its final goodbye to Queen Elizabeth II, Brandreth finds his thoughts focused on the post-Elizabethan era. "I thought the Duke of Edinburgh was irreplaceable," Brandreth admits. Prince Philip had been Queen Elizabeth's "strength and stay" while he was alive. The biographer also noted in his Daily Mail column that Prince Philip "knew he was the support act, not the star attraction" and "made sure he walked one step behind [Queen Elizabeth]."
Brandreth sees this same spirit in Queen Camilla. It's just part of the reason why he believes Queen Camilla will be the "least stuffy" than any consort before her.
Royal biographer claims Queen Camilla is Prince Philip reincarnated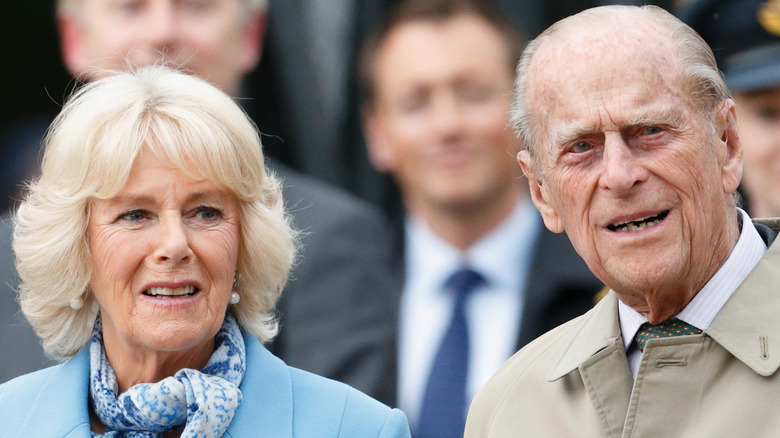 Max Mumby/indigo/Getty Images
Since Queen Elizabeth's death on September 8, King Charles III and Queen Camilla have been undertaking a tour of the United Kingdom. In watching the new monarch, King Charles III, and Camilla, Queen Consort, royal biographer Gyles Brandreth wrote in his column for the Daily Mail that he's seen firsthand just how much Camilla is the new king's "strength and stay." The couple finished their tour on Friday, September 16, with a trip to Wales, Vanity Fair reports.
Part of the reason for their closeness, Brandreth hypothesizes, is the bond Charles and Camilla share. Where Prince Philip found Queen Elizabeth II's corgis "infuriating" and "did not share her passion for horse racing," her son and his wife "share a sense of humor" and "a love of gardening and the countryside." Brandreth adds he believes they "have more in common than the queen and Prince Philip did." 
But there's more to Camilla's character than her shared interests with the new king. At a luncheon held in honor of her 75th birthday, Brandreth says the then-Duchess of Cornwall gave a toast where she shared "the Duke of Edinburgh's philosophy" was to "look up and look out, say less, do more — and get on with the job." She added, "I intend to do just that," promising to try and fill the shoes of her predecessor.
How Queen Camilla is forging her own path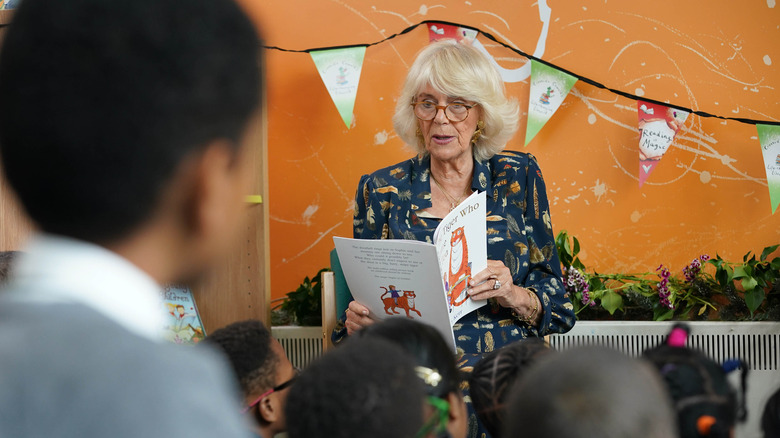 Wpa Pool/Getty Images
One of the other passions King Charles III and Queen Camilla share is their love for literature and poetry. The queen consort has used this passion, though, to carve a space out for herself both personally and in public.
During the 2020 COVID-19 lockdowns, Camilla launched The Reading Room. The original project started on Instagram and was a way, according to Woman & Home, for Camilla to fight the "unrelenting online abuse" in the wake of Season 4 of Netflix's royal drama, "The Crown." The season was a fictional account of then-Prince Charles' marriage to Princess Diana, during which he continued his affair with Camilla Parker Bowles, who was also married at the time.
Not only is Camilla the "first royal to ever open a book club," her love for literature doesn't stop there. In June of this year, Queen Camilla joined royal biographer Gyles Brandreth and his daughter, Aphra, in the first episode of the "Commonwealth Poetry Podcast." Telegraph columnist Gerard O'Donovan writes that he was shocked by how "relaxed and unstuffy" the discussion was, adding that listening felt like "sitting around the table with them, enjoying a home-made cup of tea." Actress Dame Joanna Lumley was also present for the episode.
During the discussion, O'Donovan notes that Brandreth was able to draw heartfelt, candid moments out from Camilla, getting her to admit reading "feeds the soul" and that Christina Rossetti's "Echo" is beautiful, moving, and "stirs something in [her]."