The Pizza Topping That You Should Try If You're An Aquarius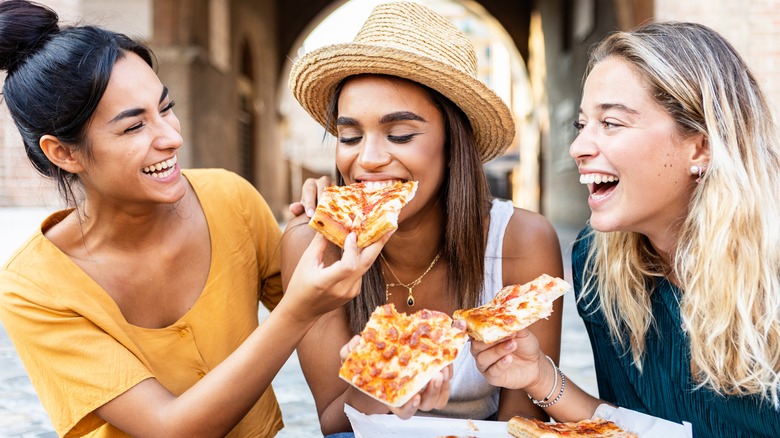 Xavier Lorenzo/Shutterstock
If you're an Aquarius, born between January 20 and February 18, you've likely already reckoned that the air sign isn't quite like anyone else. Aquarians are known for having unique traits including being highly individualistic and doing things in their very own way (via Elle). For that reason, others may have a hard time understanding where you're coming from because you just do not strive to fit in or do things the way they've always been done.
In addition, the air sign has a rebellious and progressive side so you will often find them challenging the status quo or protesting what they perceive to be wrong in the world (via Allure). A deep humanitarian, they are willing to fight for what is right and do things in their own unique way. Whether in the areas of dress or food, they will choose the unbeaten road and keep you on your toes with their ever-changing taste. Even when it comes down to a simple offering like homemade pizza, Aquarius likes things to be unique.
Healthy pizza for unconventional Aquarius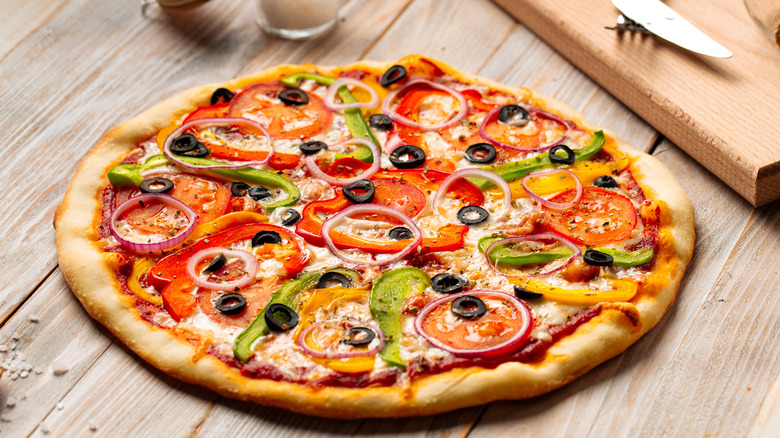 Hihitetlin/Shutterstock
As an Aquarius, pizza can become boring quickly. You have probably grown tired of the conventional cheese slice you have had so many times. What gets you excited is anything eccentric or innovative so think outside the box, which is natural for you.
According to FabFitFun, an Aquarius who is bored of plain pizza should opt for a slice with veggie toppings. While they may turn some people off, it's an easy way to add veggies to your meals. Also, the options are limitless so fickle Aquarians can pick and choose as they like. Best of all, they can switch up the options, from freshly grown basil, black olives, and artichoke hearts to portabella mushrooms, red onions, and red peppers.
Still, even those vegetable toppings may be a bit too conventional for an unconventional Aquarius. You might enjoy more daring veggie choices, so try some zucchini, broccoli, eggplant, spinach, kale, or arugula (via Two Peas & Their Pod). You can also try to mix and match, and sprinkle a combination of two or three vegetables on a pizza slice.
Go for a breakfast pizza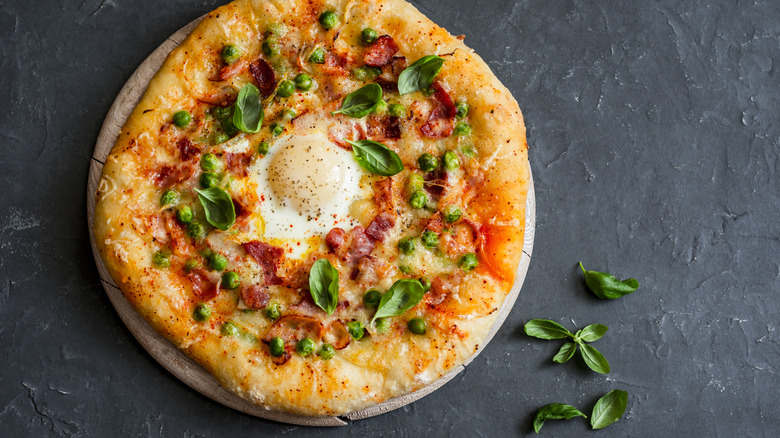 Kiian Oksana/Shutterstock
It's not unheard of to enjoy a slice of leftover pizza for breakfast. Many people even prefer to grab a cold slice right out of the fridge and eat it (and not only those in college). According to Best Life, which cites Aquarius as the "most unique" sign of the entire zodiac, a true breakfast pizza will push boundaries. Astrologist Lisa Stardust says, "Being that Aquarians march to the beat of their own drum, they'll prefer toppings that include any unique flavors and haven't been done one million times before."
With that in mind, a breakfast pizza is something that isn't heard of every day. It's a regular pizza crust made with cheese but topped with eggs and bacon. It may be the most "unpizza" pizza that will delight Aquarians all over. You also don't have to stop at just eggs and bacon. Kitchn recommends adding sausage, hash browns, or anything else that will bring a sense of originality to everyone's favorite food.